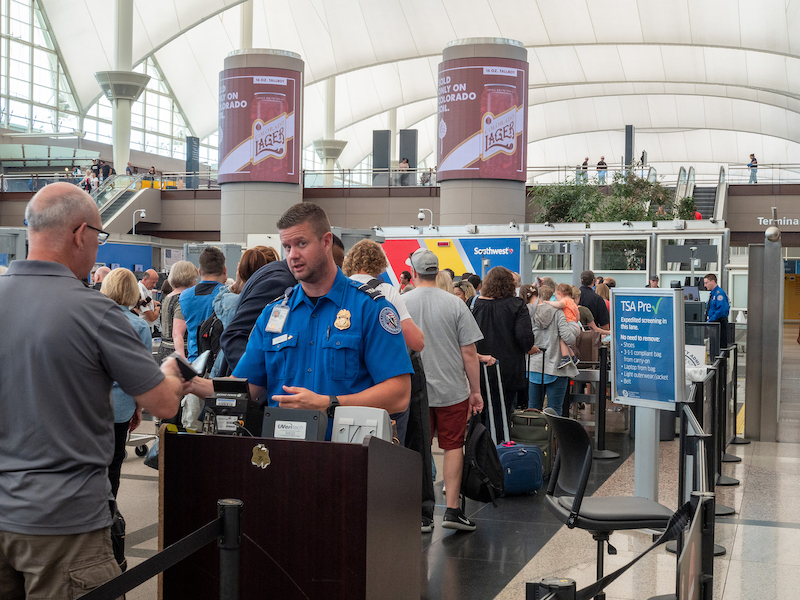 The pent-up travel demand is resulting in record numbers of travelers in the US, which has created hours-long security lines—leading to missed flights, hot tempers, and raised blood pressure. To try and lessen the snarls, here are some travel hacks you can implement to make your security checkpoint wait time less daunting.
Enroll in TSA PreCheck
And, if you travel internationally, spring for the extra $15 (for a total of $100 – and that's every five years) and enroll in Global Entry. Why? Let's just take a look at the numbers.
Daily number flyers passing through US checkpoints: 2.07 million (Note that the number is PER DAY. Do the math.)
Number of PreCheck members (as of early 2022): 27.4 million.
While that number has grown quickly over the past couple of years especially, it will take quite a while to equal the number of travelers waiting in the "regular" line to take off their shoes, their liquids and their laptops—all of which can stay put if you are a Trusted Traveler.
Plus, if you're returning from international travel and have the Global Entry card, guess what? You can also breeze through US Customs in no time flat. The only downside: you have to wait with everyone else to get your luggage, but at least you can sit down and relax while it gets out on the belt.
The process to get these, while a tad time consuming (you have to fill out a form, wait for the approval and an interview, go to the airport for the interview and wait for your card in the mail), is worth every penny.
A private company called Clear has also joined the fray to help you get through not only airports but stadiums, hotels, and offices, and their network is growing.
All you have to do is check out your neighbors speeding through the TSA Precheck line on your next trip… and you'll be clicking here.
Even if you have TSA PreCheck…
Know your airport
Several airport apps can make your life that much easier, providing terminal maps, passenger submitted checkpoint wait times, user ratings, deals on food and tchotchkes, info on shops and restaurants, restrooms, lounges and much more. Many also provide flight updates and corral all your itinerary information in one place. Try TripIt, iFly Pro, LoungeBuddy or FlightAware, among others.
You might also want to follow the airport and/or the airlines on social media—savvy airport (and airline) media managers keep a running update on Twitter on airport conditions.
Carry-On Only
You'll undoubtedly breeze through the entire airport process faster if you can limit yourself to a carry-on (always keep in mind that size/weight restrictions vary by airline). Even if you miss your flight for whatever reason—or it's grossly delayed—you'll have all the stuff you need with you. Extra points if you can fit all you need for more than a week in there.
Dress appropriately
And by "appropriately," we mean "comfortably" and "sensibly." Even if you have Pre Check, there's always a chance you might get routed to the "regular" line if there aren't enough agents to staff both (this often happens with very early fights). At that moment, you will regret your laced Doc Martins (the classics without the zipper) with every fiber of your being. Oh, and don't forget socks if you have to take off your shoes. You won't want to step where eight trillion people's bare feet have gone.
If you don't have TSA PreCheck… 
See "Dress appropriately" above
Ease and speed: slip-on shoes over buckles and ties, no heavy jewelry and belt buckles, socks to avoid gross floors… you get the picture.
Trust your inner Boy (or Girl) Scout
As in, "be prepared." Make sure your liquids are in a separate zipper clear plastic bag BEFORE getting in line, and start slipping off your watch, belt, etc., emptying out your pockets and preparing to put things in the bin BEFORE you get there. It will expedite everything, and everyone will love you for it. Especially if you're a light traveler and don't need 7 bins just for yourself.
Pick the TSA line farthest to the left
Yep: most people head to the right (because they're right handed). Break the mold and go left.
Check TSA wait times
There's an app for that: check it out online or download it for iOS or Android users. You should also look for your airport on social media—many have Facebook and Twitter accounts that will provide real-time info on wait times. The won't get you through any faster, but they will give you an idea of what you're in for and how much time you'll need to make it to your gate. Check out the travel apps mentioned above, too.
Check with your airline
Some airlines allow you to purchase expedited security options for your particular flight, not just to get to the front of the security line but also to streamline security and check-in processes. Frequent flier programs and branded credit cards also offer priority perks; some even cover the cost of TSA PreCheck and Global Entry costs.
Please follow and like us: