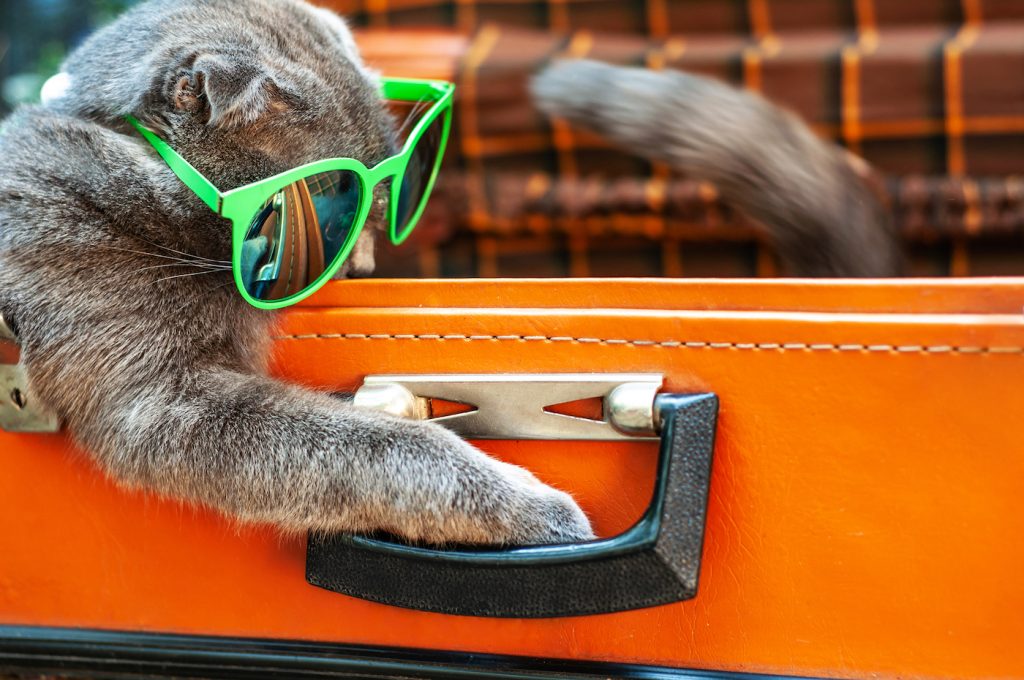 Thinking about heading out on the road with your favorite four-legged friend? Whether it's by plane, automobile or even cruise (as of press time, Cunard's Queen Mary 2 is the only one that welcomes pets), a little planning and preparation can help ease the stress when traveling with pets.
Book Ahead
Whether you're planning on staying at your favorite Aunt Emma's house or thinking about a five-star hotel, it pays to call ahead and make sure your baby is welcome. While it might be a given for you that your darling Min Pin goes where you go, the last thing you want to be is turned away at the door. Some hotels ask for pet deposits, so make sure you check on that, too. There are a growing number of properties both locally and internationally that leave on the light for pets, so you should be able to find one at your destination. Make sure to take a portable kennel with you if you have to leave your pet unattended.
Same goes for your flight, by the way. You'll need to make reservations both for you and your pet at the same time—airlines often limit how many animals are allowed on each flight. Try to book non-stops and avoid changing planes, and if possible, avoid busy holidays. It's also likely you'll need certain documents attesting to the health of your pet, which takes us to the second tip…
Vet Check
Most airlines require a Certificate of Veterinary Inspection (health certificate) issued within 10 days of travel, which you can get at your (federally accredited) vet's office (for a list of vets, check your USDA Area Office). He or she will make sure all the pet's vaccinations are up to date, as well as checking on its general health—some pets won't be able to handle travel due to temperament, age, illness or injury. Having your pet implanted with a microchip will improve your changes of getting it back if it gets lost (if you already have one, make sure the tag has updated information.) The vet can also prescribe sedatives for anxious travelers, though the American Veterinary Medical Association would rather pets fly drug-free.
Certain countries do require a pet passport: there's a system in place for pets traveling between countries in the European Union and other countries. Each country has it's own rules and regulations. Quarantine may be required for some countries, so be sure to find all that out before you go to avoid any unpleasant surprises.
Rehearse, Get Ready…
OK, you can't really rehearse a flight, but you can take your pet out on rides and to places where there are lots of strangers. If they're used to being in their carriers/kennels in busy places, an airport or a hotel lobby shouldn't be a problem. If you'll be traveling by car, start with short trips to "fun" destinations like the dog park or a "play-date" at a friend's house. These trips should give you a heads' up in case your pet gets carsick so you can consult with your vet about possible ways to alleviate this.
If you're traveling by plane you'll need to buy an approved carrier and check with each airline for weight and size limits. Keep the carrier or bag open in your house for a few days before your flight so your pet can become acquainted with it. A little catnip and some toys will help make it a "friendly" place. Make sure the carrier is well tagged with your information.
…And Go!
On the day of your flight, feed your pet at least 5 hours in advance and avoid giving it water within an hour of the flight—it's recommended they fly on an empty or nearly empty stomach. During the flight, you may want to offer your pet ice cubes towards the end of the flight. Give your pet a good walk before the flight, and check in as late as possible so your pet spends as little time as possible separated from you. When going through TSA, you're going to have to remove him from the carrier and take him through the detector—do NOT allow him to go through the X-ray machine with the bags. You must keep your pet collared and leashed, even if he or she is normally very docile. This is a very different situation and you don't want him to bolt. At the other end of the flight, make sure to take him outside for bladder relief and give him a drink before you pick up your bags.
If you're driving, stop every two to three hours and take your pet on a short walk to exercise and relieve itself. Large or small, pets need to be in carriers, crates or otherwise restrained so they don't scurry under the driver's feet, try to dive out the window or any other crazy stunt. Truck beds aren't made for pets, but if it must ride back there, put it in a kennel, not simply tied by the leash. And take along a toy, towel or other familiar object along on your trip—it will help comfort the pet, much like a kid with a binky.
P.S. Pack Patience
Yeah, don't forget that minor detail: even with extensive planning, traveling with pets can still be unpredictable. Take along plenty of flexibility and patience, as well as a supply of wipes, folded up paper towels and plastic bags for trash. Flights get delayed, dogs throw up, cats decide pooping in the carrier is a good idea… You get the drift. One last piece of advice: try to stick to your pet's regular schedule as much as possible. Much like toddlers (here we go again), they really do operate better under (somewhat) familiar circumstances.
Do you take your pet along for the ride? Share your tips and tricks in the comment box!
Did you know SkyMed TAKES YOU HOME offers an option to pay for the return of your pet on a commercial flight if you become critically ill or injured?