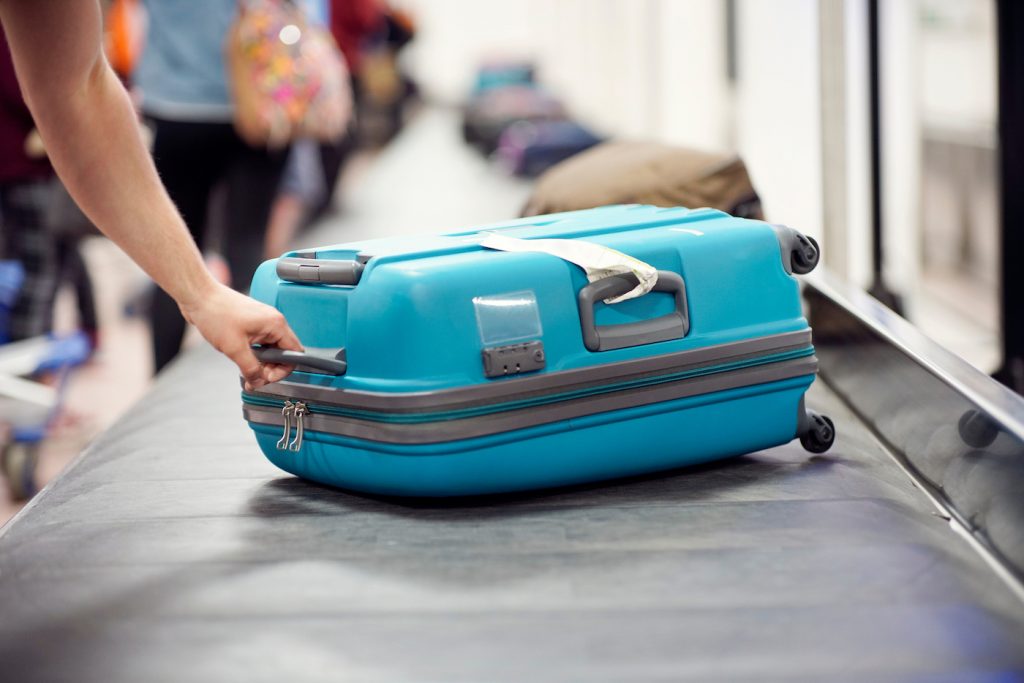 There you are, standing at baggage claim, watching everyone pluck bags off the carousel until… You're the only one left standing, no bag in sight. After you regain your composure, your first stop needs to be the airline's lost baggage office, which should be conveniently located somewhere in baggage claim.
In fact, don't even think about leaving the airport without documenting the loss and getting a claim number (many airlines have claim filing deadlines). Those offices should be open as long as there are people and/or bags on the belts. Once you have that claim number, you can check on the airline website or call the toll-free number on the claim form to follow up on the status of your bag.
If you have to buy necessities for your trip, keep all the receipts. You're entitled to reasonable reimbursement for expenses you incur while waiting for the delayed bag, though you might find it entails quite a bit of wrangling on your part. Just so you know, standard DOT policy demands that airlines provide some compensation and you should be able to purchase necessities right after you file a missing bag claim, rather than having to wait to see if the bag turns up. The majority of bags do turn up within a few days or even on the next flight, so your costs shouldn't be too high.
Once a week or two has passed and no bag, the airline will provide claim forms for you to fill out and return. (Be prepared to detail the contents.) Unfortunately, they work much like insurance companies and they'll look at "depreciated value," not what your clothes, shoes, etc. were worth at time of purchase. Also, each airline has an insanely long list of things they don't cover on domestic flights. Fortunately, this doesn't apply on international flights (you can thank the U.S. government for that.)
There are, however, limits on the liability. Passengers can claim a maximum liability of $3,300 for domestic flights for checked luggage lost in transit. International limits are lower, about a maximum total of $640. We recommend a secondary insurance to cover excess valuation for your luggage; this is usually quite inexpensive. If and when you do file a claim, expect to wait a month to three months for your check—or they may offer free tickets instead of cash. If you choose the flights, make sure to read the fine print.
However, if you think the airline hasn't adequately addressed your problem, don't hesitate to file a complaint with the Department of Transportation. Their Aviation Consumer Protection and Enforcement Bureau will enter the complaint into their computerized aviation industry monitoring system and charged to the company in question in their monthly Air Travel Consumer Report.
Also… don't forget the power of social media. Most airlines are very active with their customer service on Twitter, and that includes lost luggage concerns. Just pop onto their customer assistance Twitter page and voice your complaint—nine times out of ten they'll get right back to you!
Ever wonder what happens to unclaimed bags? Airlines really do try to find the owners for about three months, then most of it ends up in Scottsboro, Alabama. The aptly named Unclaimed Baggage Center, which has contracts with most domestic airlines to receive lost luggage after they fail to pair it with its owners, receives bags lost while in the airlines' possession. Contents are put on sale in their 40,000 square foot warehouse for 20% to 80% off estimated retail prices—it's a gigantic bargain hunter's paradise. And it's so popular it's been feature everywhere from Vogue to Oprah to the Travel Channel and more.
Extra travel tips:
Always carry a change of clothes and basic toiletries in your carry-on
Don't pack important papers, medication, electronics or jewelry in your checked luggage
Label all of your bags inside and out
Avoid tight connections
Use TSA approved locks—potential thieves will move on to easier pastures
Tear off all old tags before you check in your luggage
Consider getting insurance that covers lost luggage
Opt for non-stop flights; there's less of a chance for loss
Ship your bags instead; you might find it's actually cheaper than checking them in—at least on domestic flights—and they're easier to track
Speaking of tracking: try using services like GlobalBagTag or snag a bag with built in GPS