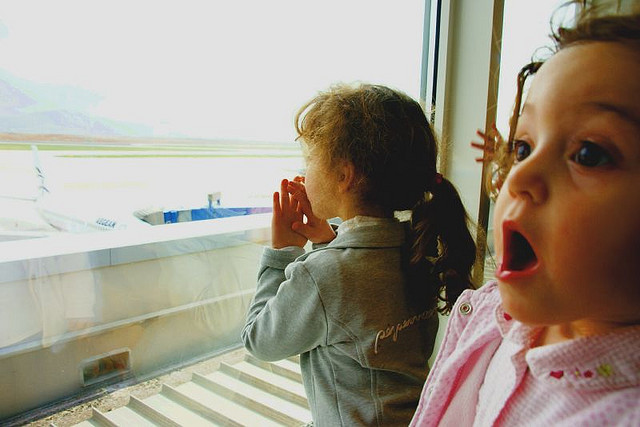 Holidays, summer, spring break… Every few months there's an opportunity to pack up the kids and head to the airport. If you're dreading the thought of a few hours aloft with a fidgety brood, these travel tips can help. Never fear, a little planning and preparation go a long way.
Give yourself time.
No one likes rushing through the airport, and it's even less fun when you have kids to herd through security. Children have their own "kid clocks" and they don't always move at the speed of parents, so you should plan on adding on at least an extra hour for lost dolls, meltdowns, bathroom trips and general lollygagging.
Give each kid his (or her) own pack.
Size the backpacks according to the size of the kid and make sure they don't over pack. The payoff? You carry less, they feel more grown up and responsible, plus you'll be hands-free for hanging onto little paws on walkways and transports. Do a practice "security" run at home if they're smaller so they know the pack needs to be X-rayed. Note: some backpacks come with safety harnesses—one of the greatest inventions of mankind.
Snacks, snacks, snacks.
Unless you have a budget for airport snacks ($$$), pack your bag with healthy treats in plastic zip bags or nifty reusable bags that will last the trip (and beyond). You can get water anywhere in the airport or on board, which is really the best way to keep your tots hydrated. Don't forget the hand sanitizer—airports and airplanes are notorious for the germiest of germs.
Layer it on.
Flights can either be freezing or stuffy, so it's best if everyone wears layered clothing that can be adjusted. Small travel pillows and blankets can also be lifesavers—you really don't want to use the airline's amenities, that is, if they even have them!
Entertain good thoughts.
While electronics can definitely be good nannies to take along (don't forget your chargers!), there are plenty of old fashioned games that can keep the clan busy. A regular pack of cards can spawn a game of Crazy 8s or Old Maid and a notebook can inspire Tic-Tac-Toe, Hangman or other word games. Consider taking along an actual book or two of the classic Mad-Libs—just don't forget the pencils (and make them mechanical, just in case).
Tag your kids.
ID bracelets for your brood are an added layer of security. These reusable or disposable bracelets keep your contact information on the inside for privacy, and can be a lifesaver if you get separated in a crowded airport.
De-energize before the flight.
Meaning: let them walk around the gate, play on the seats, look out the window, comment on planes—all within reason and under supervision, of course, you don't want a whirling dervish spinning around your future flight mates. The idea is to let the kids get their ya-yas out as much as possible before being cooped up in a plane. (Did we mention taking them to the bathroom? Super important, by the way.)
Get the business taken care of.
Take the kiddos to the loo before boarding the plane and then again before landing (time it so the seatbelt lights are still off.) The last thing you need is a squirming toddler when the plane is in landing mode and there's absolutely no getting up no matter what.
Trade places.
A flight can be a perfect opportunity for siblings to get uninterrupted time alone with a parent. You can swap kids on the way back or on the next leg of your flight. And yes, you do need to give up the window. It's just one of those sacrifices parents have to make.
Do you have any special tricks up your sleeve for flying with kids? Please share in the comments below!
Flying with kids? Consider taking along a SkyMed TAKES YOU HOME family membership as well. In the event that you have an unfortunate critical accident or illness during your trip that leaves your minor children or grandchildren stranded, SkyMed will take them home. Plus, grandkids under the age of 18 are eligible for all member services when traveling with their grandparents.
photo credit: greekadman via photopin cc