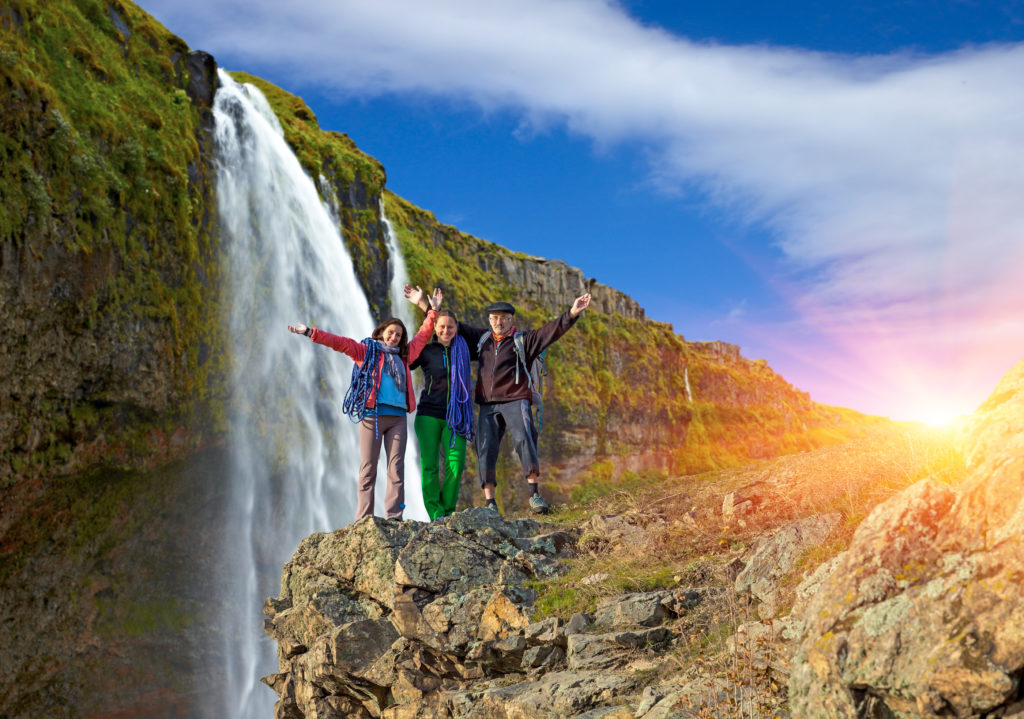 Multigen travel is booming: cruise vacations, summer getaways, cultural tours, active tours—you name it! And it's not just grandparents taking the grandkids. There are more boomer parents taking their adult children (and paying for it), which means the older generation is benefitting from the younger one's sense of the exotic.
This type of family bonding is also trending towards the more upscale type of travel, as in private or customized tours, high-end accommodations with large suites and connecting rooms. And while ritzy all-inclusives are still high on people's lists, groups are looking beyond the (now gourmet) buffet line and setting their sites on something more exotic.
Read on for a few tips on where to go and what to do for your own multigen travel, and don't forget to put your SkyMed Travel membership* to good use to save money and accumulate points for even more trips!
Costa Rica
Eco-retreats are a wonderful bet in this gorgeous little Central American gem. Think a stay near the famous Arenal Volcano for hiking adventures or by the Manuel Antonio Natural Park, a gem of a reserve filled with wildlife (we highly recommend hiring a guide—you won't believe the things they see!) right next to a beautiful beach. Or choose a surfing adventure in Guanacaste with a stay at a surf camp.
Mexico
There's plenty to see and do beyond the Mexican Caribbean—still one of the most popular places in the world (and for good reason), but take a look inland on the Yucatan Peninsula. The city of Campeche is a wonderful bet, with a fortress, a historic town filled with colonial landmarks, and archaeological and ecological reserves a short drive away.
Hawaii
Sure, lazing on the beach at Waikiki or Kaanapali is awesome, but try something more epic and go manta ray ding at night on Hawaii Island, sign up for a photo adventure on Kauai, or go upcountry in Maui to see the island's paniolo (cowboy) culture up close and personal (there's a rodeo every Fourth of the July, by the way!)
River Cruising
Who said river cruising was just for the old folks? There are several shipping companies including luxury brand Crystal and AmaWaterways that cater to multigen travelers. The former's first foray into river cruising, the Crystal Mozart, has suites configured so that each can accommodate a child in a pull-out sofa bed. In penthouse categories and higher, the sofa bed can accommodate a full-grown adult. AmaWaterways' newest ships have connecting staterooms, multiple dining options and special interest tours, including biking and hiking.
Villas
Villas are a big hit for multigen travel. Upscale resorts and hotels in exotic places like Puglia, Italy, and Scrub Island in the British Virgin Islands have everything you need and more. Think breathtaking scenery, two-, three- and four-bedroom floorplans with more than ample living areas, pools, terraces, gourmet kitchens, daily housekeeping, even cooks! Don't want to go so far? Mexico also has a fine reputation for incredible villas: consider renting in the Riviera Nayarit, which not only offers sun and sand, but excellent cuisine and a fun cultural scene as well!
National Parks
Why not stay in the states and make the most of our great nation's many National Parks? There are several tour operators that organize group options for visits and/or stays—and even RV trips! Imagine an adventure in the Grand Canyon, a visit with a Navajo tour guide to Monument Valley or a visit to Yogi's Yellowstone National Park.
Ride the Train
If you prefer to leave the driving to someone else, consider taking your family group on a visit to the National Parks by railway. Amtrak Vacations can make that happen, and its Superliner trains even provide sleeping accommodations with different bedroom and bathroom configurations.
*If you are or have ever been a SkyMed member, you have access to SkyMed Travel's low prices on hotels, rental cars and more! Use your membership number or contact your SkyMed rep. It's worth $99—and it's yours free!
Please follow and like us: