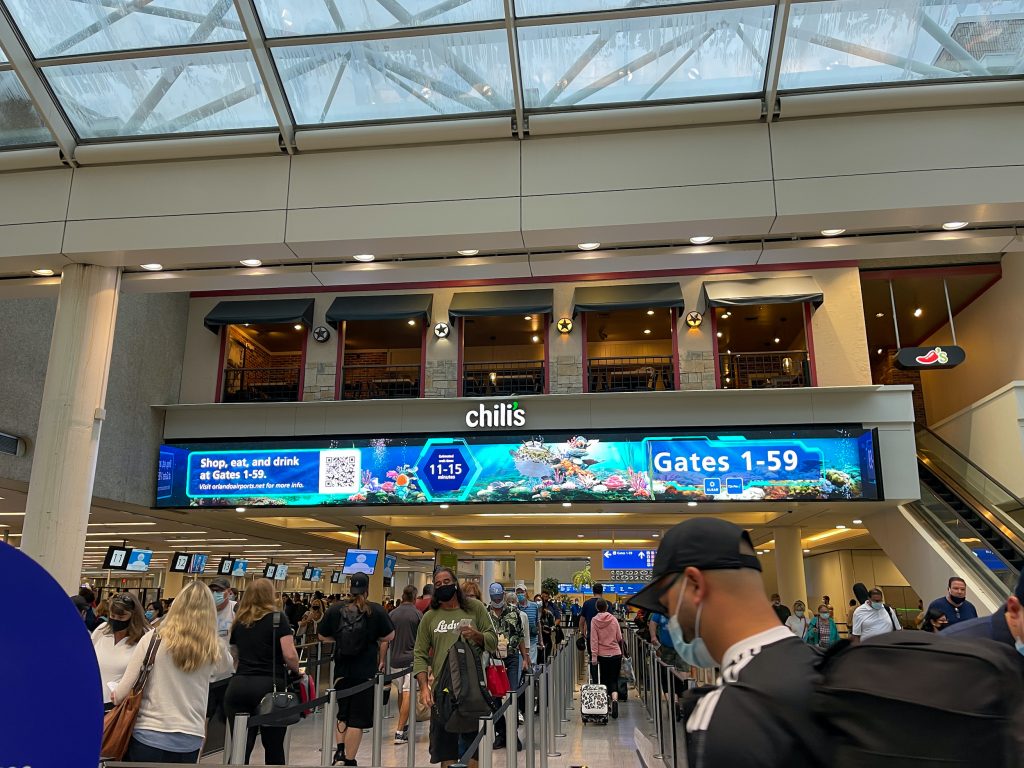 The travel world has changed by leaps and bounds since early 2020, but there are still some things you can do to ease the pain of getting where you need to go. The worst part of it by far is still the TSA security line. And, in the case of flights with multiple stops, having to go through it multiple times. Fortunately, there are tips, tricks, and wonderful TSA-approved programs that show you how to speed through airport security—and no, it doesn't involve flying in pajamas and flip-flops.
TSA PreCheck and CLEAR
Though neither of these two programs is in every single airport around the nation, both are growing and are definitely worth their weight in precious time. The Transportation Security Administration has about 100 airports enrolled in PreCheck, which allows low-risk travelers to be expedited through participating U.S. checkpoints for domestic and international travel. This means you get faster lines and you don't have to take off your belt, shoes, or light jacket when you get to the screening area—worth every penny of the $85 one-time application fee. Check the website for eligibility requirements and it will also tell you about other Homeland Security Trusted Traveler Programs. For example, if you're a frequent international flyer, for an additional fee, Global Entry will give you expedited clearance through immigration when you return to the U.S.
CLEAR is integrated with PreCheck at all of its CLEAR locations (they have their very own line), which currently include 50+ airports and stadiums, with more to come. You can obtain the card online or at the enrollment center at the airports it currently serves. The enrollment uses biometrics, as in fingerprints and iris imaging, so there's a bit of James Bond to the whole thing. Membership costs $15/month, billed annually, kids under 18 are free, and you can add up to 3 family members for $50 each per year. If you are a frequent flyer out of any of their home airports it might be worth a look.
Check into airline or credit card priority screening lines.
Almost every airline has a priority access lane: if you're an airline credit card holder you might be able to access the line for free, just check the fine print because it depends on your status (doesn't everything?) Of course, elite frequent flyers and those holding a business- or first-class ticket usually get priority screening line access.
Checkpoint don'ts.
Especially around the holidays, traveling with food and/or gifts can be a challenge. Here's a rule of thumb: if it's liquid, aerosol, or gel and is more than 3.4 oz, check, ship it or chuck it (if you don't the agents will). Here's a list of what the TSA won't let through if it exceeds the designated size or can't be effectively scanned. Duty-free shops now put their liquid wares in tamper-evident bags approved by the TSA, so you should be OK with that bottle of tequila you bought past the checkpoint in Cancun.
Take the right gear.
Think slip-on shoes, TSA-friendly laptop cases, clear zip-up bags for your sundries, and 3-oz refillable bottles. The better prepared you are… The better.
Take inventory of what you'll have to shed.
As you inch forward, review what you're going to have to throw in the screening bins and begin loosening up what you can. Remember electronics go in their own bins; don't make the agents send you back for a second bin. Smart travelers also travel light on the jewelry and go for stylish comfort that doesn't require too many belts or buckles. (Again, no pajamas, please. Think of your fellow travelers.)
Have your documents in order.
Meaning, have your ID and boarding pass in your hand when you're in the security line. As much as the agents sing it out at just about every airport in the land, there's always that someone who starts fumbling through his or her bag for the documents when they get to the head of the line. Don't be that person.
Please follow and like us: