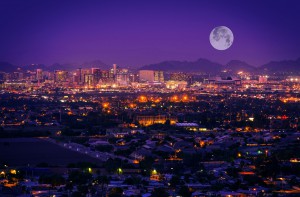 True to its Wild West roots, Phoenix, Arizona originated as a hay camp established to supply the Army at Camp McDowell. Today, it's the nation's fifth largest city and the center of what's called The Valley of the Sun—mainly thanks to the more than 300 days of sunshine each year. The Valley is composed of 23 contiguous communities, including Mesa, Scottsdale, Chandler, Tempe, Glendale and other smaller cities. Every year, more than 13 million visitors for both business and leisure make their way to the Greater Phoenix area.
Downtown Phoenix is currently undergoing a massive urban renewal program that is drawing more and more vacationers (and locals) to its wide city blocks. New projects like Cityscape Phoenix have brought in a fashionable mix of shopping, dining and just plain cool stuff to do. Here you can buy cute jeans at Republic of Couture and rock them out at the Rasputin Vodka Bar, or head out to happy hour at the Lucky Strikes Lanes and bowl a game or two. There's plenty going on during the daytime as well: for example, the Arizona Science Center has more than 300 hands-on exhibits and the Children's Museum of Phoenix keeps kids up to 10 years old busy with their own 45,000 square feet of fun. Galleries and performing arts centers like the vibrant Phoenix Symphony Hall, the 5,000-seat Dodge Theater and the Herberger Theater, as well as massive sports venues like the Arizona Diamondback's Chase Field and the Phoenix Suns' US Airways Center keep calendars filled year round. A point of pride for Phoenicians: Phoenix is actually one of only 13 U.S. cities with four major professional sports franchises—the Phoenix Suns (NBA), the Arizona Diamondbacks (MLB), the Arizona Cardinals (NFL), and the Phoenix Coyotes (NHL). It's also home to the Phoenix Mercury (WNBA) and the Arizona Rattlers (AFL).
A fairly recent addition to the Downtown area is a $1.4 billion light-rail system with a 20-mile line that links Phoenix to the neighboring communities of Mesa and Tempe, with stops at attractions including the Phoenix Art Museum, the Heard Museum, Chase Field and the US Airways Center. The air-conditioned cars operate 20 hours a day, seven days a week, and their platforms are adorned with $6.2 million worth of public art. Another big plus for downtown visitors: Tempe is home to the Tempe Beach Park and the very popular Mill Avenue district, filled with funky shops and all kinds of restaurants.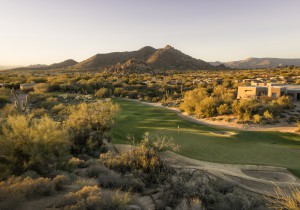 Fore!
The plentiful sunshine and the dry climate is the perfect recipe for taking advantage of the great outdoors, which makes Arizona an excellent place for golf. With more than 200 courses making vivid green splashes against the backdrop of the Sonoran desert, Phoenix is one of the top five golf destinations in the world—in fact, it has more courses than Scotland. Three major professional golf tournaments currently make regular stops here: The Phoenix Open (PGA), the Standard Register Turquoise Classic (LPGA) and The Tradition (Senior PGA).
The star on the golf scene is definitely Scottsdale. Home to the TPC Scottsdale, which hosts the best-attended event on the PGA tour, Scottsdale was also the site of the very first nine holes in the state, set up way back in 1910. Here you'll find some of the best hotels in the state—not to mention the world—and the city offers an impressive array of both resort and high-end daily fee courses. Luxury accommodations with greens can be found at the Fairmont Princess and the Boulders, among others, while stand-alone courses are available at Sun Ridge Canyon, Eagle Mountain and We-Ko-Pa (on Yavapai reservation land). A must-play for every golfer: Troon North's Monument and Pinnacle courses.
Among the many standouts is the Kierland Golf Club. Aside from the luxury carts and services, the Kierland pays homage to the Scottish heritage of Arizona. The Scottish Golf Experience includes authentic kilt rentals, a bagpiper who plays at sunset to call the golfers in from the field, and Saturday night scotch whiskey tasting events. Players can also enjoy sips of Johnnie Walker Blue, Gold or Green while they're out roaming the course.
There are quite a few other excellent courses sprinkled though out the Valley, most notably in the western communities of Glendale, Peoria and Goodyear. Robert Trent Jones Sr.'s Wigwam Resort, Hale Irwin's Palm Valley and Jack Nicklaus II's Estrella Mountain Ranch give their eastern counterparts a run for their money, and usually at very reasonable prices year round. Upscale, well-priced golf is also available in the East Valley, with names such as Ocotillo, Las Sendas and Gold Canyon. On an even tighter budget? Keep your eyes peeled for summer specials, when even top resorts put their tee times on sale, or try the still-challenging municipal greens, such as the Gary Panks' Aguila Golf Course in south Phoenix, the Superstition Springs Golf Club in Mesa and Scottsdale's Papago Course, one of the top municipal courses in the area with views of the red-rock formations from every hole.
Creative Cuisine
The cultural diversity of the Valley of the Sun boasts a rich heritage, spanning thousands of years and uniting Native American cultures with Spanish, Mexican and North American influences. This has given rise to an impressive collection of distinctive dining experiences, including the only Five Diamond/Five Star restaurant on the continent owned and operated by Native Americans.
From chain restaurants to down-home taco joints and burger bars to elegant establishments with award-winning fusion cuisine, your palate is sure to be pleased. Add in a healthy dash of stunning views of desert landscapes and a slew of restaurants opened by world-renowned chefs and James Beard award recipients, and you have a recipe for foodie heaven. Many of the best are located in resorts, though there are a significant number of independent eateries sprinkled throughout the Valley—you can even find a few in shopping malls! Try what's become a sort of "restaurant row" down along the Camelback Corridor, which runs west to east from Phoenix to Scottsdale, or head to the quaint downtown area of Old Scottsdale with its excellent establishments that run the gamut, from divine steakhouses to delightful Thai, Spanish tapas served in chic surroundings and more. Don't miss the late April Scottsdale Culinary Festival, which puts it all on fine display.
Shop, Spa, Shop Some More
Shopping and spa go together like, well, peas and carrots: it's a well-known fact that walking and carrying shopping bags can result in some sore muscles.
There's no doubt the shopping choices in the Greater Phoenix area have raised the bar in the Southwest. Art collectors and enthusiasts have plenty of galleries to choose from, showcasing styles from über modern to classic cowboy, while quirky shops highlight local craftwork and mod clothes. It's in the retail fashion arena, however, that genuine shoppers realize they've come to the right place to give their charge cards a workout.
The expanded Scottsdale Fashion Square is one of the largest and most stylish malls in the entire Southwest. A veritable who's who of retailers make their home here, including Neiman Marcus, Barneys New York and Nordstrom, in addition to fashion plate names such as Gucci, Ferragamo, Bottega Veneta and Jimmy Choo, and jewelers like David Yurman and Cartier. Posh perks make it even more desirable: think package carry out assistance, personal shoppers, valet service, car detailing while you shop and more.
Though summer temperatures do hit some impressive highs, the majority of the year the weather is so stunningly perfect that outdoor shopping malls are very popular in the Valley. The Biltmore Fashion Park anchors include Saks Fifth Avenue, Macy's, Cartier and Ralph Lauren. Kierland Commons does pedestrian-centric streetscape with Coach, BCBG, Ann Taylor and about 50 other retail stores and restaurants open for business. The newest addition to outside power shopping is the Scottsdale Quarter. Located near the Kierland Commons, it offers H&M, Apple, A|X Armani Exchange, Republic of Couture, Williams-Sonoma Home among others and decidedly trendy, delicious restaurants like True Food Kitchen and Eddie V's Prime Seafood.
At the end of the day—and before heading out to the theater, the nightclub or the gallery opening—you might want to take advantage of the Valley's wonderfully diverse culture of spa. The majority of resorts include "spa" in their name, and many freestanding salons have high-end treatment rooms and professional aestheticians on their payrolls. The surrounding Sonoran desert serves as the inspiration for many a spa menu, and you'll find ancient Native American wisdom and traditional techniques work very well to tame and calm modern sensibilities. Signature treatments use indigenous ingredients such as agave, red clay, cholla cactus buds, saguaro flowers and mesquite beans. Be sure to take a little Arizona back with you with a quick trip to the spa's store…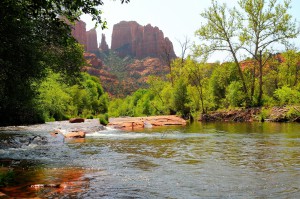 North of Center
You won't lack for adventure in the Valley of the Sun: for adventurers, the sky is literally the limit. Hot-air balloons at sunset and sunrise, helicopter rides and small aircraft whisk you above the dramatic landscape; desert tours, Jeep tours, rock climbing, hiking and biking trails abound. Seven lakes surround the Valley, each one buzzing with water sports activity nearly year round.
If you have a little time for day trips, you might want to head north on Interstate 17 and explore the towns of Prescott, Sedona and Flagstaff. Just 90 miles north of Phoenix, Prescott has a Wild West history dating back to the discovery of gold in 1863. On its quaint little town square you'll find the Yavapai County Courthouse, antique shops, restaurants and hotels—don't miss a visit to Whiskey Row on Montezuma Street, once famously occupied by, of course, nothing but saloons. Other must sees are the restored 500-seat Elks Opera House, now hosting live performances, and the beautiful Victorian homes of Mount Vernon Street. Located on a mile-high plateau, Prescott enjoys mild seasons and average annual daytime temperatures of about 70 degrees.
Further north, Sedona is home to breathtaking red rock formations that have made it one of the most photographed spots on the planet. The best way to drink in the scenery is from the back of a horse or from the seat of a jeep. The surrounding area is also crisscrossed with trails that will get plenty of that famous red dust on your hiking boots. A more sedate afternoon can be spent in Uptown Sedona, the main drag lined with shops that offer everything from the usual souvenir suspects to beautiful Native American jewelry, quality leather goods, handmade creations and gorgeous galleries. Be sure to visit the Tlaquepaque Arts and Crafts Village, a replica of a colonial Mexican village with courtyards overflowing with flowers and rustic details surrounded by restaurants, galleries and upscale boutique
As you head out of Sedona on State Road 89A it will wind up Oak Creek Canyon, one of the state's most scenic drives. As you climb up the mountain, you'll see the aspen trees give way to Ponderosa pines, a signal that you're near Flagstaff. Located 146 miles north of Phoenix and home to Northern Arizona University, Flagstaff is a ski resort/student village with fantastic weather year round and restored town center with great little restaurants and shops. The Arizona Snowbowl's Skyride is open during the summertime as well, giving visitors a bird's eye view of the majestic San Francisco peaks.
With its long, storied history, fascinating blend of cultures and distinctive vision of the future, Arizona clearly has much to offer visitors year round. Come join the fun!
Please follow and like us: