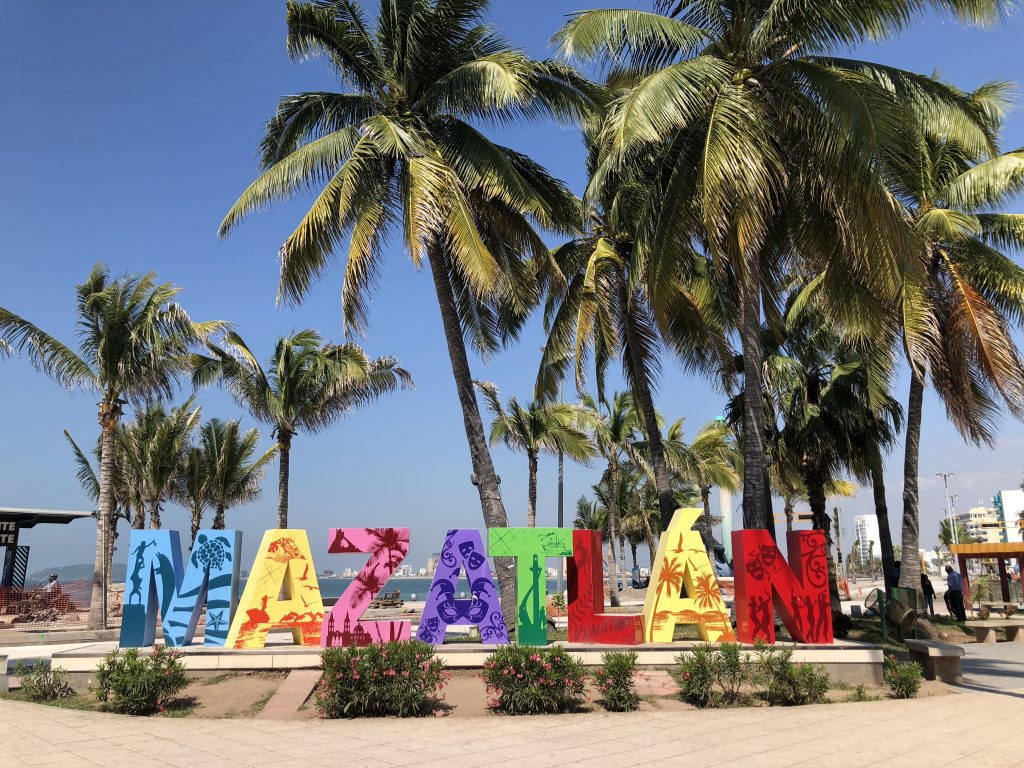 Lively, warm, and welcoming, the city of Mazatlán on Mexico's Pacific Coast is beloved by travelers, families, and ex-pats from the United States and Canada looking for a beach destination that offers more than great fun in the sun. By billing itself as a "Colonial City by the Beach," it heralds its unique combination of cultural pursuits, gastronomic delights, and, yes, plenty of seaside diversion along its miles of golden sand. Add to it deluxe accommodations, excellent land and water sports, and very reasonable prices, and you have the recipe for the ideal vacation—or retirement—spot.
There's no doubt there's much more than five things to do in Mazatlán, but here's a bird's eye view of what your next Pacific vacation could look like:
Old Mazatlán is the heart of the city…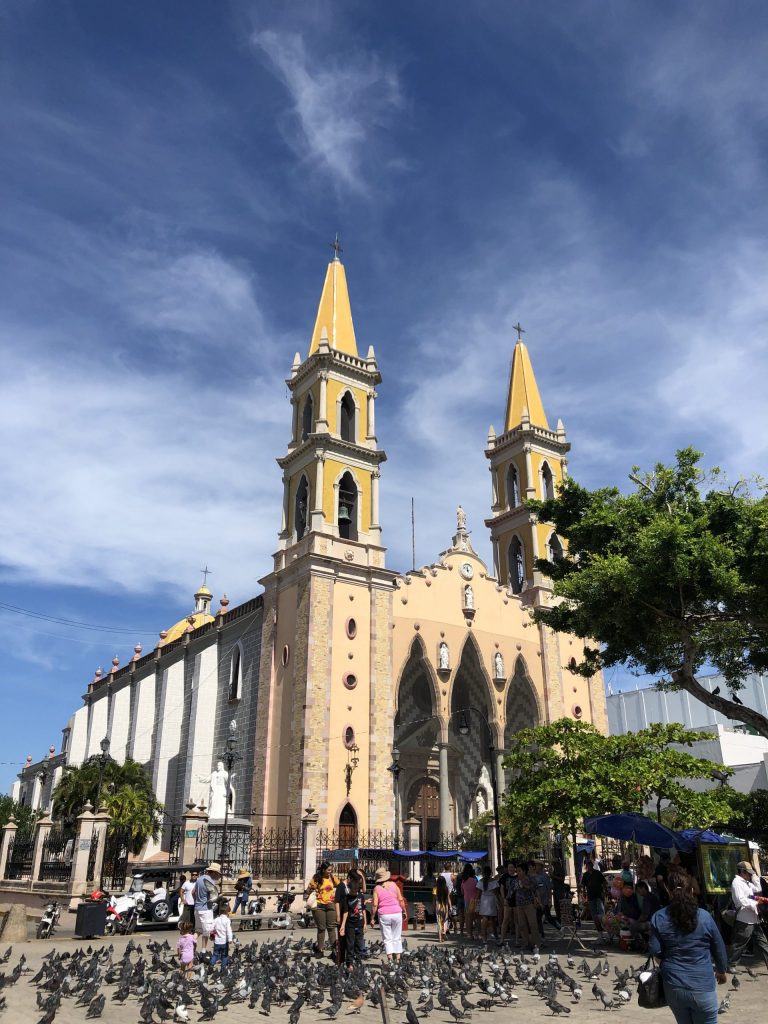 With nearly 500 buildings tucked away in a 180-block area, the Centro Histórico has undergone a beautiful multimillion-dollar renovation that brought its narrow streets and colorful, 19th-century buildings and leafy parks back to life. By day, this historical treasure is the darling of photographers for its eclectic neoclassical architecture (don't miss a visit to the Cathedral of Immaculate Conception), and visitors flock to its galleries, museums, and shops. Fine art schools open their wooden shutters along the sidewalks, allowing a glimpse of the students painting, dancing, or sculpting within.
By night, a lively crowd of locals and international visitors enjoy the balmy evenings set to live music, delighting in the ambiance and the fine food served at the sidewalk cafés around the Plaza Machado. Lovers of opera, ballet, and contemporary dance will love the esteemed Angela Peralta Theater, named after the famous opera singer, and now restored to its original grandeur.
…And the malecón is its soul.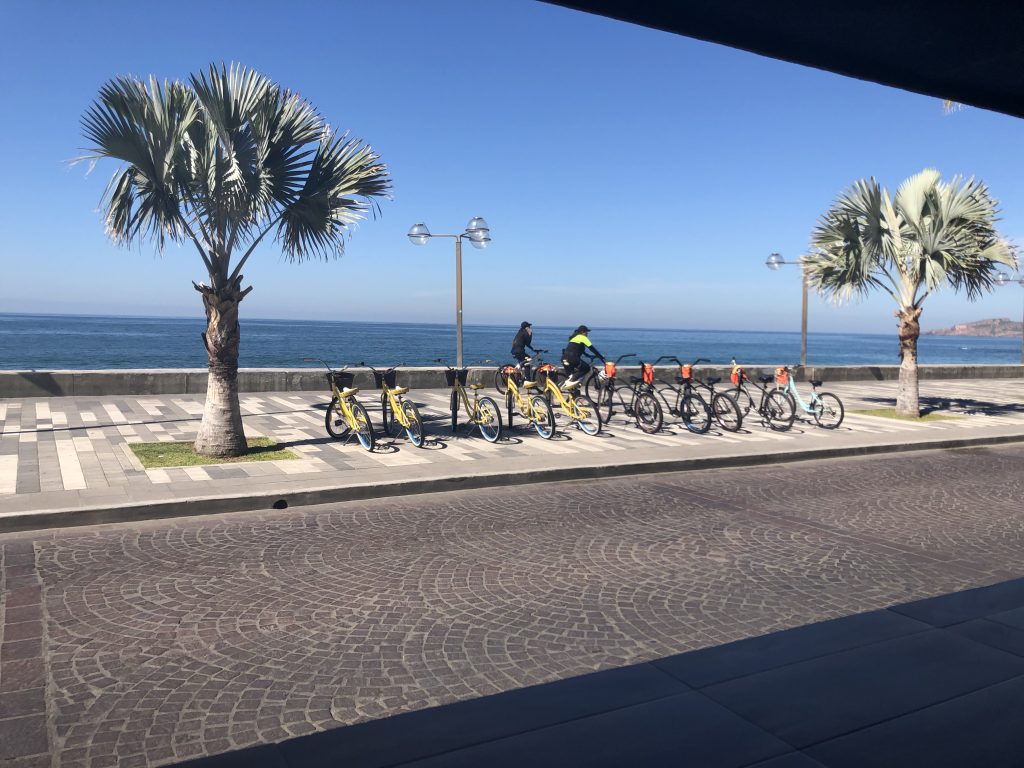 An eleven-mile boardwalk that stretches along the Olas Altas Boulevard from the Hotel Golden Zone to the Centro Histórico, the modern malecón is where couples walk hand-in-hand to watch the sunset, where families meet to enjoy the beach below and everyone comes to see and be seen on a weekend afternoon. The boardwalk even serves as an outdoor gallery lined with monuments evocative of daily life in Mazatlán.
A giant copper vat, for example, once held thousands of gallons of the famous Pacífico pilsner, one of Mexico's finest beers and a legacy of its German past. The Fishermen's Monument depicts a shrimp fisherman and a seductive mermaid (Mazatlán is the shrimp capital of the world), while what may look like Fred Flintstone's vehicle is actually a pulmonía, a local open-air taxi. Pull up a bench and enjoy the sights—you'll be able to see all the way to El Faro, Mazatlán's landmark lighthouse and the second tallest in the world only after the one in Gibraltar.
Mazatlán is a feast for the palate.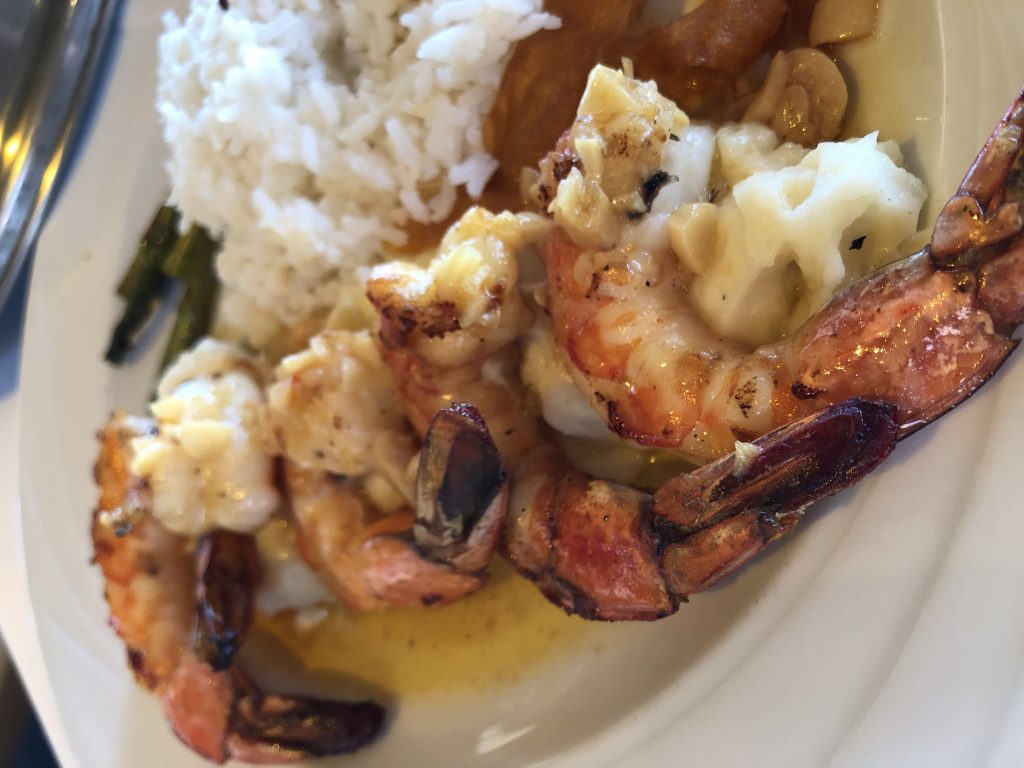 As the Shrimp Capital of the World, there's no dearth of delectable dishes spotlighting this tasty crustacean. A classic favorite is anything with smoked marlin and the spicy aguachile, a fresh ceviche-like dish made with shrimp, cucumbers, onions, lots of lime, and serrano peppers. With the Pacific as its backyard, Mazatlán's restaurants offer a cornucopia of seafood dishes, including fresh octopus, conch, crab, tuna, wahoo, and dorado. Many will tempt you with casual home-style family cuisine (try La Puntilla near Isla de la Piedra or Topolo in the centro), but there are plenty of gourmet restaurants with world-class cuisine awaiting foodies (try the exquisite Casa 46 or the seasonal El Aljibe de San Pedro, located in a giant underground water cistern in the Old City).
Go beyond the city limits.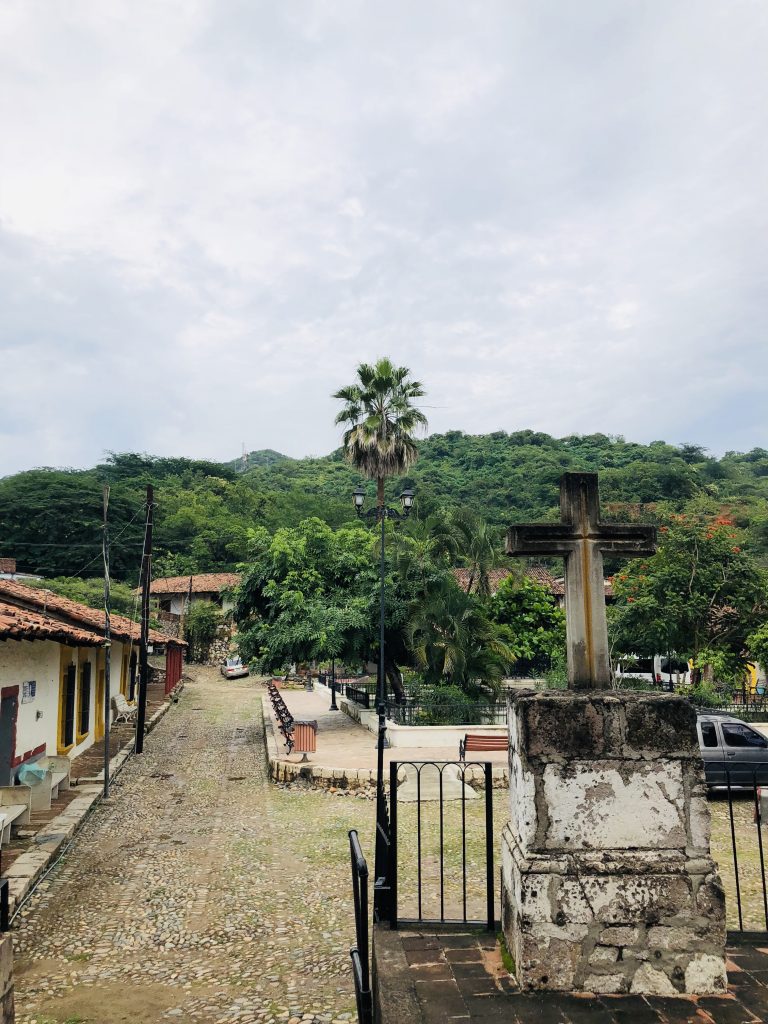 A jaunt to the nearby towns of Concordia and Copala makes for a fun day trip. The pleasant drive takes you past fields planted with chiles, mangoes, and coconut palms and upwards into the foothills of the Sierra Madre Mountains. The town was once a French garrison—a visit to the Palacio Municipal is a must to view a detailed painting of its rich past—and its ornate Baroque church dates back to the 18th century. Copala is reached at the end of a long and winding road up the mountains, a picture-postcard town where children still ride burros or horses to school and the bougainvillea blossoms in riotous confusion over every wall and clay pot. The tiny plaza fronts a beautiful old church, filled with old-style Christ statues, beautiful, sad-eyed Madonnas, and a lovely hand-painted altarpiece.
One of the most delightful villages that surround Mazatlán is that of El Quelite. Exquisite restoration work is evident throughout this town, which welcomes its visitors with open arms. The place is a veritable treasure house of Mexican tradition, from the shady porticoes of its historic homes to the red-tiled roofs, the narrow streets, and the working farmsteads that offer travelers a hands-on experience of what rural life is all about. There is even an opportunity to witness the ancient ball game of Ulama, similar in a way to what soccer is today, or take a side tour to the nearby Mesa de Cacaxtla, a nature preserve rife with species unique to the area. Note: Don't leave without trying a plate of homemade carnitas de puerco or a dish of tender quail at the typical and very picturesque Mesón de los Laureanos.
There's always something going on…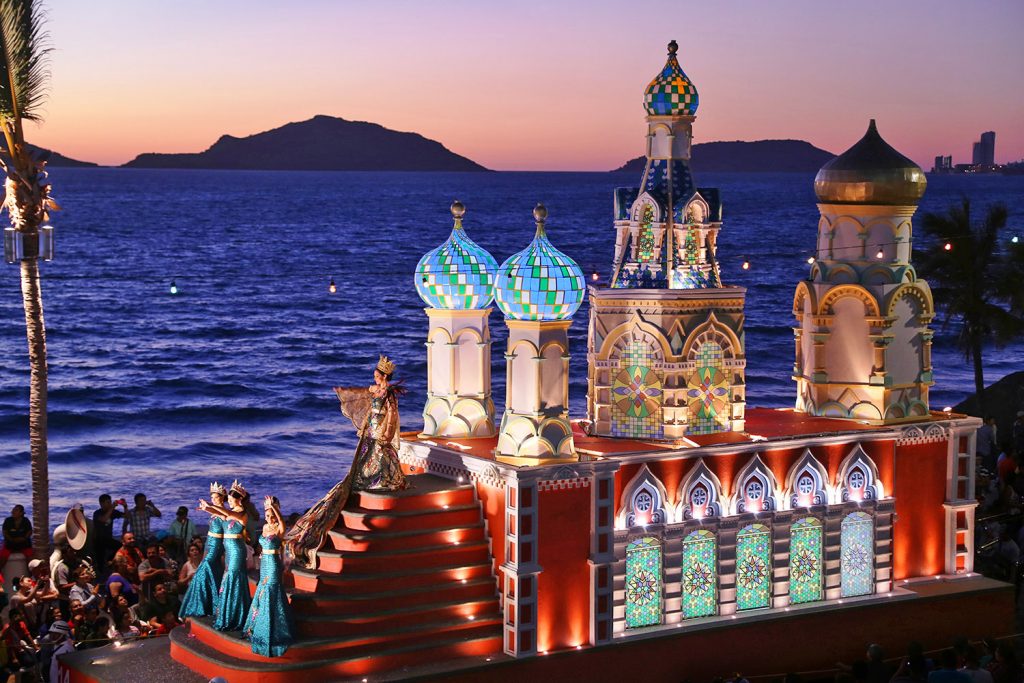 Mazatlán's calendar is pretty full year-round with everything from the world-class Marina Mazatlán Fishing Tournament (June) and the Marina El Cid Billfish Classic (November) to the third largest Mardi Gras celebration—their renowned Carnaval—(February), and the brilliant Mazatlán Cultural Festival (November – December). The year is liberally sprinkled with cultural happenings (the weekly Artwalk from January through May; the Spring Equinox Festival at Las Labradas in March; the International Film Festival in October and more) as well as sporting events, including the El Cid Annual Golf Tournament in November, the Pacific Marathon in December and, from October through January, the Mexican Baseball League of the Pacific
It should be said that the mazatlecos absolutely love their baseball—el béis, as they call it. Game night at the recently remodeled Teodoro Mariscal Stadium means plenty of action on the field and off, with handsome galanes and beautiful señoritas in their highest heels strategically seated to see and be seen. Another highlight? The food, from sliced roasted sausages to hot buttered corn in a cup (amply seasoned, of course), all downed with ice-cold Pacífico beer.
Book with your favorite SkyMed Travel Advisor and receive a free SkyMed Essentials Membership with your trip: In case of critical illness or injury while abroad, SkyMed Takes You Home! Call 800-568-8994 to book today!
Please follow and like us: