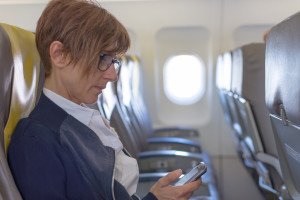 Travel smarter for your next work venture with this handy list of our best travel apps for business. Some will save you time, some will save you money and all will save you a headache or two.
Plan
Tripit (iOS and Android)
This one easy way to organize all your travel plans in one place—and all you have to do is forward your travel confirmation emails. The app "automagically" creates a detailed itinerary for every trip where you can access them anytime, even offline. It also gives you directions and maps for each destination, syncs with Apple Calendar, Outlook and Google Calendar, allows you to edit trips and even share them with friends via email and social media. We like the Pro version for frequent travelers with real-time flight alerts, seat tracker, flight finder, refund notifications, point tracker and much more. Free with available paid upgrade to Pro.
Hipmunk (iOS and Android)
The app for the lauded Hipmunk travel site compares the top travel sites to find the best hotel and flight deals—you can save up to 60% off with their Tonight Deals, plus they have free flight alerts and instant booking, not to mention comparison shop hotels and read reviews (including Airbnb rentals, hostels and HomeAway rentals). Free.
Passbook (iOS)
Your iPhone's virtual wallet can help you store flight check-in information, boarding passes, movie passes, coupons, loyalty cards and more. You can even add credit and debit cards to pay for purchases using Apple Pay (iPhone 6, 6 Plus, iPad Air 2 or iPad mini 3). There are endless Passbook-enabled apps to choose from. Free.
SkyScanner (iOS and Android)
This award-winning app searches millions of flights from hundreds of airlines in seconds, saving time and money. Browse prices across a whole month or even a whole year. You can find the best deals on rental cars (filtering by vehicle type, fuel and features as well as price), compare millions of rooms from hotels, all-inclusive resorts and B&Bs around the world, browsing by key landmarks, reading reviews and more. Now with Apple Watch functionality. Free.
Swacket (iOS)
Can weather be fun? Sure, with Swackett! This app uses cartoon-like figures to help you don appropriate clothing for whatever weather comes your way, adding data about lifestyles and even health conditions affected by your local weather. Their latest update includes Nuevo Peep with tons of clothing ideas and there's even a Dog Walking Comfort Index! Their weather news comes from Accuweather, so you know it's on point, but the extras make it interesting and lively. Free with in-app purchases.
Track
Expensify (iOS and Android)
This is good for you as a business owner and as an employee: it streamlines expense reports, approval and exporting of information to accounting. What more can you ask for? You can also scan receipts, add cash expenses, automatically import all card transactions, capture mileage, time and other billable/reimbursable expenses, plus you can even code expenses! Add in support for over 160 currencies as well as international taxes, smart categorization, custom invoices and direct bank import, and you can't lose! Available for business and personal use, works online or off. Free with paid upgrades.
OfficeTime (iOS)
This very simple app helps you track time and expenses on multiple projects. It tracks your time accurately, reports and organizes everything for easy invoicing. Syncs with iCal, offers summary graphs and more. Ease of use means you'll use it more. Pay a one-time fee, the rest is free (desktop version also available for Windows.)
Mileage Log+ (iOS)
Another simple app that allows you to track mileage for tax deduction or reimbursement. It's designed with IRS compliance in mind, which is a plus; creates Excel compatible email reports, DropBox sync entry, customizable categories and more. $9.99
Organize
Evernote Business (iOS and Android)
This version adds team and admin features to Evernote Premium for a $12 per user per month fee, but the reach and flexibility are well worth the price. Evernote allows you to create a workspace that allows you to write and organize, discuss and collaborate and more, online or off. Attach files, attend meetings, make connections, track expenses, plan travel—you name it. Available for Apple Watch. The app is free with two subscription levels for Premium ($5.99/mo) or Plus ($24.99/mo).
Office 365 (iOS and Android)
Use your fully installed applications—Word, Excel, PowerPoint, OneNote, Outlook, Publisher and Access—for use across your iPad and Android tablet and phones. Access documents, photos and videos from anywhere with online storage, stay connected with their Skype feature and stay updated with the latest applications. The apps for the devices are free, the subscription is $6.99 per month.
You might also need…
XE Currency (iOS and Android
Calculate your currencies on-the-go—includes live exchange rates, historical charts and help with calculating prices. Free.
Air Help (iOS and Android)
Have you been on a delayed or cancelled flight? If the answer is yes, Air Help says you're entitled to get up to $800 from the airline. All you have to do is send them your flight details and they'll do the negotiation. If the claim is successful, they'll deposit the money in your account minus a 25% service fee. If you don't win your claim, you don't pay a cent. They offer free support on passenger rights (via phone, chat or email) and with an average successful claim of $450 or more, you might want to think twice before settling for a food voucher (you can submit a claim right at the airport via the app.) The app also checks for flight delays. Free
Please follow and like us: