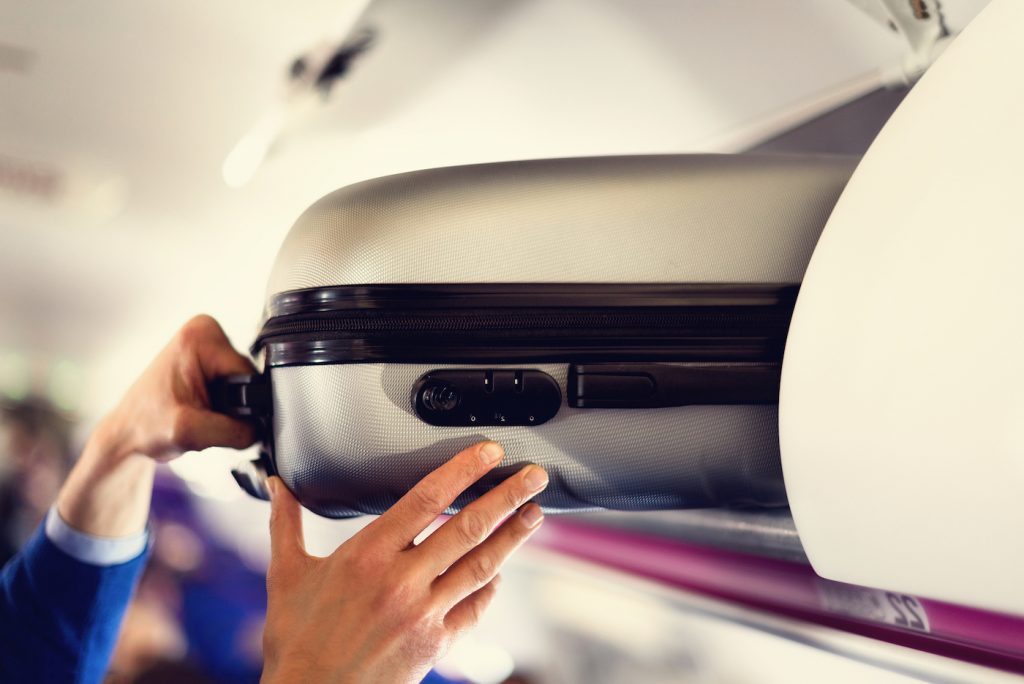 Whether you're leaving for business or for pleasure, these sanity-saving travel essentials to tuck in your carry-on will make your voyage smoother and—should you need it—help weather any missed bag/flight/connection mishap with a little more ease.
Hard Copies Of Important Personal Documents
The first rule of international travel: never lose your passport. The second rule of international travel: see first rule. But if you should find yourself in this quandary, your life will be that much easier if you have a color copy of the first two pages plus a second government-issued ID (a state-issued license, for example) to take to the nearest consulate or US Embassy. You'll also want hard copies of that drivers' license, your airline reservations, your itinerary, prescriptions you might be taking, credit cards front and back (in case your wallet is lost/stolen) and hotel reservations. Taking pictures of these and putting them on your phone is another added layer of protection. There are a few travel organizer apps out there that can help you gather most of this info, including Tripit and TripCase.
And speaking of hard copies: tuck a pen and a small notebook (we like Moleskin) in your bag as well—you never know when you might have to jot down a quick flight change number or address if your smart phone should run out of juice.
Travel Outlet Strip
Nowadays most airports have charging stations—and they're usually packed. If you're like most travelers and have more than one gadget that needs juice, an outlet strip with a short cord is a lifesaver. And if you have an extra outlet or two available, you might be able to help that fellow traveler with the dreaded "battery low" flashing on his or her phone.
Travel Chargers
Easy to forget when you're in a hurry! If you can't afford to have doubles stuffed in a clear plastic bag to keep in your carryon at all times, then by all means: tack a sticky note right above your doorknob the night before so you won't be able to leave without seeing it!
Basic Toiletries
Sounds like one of your pretty basic travel essentials, but if you throw everything in your checked bag and end up with a lengthy layover, a missed flight or a lost bag, not having—at the very least—contact lens solution, eyedrops, toothbrush, toothpaste and deodorant on hand makes it that much worse. Ladies: consider taking basic makeup items onboard as well! A little mascara and eyeliner can go a long way.
Cash And Credit
We're not talking large amounts, but about US$100 in US currency and the equivalent in the currency of the country you're traveling can be a lifesaver. Opt for small bills over large ones so you don't have to ask for change or pull out a big wad of money at any time. You'll also want to take a good travel credit card, meaning one that doesn't charge foreign transaction fees if you're going abroad and will help you accumulate points when you use it for your travel charges.
Comfort And Cleanliness
Comfort is, most definitely, one of everyone's top travel essentials: travel pillow (try the foam kind you can squish into a small bag), foam eye mask (the kind that molds over your eyes) and earplugs. Cleanliness: wipes, wipes, wipes. Get the kind you can use on yourself to freshen up and another little packet of anything with Clorox to wipe the arm rests and the fold down tray.
Entertainment
We're pretty sure you won't leave home without your smartphone (and more than likely, your laptop), but you'll want to make sure it's nice and loaded with music, eBooks and seasons of your favorite shows before you leave home. Don't depend on inflight Wi-Fi, not to mention you probably won't be able to download anything with such a weak signal. Oh, and DO NOT forget your headphones/earphones. In fact, we highly recommend bringing two sets with you (they don't have to be super expensive ones)—you never know when you might misplace one and then you'll have to pony up $$$ to buy new ones at the airport.
Snacks
Luckily, many airports nowadays offer plenty of healthy snacks, but once again, you'll have to pony up plenty of $$$ to enjoy them. Not only that, but if you're stranded in the airport in the wee hours, it's more than likely all the concession stands and restaurants will be closed. Travel essentials in the guise of food can include a couple of granola bars, beef jerky, dried fruit… you get the idea. A collapsible water bottle is a good idea, too: you can always fill it up at any of the fountains.
Clothing
A light jacket you can roll up or a lightweight cashmere (or imitation) wrap plus a pair of short socks are always good travel essentials, as flights and airports can get chilly and uncomfortable. If you have room, try to bring a complete change of clothes in case your luggage is delayed, or, at the very least, a clean shirt and fresh underwear—you can always reuse your pants and/or skirt. Oh: sunglasses, just in case.
And Last But Not Least…
An emergency travel membership is always a good idea if you're traveling 100-plus miles from home. Check out our SkyMed.com page for a variety of different plans, from short-term to long.