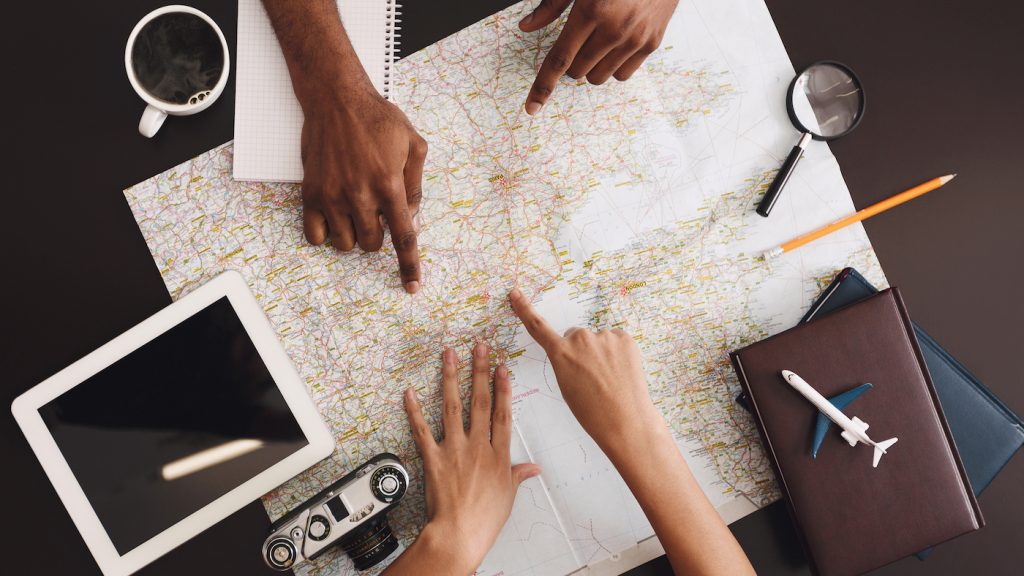 Traveling in tandem is great—and, done right, planning can be half the fun. We suggest starting with plenty of time and perhaps a libation or two: guest blogger Keith Jacobs from carupkeep.info has a few more ideas to make it a stellar getaway. Bonus tip: take your SkyMed TAKESYOUHOME card along with you to ensure you can get back home in case of a critical injury or illness—with no more out-of-pocket than the cost of your membership!
Are the two of you ready to go exploring together? An adventure getaway can be just the ticket, so long as you make solid plans and prepare well. Here's how to ensure your scrapbook is jam-packed with happy memories and mementos.
Start with insurance coverage
Insurance probably isn't the most exciting talking point in your list of priorities, but it's a basic must for all forms of travel. If your adventure is going to be a road trip, for instance, you should review your auto insurance coverage to determine if you would be better off making any changes. Along those same lines, as AutoInsurance.com explains, some states handle accident-related medical costs differently than others, so check into what you can expect.
Auto insurance isn't the only thing worth investigating. If you're heading out of the states, travel insurance is something to consider. One suggestion is to check in with your health insurance company to see what kind of coverage you'll have in your destination. The last thing you want is to be left high and dry without insurance coverage in foreign lands.
What do you want to do?
There is a plethora of interesting things to do and exotic places to go for your adventure, and narrowing the selection can be both half the battle and half the fun. One idea is to think about incorporating a hobby into your choice – and believe it or not, you can find ample adventure right in the good ol' USA.
For example, if you love scuba diving, perhaps a shark tour would be the perfect solution, which you can do off the coast of California. Love to ski?  Heli-skiing could add the shot of adrenaline you desire, and some recommended opportunities are in places like Nevada and Washington. If you enjoy riding horses or camping, perhaps a dude ranch is calling your names, à la City Slickers – you can head to Montana, New Mexico, or Colorado. If a safari is your dream vacation, you can make that dream come true stateside in places like Arizona or Texas, without the worries of a Malaria vaccination. 
If you're planning to head overseas, of course, your options continue to broaden. There are historical destinations like Machu Picchu, driving tours Down Under, and hot air balloon trips in Turkey. Looking for some scenic wonders? Consider viewing the Northern Lights from vantage points in Canada, Norway, or Finland.
Find your bearings – and a guide
Any time you're stretching your level of skill or your knowledge of an area, it's important to have someone there to help you stay safe and ensure your memories are all good ones. Go Adventure Outdoors notes adventure vacation guides typically have an appropriate background and expertise level to lead you through your experience without mishaps. Along those same lines, on the off-chance you are in an unfamiliar place and get off the beaten path, loading your phone with some well-chosen travel apps can help you find assistance when you need it.
Gather your gear
Whatever explorations end up on your agenda, ensure you are properly outfitted for the adventure. There is nothing worse than getting to an airport without proper paperwork, so verify everything is in order well in advance of your departure. Along those same lines, unless you're attending an organized tour that includes lodging, you should make arrangements for your nightly accommodations. And last but far from least, select gear appropriate for whatever unique entertainment you settle on, and pack in a manner that won't slow you down throughout your excursion. This checklist can give you some great pointers for assembling everything you need.
A couples adventure can be tremendous fun, so long as you plan and prepare thoughtfully. Arrange appropriate insurance, choose a great destination, get some support, and gear up! Once all that is complete, focus on the fun, and you're sure to have the trip of a lifetime.
Please follow and like us: