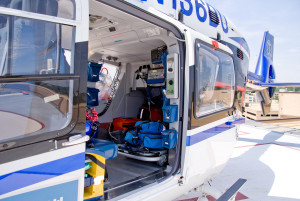 Whether you travel by road or by air, two states over, across the country or to the next continent, there really are only two compelling reasons why you would need emergency medical travel services — and they're incredibly simple:
One: A membership could—literally—save your life.
 And you really don't have to take our word for it. Take the case of Gerald Line, from Leesburg, Florida. Gerald was two weeks into a 30-day cruise with his wife in the Grand Canary Islands when he suddenly began vomiting blood. He was taken to the nearest island hospital, where he was diagnosed with a bleeding ulcer, which was treated, but things went downhill quickly from there, ending in the local doctor advising the couple that Gerald would need a bone marrow biopsy. Because they had an emergency travel services membership from SkyMed, Gerald was soon on a flight with a medical escort back to their home in Florida, where he was diagnosed with leukemia and immediately began treatment.
Memberships have flown a stroke sufferer from a family visit in remote Canada back to Georgia, a victim of a severe infection requiring surgery from Idaho to Oregon and an acute gallbladder issue also requiring urgent surgery from Mexico all the way back to British Colombia. These are but a few examples, and in every case the illnesses were completely unexpected—unplanned emergencies out of left field where time was of the essence for a full recovery.
Having an emergency medical travel services membership with quick response? Priceless.
Two: A membership could save you a lot of money.
Speaking of prices, how much do you think a medically necessary evacuation costs? According to the foreign exchange experts at Travelex, the average cost of a medical evacuation within North America costs around $25,000. From Europe, the cost to be transported back to the US exceeds $50,000. If a medical escort is needed, you can tack on an extra $11,000 within North America and $24,000 from Europe.
And that's not counting the cost of medical services outside of your health insurance network. While an emergency travel services membership like SkyMed won't reimburse you for the cost of any medical treatment along the way, they will pay for everything from transportation to the nearest medical facility, moving the victim to a different hospital for specialized care and the return trip home (among other things).
The latter is crucial for avoiding mounting medical costs outside of your insurance network—which may or may not include not only the hospital stay, but also medications and procedures. By taking you back home to the hospital of your choice, an emergency medical travel services membership can bring you back within the fold of your insurance network, saving you hundreds if not thousands in out-of-pocket costs.
If you agree these two reasons are as powerful as we do, we invite you to check out costs for coverage at www.skymed.com.
It's better to have it and not need it, than need it and not have it!