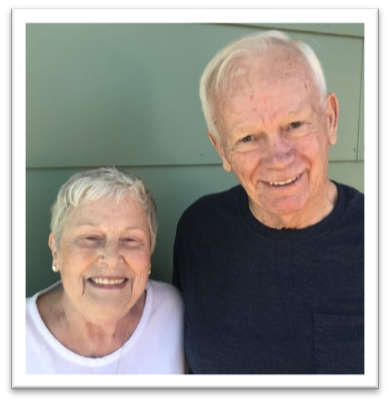 We were traveling to visit our daughter and her family in Atlanta, Georgia. As we left the airport in a rental car we were involved in an accident which resulted in our hitting the median wall and totaling the rental car. We were transported by ambulance to Grady Memorial Hospital in downtown Atlanta. Taken to the trauma center both of us were given a battery of tests which showed that Jan had sustained several serious injuries, while Ron had only minor bruising. After 24 hours in the trauma center, Jan received surgical repair to the injury to her left leg and was transferred to ICU. Ron was discharged.  
We learned the extent of Jan's injuries upon visiting the ICU, with fracture of the right ankle, right clavicle, the sternum, the left leg just below the knee (which was surgically repaired) and several compression fractures in the lumbar region. It was apparent that rehabilitation would be a lengthy process. We decided that traveling to our home in Colorado would best meet our needs for rehabilitation rather than returning to our winter home in Arizona. So we called SkyMed and reported the accident and our need to return to Colorado.
How did you find out about SkyMed and why did you choose SkyMed? We learned about SkyMed at a Winnebago State Rally in Colorado. We chose SkyMed as it seemed to provide the best range of services for us as we were traveling extensively at the time. As time passed, we continued to renew our SkyMed membership as the peace of mind it provided made our travel much more enjoyable.
What would you tell your friends about your experience with SkyMed? We would and have told our friends that our experience with SkyMed could not have been better. We called SkyMed and Jim Edwards advised us that he needed a point of contact at the hospital and that SkyMed would take care of all arrangements after that. When we gave SkyMed the contact information everything went like clockwork. As soon as the hospital declared Jan "fit to fly" Jim called back telling Ron to be at Jan's bedside the next morning and everything would go from there. When Ron arrived, the ambulance crew was there preparing Jan for transport and we drove to Peachtree-Dekalb Airport where the air ambulance was waiting. Three hours later we arrived at our home airport and the waiting ambulance transferred Jan to the Northern Colorado Medical Center. After that Ron had to recover our motorhome and car from Arizona. SkyMed covered the transportation to Arizona for Ron and our son to bring the vehicles back to Colorado.
Please follow and like us: