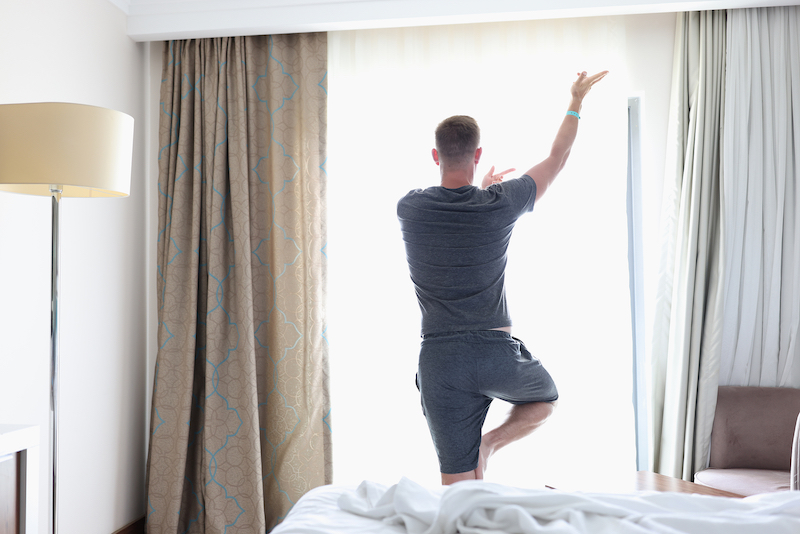 We all travel at one point or another in our lives—some of us more than others—which means we don't always have access to our usual running path or local gym. Being away from home, though, shouldn't put too big of a kink in moving your muscles. In fact, exercising and stretching is a must, mainly if you're headed out on a long-haul flight or drive. Here are a few ideas on travel fitness that won't take up much space in your carry-on.
Feet first
Your best travel fitness equipment is a good pair of tennis shoes: strap them on at the airport if your flight is delayed and take a hike around the terminal; make sure you walk the length of the plane every hour or two to keep relaxing your back and your blood circulating; consult with your hotel concierge about local parks, trails, cool neighborhoods and nearby attractions (it's a great way to get to know the lay of the land); or, of course, there's always to the hotel fitness center! A brisk walk in the morning is enough to wake up your muscles and energize your day.
Pack this
Besides your tennis shoes, some of the best workout buddies you can pack for your travel fitness program without sacrificing space are a jump rope and stretch bands, guaranteeing a workout even in tight hotel rooms. Other portable fitness gear includes suspension trainers (TRX), water bladder kettlebells and your yoga mat.
Rent this
More and more cities have rental bike programs so take advantage of them. It's not only a great low-impact cardio workout but also allows you to cover more ground and see more of the city in a shorter period of time. You can also check out sites such as ListNRide for bike rental company referrals around the world.
Room service
For more than just sleeping, we mean. Drop that (packable) yoga mat or lay down a towel next to the bed and stretch, crunch, pushup, squat or burpee or Pilates for a good 20 – 30 minutes. Do step-ups on a chair (one without wheels, please) or head into a series of light aerobics such as jumping jacks and high knee steps.
Drink water
Plenty of it—no explanation needed!
Drop in
Do a little research before you get to the destination: for example, keep up your travel fitness plan by looking up gyms and finding out about drop-in classes. A lot of them offer first-timers heavy discounts or even free workouts. If you're staying for more than a couple of days, ask about a discounted week. And don't forget to check with your own gym about affiliates in the city you're traveling to. (Check out ClassPass for an online monthly membership that gives you access to an enormous network of fitness studios across the nation.)
Please follow and like us: