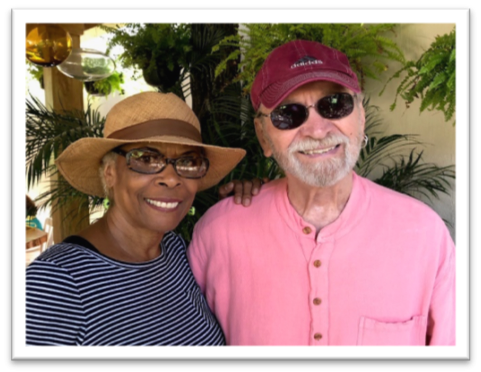 Pepe & Concha Gurski
Ajijic, Mexico
We live in Ajijic, Mexico and on December 27, 2017, my husband, Pepe, had internal bleeding from a stomach ulcer and was hemorrhaging. We went to the hospital in Guadalajara and this became an extreme emergency because they did not have his blood type and he needed surgery. We called SkyMed and Jim told me what paperwork I needed to gather such as our passports, etc. I packed a bag for both of us and SkyMed confirmed an air ambulance would pick us up at 2:00 PM the next day.
I went back to the hospital and paid the hospital bill and by the time I got to Pepe's room, Jim called back and confirmed Pepe could leave the hospital because our bill was paid and the ambulance was on the way.
The doctor, nurse, and two ambulance attendees came into Pepe's room and collected the paperwork and everything we needed. Pepe was then taken by ground ambulance to the Guadalajara Airport where a Lear jet, pilot, co-pilot, and Immigration representative from Customs were waiting. Within twenty minutes we were in the air headed to Los Angeles. They left nothing undone and their level of efficiency was beyond anything I have ever experienced. They left nothing to chance, NOTHING! The air ambulance personnel stayed with Pepe until he was admitted at Los Angeles Hospital. Soon after that, Jim called from SkyMed and said he saw confirmation that Pepe was in the hospital and wished us well.
How did you find out about SkyMed and why did you choose SkyMed?  We received an invitation from SkyMed Representative Catherine Gonzales and went to one of her presentations and purchased that day. The key point is we became SkyMed members just two weeks before we had to use them. We had considered other plans but everything about SkyMed was so good that we signed up. We have seen other emergencies here in Mexico where patients died because they didn't have an evacuation service plan and had to stay here. We've always said if we ever have a true emergency we want to go back to the States.
What would you tell your friends about your experience with SkyMed?  SkyMed's got my vote for everything. SkyMed also flew us back home to Mexico after treatment. I hope I never have to use them again, but I was totally and completely impressed and Pepe is alive and well to tell about it. SkyMed literally saved his life because there are no blood banks in Mexico and he has a negative blood type. Pepe now has his health back and he's doing well. I would recommend SkyMed to everyone. If you don't have SkyMed, sign up for it BEFORE you need it!
Please follow and like us: