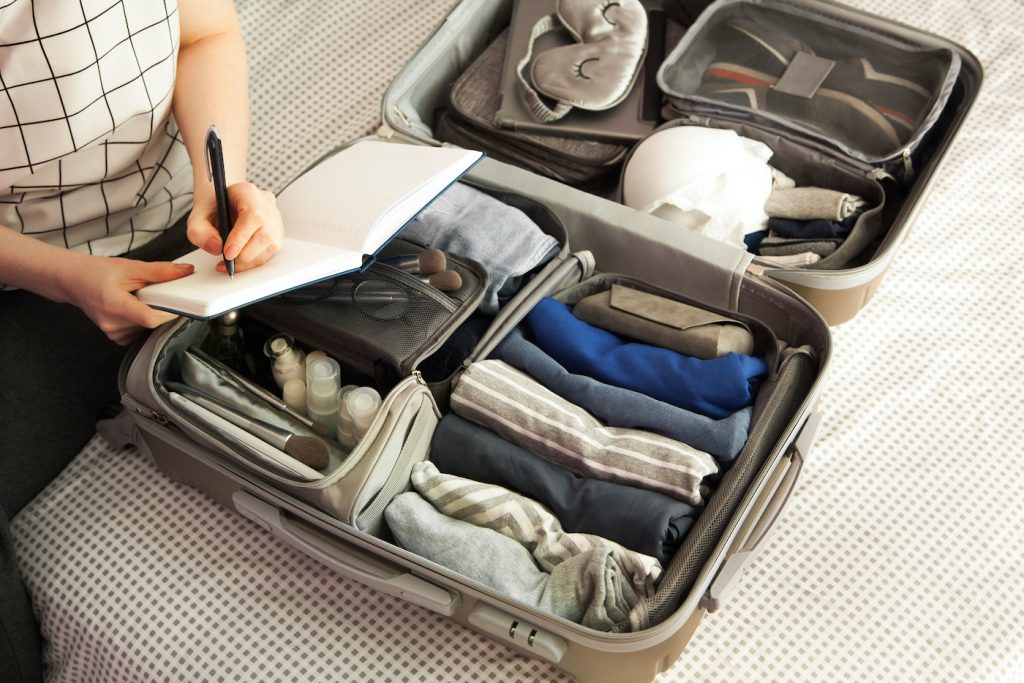 There are some things that definitely top every packing list: passport or ID, clean underwear, deodorant, toothbrush, chargers (tip: keep them all together in a Ziploc zipper bag)… But there are a few bits and pieces you may not have on your list (you do have a list, don't you?) that you'll find will come in handy when you're away from home. Ergo, here's a list of ten things you should pack, so you never have to travel with regrets…
Duct Tape This is an oldie but a goodie. Duct tape has always been and—until they come up with something better—will always be the ultimate go-to fix-it doodad. Rip in your suitcase? Duct-tape it. Rip in your tennis shoe? Duct-tape it. Baby-proof a room? There are a million and one ways duct tape can help. You don't need to throw in a giant roll: you can get travel-sized ones that work the same wonders.
Reusable Water Bottle There are several types of reusable bottles to choose from, each with its pros and cons, but the one big plus is that you'll save money every time. Whether you fill it up at the nearest water fountain or buy a big jug of water for your hotel room refills, you won't have to be a) shelling out bucks for fresh ones every time you turn around and b) you'll be doing the environment a big favor. Just be sure it's empty before you go through security or you'll have to chugalug.
Laundry Bag Many hotels will have a plastic one waiting for you in the closet, but it pays to bring your own just in case. If there's one thing you don't want it's your damp, sweaty hiking clothes snuggling up to your nice clean shirts and pants. You can go simple and recycle a shopping bag or buy a reusable nylon one that takes up no space at all. Some can even double as a portable washing machine—very handy on those #RTW trips.
Power Strip There's nothing more frustrating than having to power up more than one gadget and facing an outlet shortage at the airport. With a small three- or four-outlet strip, you can kick back and let everything juice up at once. Some even have USB ports! It will come in handy back in your hotel as well; just make sure you have a converter if you're going overseas.
Safety Pins Pack a couple of tiny ones, a few mid-sized ones and several of those hefty ones in a plastic bag, throw it in your suitcase and forget about them until you have a wardrobe malfunction, need to pin up pant legs during a mucky hike or pin closed an irritating gap in your hotel room black-out curtains. 'Nuff said.
Silicone Travel Bottles The 3-ounce rule is old hat nowadays, but manufacturers still insist on making hard plastic bottles that are impossible to squeeze—and when you can only carry-on three ounces, you need every squirt you can get. We recommend ones with nice, wide openings so you can clean them out properly after every use.
Wet Wipes Moist towelettes are a must: whether you get sanitizing ones to wipe down the armrests and tray tables on your plane (not to mention the phone and the remote control in your hotel room) or the softer, nicely scented ones for freshening up after a long flight, you'll be happy you brought them along. Of course, if you're traveling with a baby, wipes are a given. 🙂
In-Room Safe Lock No, really: the in-room safe isn't as safe as you think. A quick "money + stolen + safe" search on Google or TripAdvisor will bring up more stolen money stories than you care to read about. Apparently, there are quite a few ways around a hotel safe and even hotel room doors. Take along your own lock (this one from Milockie is the only one we've found so far) and ensure your valuables stay where you put them.
Lightweight Travel Tote Then there are the times when your belongings magically expand during vacation (or was it just one too many shopping trips?) To save yourself from overweight luggage fees, pack a lightweight travel tote in the outside pocket of your suitcase and voilà, problem solved. They can also double as beach bags or day bags during your trip. These little darlings can also come in handy should you overpack before you leave, giving you a quick place to stash a few things from your suitcase to avoid paying penalties at the check-in desk.
Emergency Medical Travel Protection OK, you saw this one coming. No one really expects anything bad to happen on a vacation getaway or a business trip, but we've handled enough medical evacs to know they do—sometimes even on the first day! Take a look at our SkyMed membership plans and you'll find one that fits your travel style, whether it's just a few days, a few weeks, or even a few months. We've helped members as far away as Iceland, Australia, and Switzerland or as close as two states over from their hometown. Don't take our word for it: you can read some of our survivor testimonials here.
Please follow and like us: