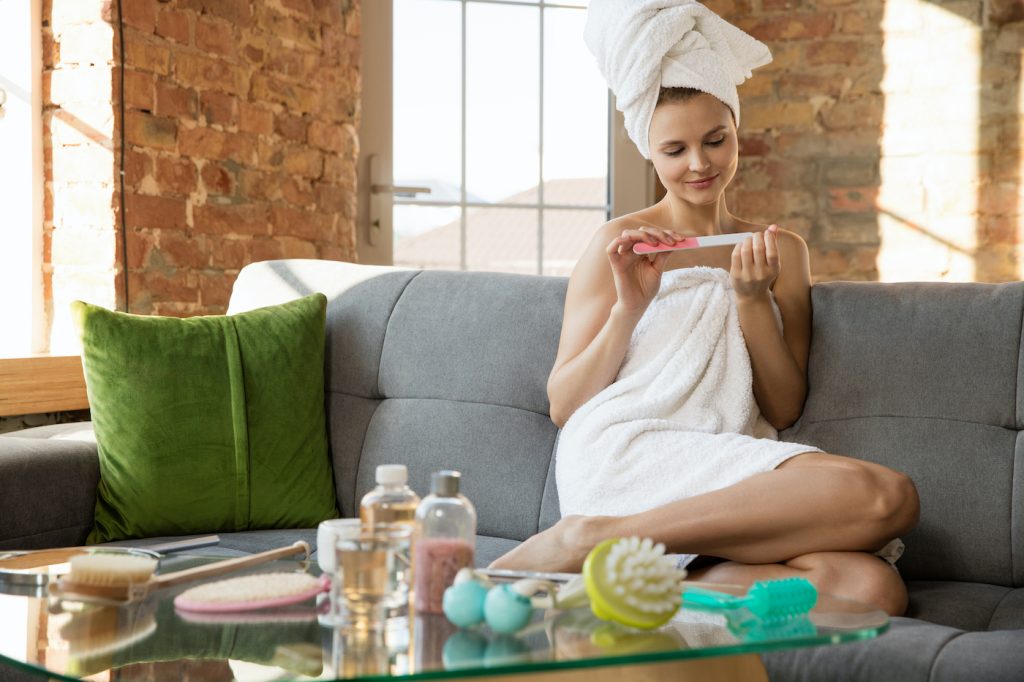 You never know when an unexpected turn of events can cause your travel arrangements to go awry and your trip to fall through. Although, this doesn't mean you need to forgo your vacation plans altogether. You may not be able to physically "get away," but you can still bring the perks of a getaway to you by planning a "staycation" at home. In fact, your at-home retreat may even be more enjoyable than your initial plans. Think about it: no more luggage, traffic, airports, or pricey hotels. Instead, you can simply enjoy your time off by focusing on your well-being. Whether you choose to sleep in, indulge in delicious foods, relieve stress by exercising, have a DIY spa day, or all of the above, we're here with tips to help you plan an equally invigorating staycation as though you're going to a resort.
Create a Relaxing Atmosphere
The purpose of a vacation is to escape from reality even if only for a little while. You may wonder how this is possible to do with a staycation seeing as you're at home amid your usual surroundings. But there are countless ways to acquire those vacation vibes if you let your creativity come into play. If you're fortunate enough to be staycationing somewhere with warm weather and sunshine, then break out the lounge chair, SPF, and enjoy a nice cocktail outside while cranking up the tunes from your vacation playlist—perhaps some tropical island reggae —or whatever makes you feel like you're on a beach. If you're stuck inside, then bring the beach to you with live streaming views of beaches around the world. Stress who?
Indulge Without the Guilt
Were you looking forward to trading in jarred pasta sauce for some authentic chicken parmigiana with fresh "mutzadell" (that's mozzarella to you) in Italy? Or perhaps you had your sights set on some savory spanakopita in Greece? Some people plan an entire trip around food—and we don't blame them! So, don't let your taste buds suffer: Enjoy the culinary trip of your dreams right at home. You can travel through cookbooks to bring the best "local" cuisine to you. And don't worry about the calories either. Just because you're not getting your steps in by walking along the Amalfi Coast doesn't mean you can't still stick to your weight loss goals. A sensible weight loss program can help you stay on track while eating what you love. And if you over-indulge (it is a vacation after all), you can use it to guide you toward healthier choices to bounce back post-vacation.
Have an Exciting Itinerary
Okay, so you might not be swimming with dolphins or learning to scuba dive. But all fun is not lost! Make the most of your time off by organizing excursions right in your backyard. There are a wide variety of leisure activities to choose from that are sure to please every personality type in your staycation crew. Was sightseeing on the agenda? Then be a tourist in your own town by going for a scenic drive or a walking tour of historic neighborhoods nearby. Maybe you have a history buff on your hands or an art fanatic? Google Arts & Culture allows you to browse feature museum collections and wander gallery halls. Having an outlet for creativity helps reduce stress and depression, amongst many other things!
Set Up a Self-Care Sanctuary
You don't need a lavish resort spa to enjoy certain wellness amenities like massages and facials. In reality, you'd be surprised at how easy and enjoyable having a DIY spa day can be. To replicate relaxing spa-like effects at home, simply fill up a beverage dispenser with cucumber water, bask in relaxing scents by plugging in an essential oil diffuser, and throw on your comfiest robe and slippers. For the full experience, be sure to spend some time renewing your complexion using restorative skin-care products that serve to relax and rejuvenate your skin from the inside-out. It's your vacation, so focus on you. When it's time to come back to reality, you'll feel refreshed, revived, and ready to go!