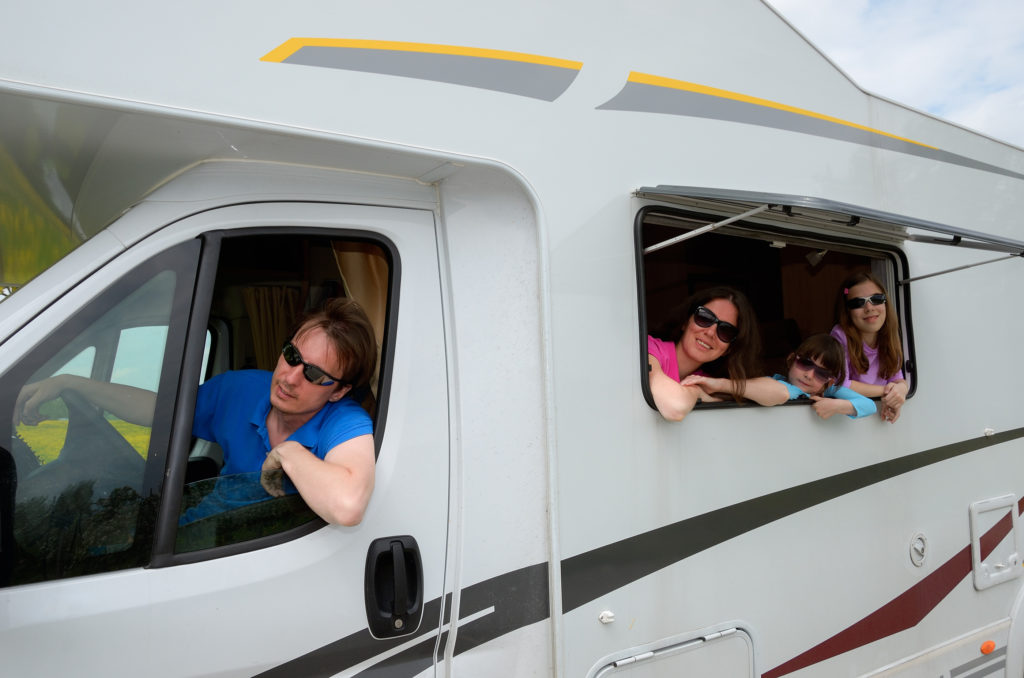 RVing with kids can be priceless—or absolutely mind numbing—it all depends on how well you prepare. Keep reading for some tips on how to help your kids enjoy RVing as much as you do, so you can all be happy campers!
Pick the right RV 
Most families opt for a C-Class motorhome, the type with a sleeping area over the cab, or a travel trailer that can be towed behind an SUV or truck. Then, of course, there's the A-Class RV, which what most people thing of when they hear the word "motorhome"—these are the "big boy" RVs that can be as large as 42 feet in length. One of the most common type of RVs you'll see on the road are the C-Class, which can accommodate anywhere from two adults and two kids to five adults and three kids (for the brave at heart). The size of vehicle not only depends on how many people there are in your family, but also how comfortable you are with driving something that's quite a bit bigger than your average SUV. GoRVing.com has a great site with information on the different rigs to help you narrow it down.
Kid-Proof the RV
Once you pick the right rig you'll need to make sure it's safe. Check out all beds and attach safety rails as needed—the last thing you need is someone rolling off a bed five feet off the ground in the middle of the night. Childproof as you would your own home, meaning bring out the outlet covers, make sure cabinets latch safely and consider gating off the entryway area, which is often a steep fall right into the door for a little one. Night lights are always a good idea and, if possible, childproof the bathroom door handle to keep curious monkeys from flushing things down the toilet or washing down the inside of the rig with the hand-held shower.
Safety on the Road
With so much room to roam around in as compared to a regular car, it's sometimes easy to forget when you're RVing with kids that you're actually riding in a moving vehicle. So while an RV is a home on wheels, while those wheels are rolling there will be turns, breaking and bumps that can cause things to fall—and that includes kids. Most vehicles have seat belts in the dinette area or on a recliner or seat attached to the floor. Depending on the size and age of your kids, it might even be safer for them to ride in the passenger seats. And if they're younger, you should always follow federal recommendations on using child car seats.
Having Fun on the Road
That said, more room means they can enjoy board games and other entertainment while you're on the way to where you're going. Think about letting each kid pack one bag (overseen by you, of course) with what they'd like to bring along. Make sure the items are quiet (for everyone's sanity) and age-appropriate. Travel books with games about the region your traveling through are fun, dolls, travel-size board games, Legos, coloring books, activity books, toy cars, one favorite stuffed animal for night time, even a notebook and markers for them to create their own travel journal (if they're old enough). Of course, there's always technology, but an RV vacation might be a good time to wean them away from it a bit, if only while you're on the road (most RV parks offer WiFi, or you can also stay connected while on the road via satellite or cellular, but that can certainly add up). Don't forget to bring outdoor toys and even bikes for the family for when you get to your destination, as many campgrounds have great trails for exploring.
Where To Go
Some of the best places for RVing with kids are national and state parks. Some of them have extras just for kids, like the Acadia National Park in Maine, which offers a Junior Ranger Program for kids 6-12 that includes hiking, bike riding and beach combing. Yellowstone National Park is a huge favorite and great for spotting wildlife. Beach visits are also great fun. The Sonoma Coast State Park along the Northern Coast has two great scenic beaches with RV facilities, including the Wright's Beach Campground and the Bodega dunes—both have miles of sandy beach for beach combing and hanging out, though the water is usually too cold and rough for swimming. Head out to Florida for the warmer, friendlier Atlantic at the Jetty Park Beach and Campground in Cape Canaveral, where you just might get lucky and see a rocket launch from the Canaveral Air Force Station. Of course, there's also RV camping in themed parks, including Disney World's Fort Wilderness Resort, a perennial favorite. Also consider Yogi Bear's Jellystone Park Camp Resorts, with several outposts across the country with family-friendly activities scheduled every day (not to mention Yogi and Boo Boo sightings).
Don't Forget To Make Plenty of Stops Along The Way
A major rule of thumb when RVing with kids: plan on stopping every two to three hours. Bathroom breaks, leg stretch breaks, sanity breaks, snack breaks: you name it you'll need it (and so will they!) Technology will be your best friend for finding places to stop for the basics and what to avoid. Check out iExit (if you're traveling on a major highway), Gas Buddy (will help you find pumps and compare prices), Sit or Squat (for bathrooms), Roadtrippers (for interesting stops) and Waze (for traffic, speed traps and road hazards).
Please follow and like us: