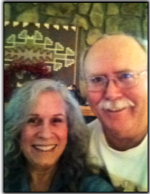 Lynne Clements –Gainesville, Georgia
My husband and I were away from our home in Georgia visiting my family in a remote area of New Brunswick, Canada. While we were there I woke up in the middle of the night and discovered I had no sensation at all on my right side. I had recently been diagnosed with atrial fibrillation and was taking aspirin as suggested by my doctor but this was such a shock because I had been feeling just fine. I thought I must have been having a stroke because I'm a nurse and know the symptoms to look for.
I told my husband I needed to get to a hospital right away and he called 911. The ambulance arrived and I was taken to a very small hospital that didn't have adequate equipment to treat me. They did have a scanner that confirmed it was a stroke and told us I needed be transported to a larger hospital with the necessary facilities for treatment. With our American insurance we knew we needed to get back to the US, especially since it takes longer to be treated in Canada. That's when we made the call to SkyMed because we both knew we could count on them to help us.
SkyMed quickly made arrangements to fly us by air ambulance to Gainesville, Georgia which is near our home. After we landed I was immediately taken by ground ambulance to the heart center and admitted. I remember the doctor telling me how urgent it was that I was there. After tests and treatment I was released three days later. I'm back at home now and am having ongoing outpatient therapy. I feel much better and my health is quickly returning to normal.
SkyMed also arranged to have our RV & minivan returned home and we were so glad we didn't have to worry about that because no one else could do it. We realized how important this part of our coverage was and we're very happy to know we're covered for that. Our entire experience went smoothly and everyone was so kind.
How did you find out about SkyMed and why did you choose SkyMed? We own an Airstream RV and are Wally Byam (WBCCI) members and attended a presentation given by one of our fellow members who is also a SkyMed rep. At first we didn't think we would need it but several of our friends are SkyMed members and they're very pleased with it. After we thought about it we decided we needed it too, especially since we travel extensively every year.
What would you tell your friends about your experience with SkyMed? We just can't say enough good things about SkyMed and their services. It's total peace of mind for us wherever we are and we recommend it to anyone who travels. Without a doubt we know we made the right decision to buy it because SkyMed was there for us when we needed them and they took care of everything for us from start to finish.
Please follow and like us: