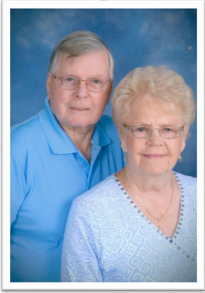 Richard & Rose Strayer 
Pittsburgh, PA 
While we were wintering in Florida earlier this year Richard suddenly couldn't breathe and although he was not in pain we took him to the doctor. An EKG was performed and the doctor told us there was a big change from the EKG from last October and that Richard needed to get to the hospital immediately. He was taken to The Villages Regional Hospital in Lady Lake, Florida and admitted. After a heart catheterization the doctor told us Richard needed open heart surgery and would need to be taken to a better equipped hospital. He stated they would not release him until plans were made to transfer him. That's when we called SkyMed.
SkyMed took over from there and arranged to fly us home first class from Orlando to Pittsburgh with a medical escort nurse who stayed with us and helped with everything until Richard was admitted to the hospital and finally in his hospital room. They performed his heart surgery soon after which included a double bypass, one valve repair, and one valve replacement.
How did you find out about SkyMed and why did you choose SkyMed? We heard a SkyMed presentation at Recreation Plantation few years ago and one of the park residents shared how they had used SkyMed's services and how very satisfied they were with them and that's why we went with SkyMed. The SkyMed rep said "we're here for you" and that made all the difference.
What would you tell your friends about your experience with SkyMed? Laughing, Rose said what haven't I told them? If you're planning to travel anytime anywhere, you need SkyMed's travel protection in place because a medical crisis can happen suddenly and when it does, you'll want to go home where your family and doctors are. When buying a travel protection plan of any kind you never really know what you're buying until you have to use it. When we needed SkyMed they did exactly what they said they would do and even paid to have our car returned home safely and reimbursed us for miscellaneous expenses. We couldn't have done everything SkyMed did for us on our own. All we did was make one call to them and they took care of everything.
Richard is doing well and feeling much better these days. When our friends and even Richard's cardiologist learned about everything SkyMed did for us they were all surprised and said, "SkyMed did all that? Wow!"
Please follow and like us: