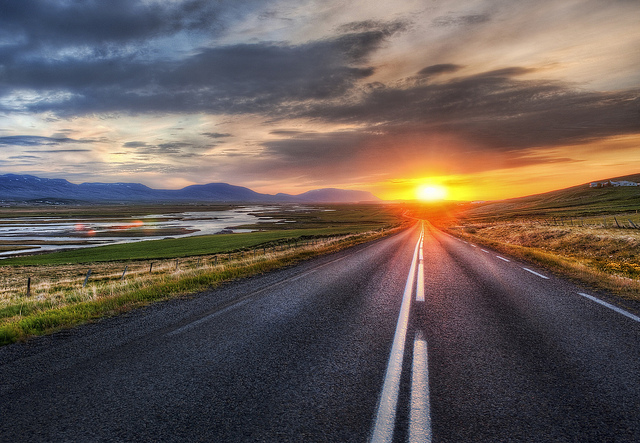 Forget the Chevy Chase version of a holiday road trip (no, really) and never mind those buddies piling in a car with three bags of chips and no map. Truth is, it takes a little time to plan a road trip worth taking, whether it's for a few days' jaunt across the state or a few weeks travel across the country.
What are you looking to do? Answering this question will help set up the entire trip. If you're planning to tour your home state for a few days and see where the road takes you, an overnight bag and a full tank of gas are pretty much all you need. But if you're planning on following the East Coast Greenway from Maine to Rhode Island for a couple of weeks and want to see as many landmarks as possible, advance planning will be your friend.
It's all in the details. Are you a free spirit that will stop at any roadside motel when you're tired of driving? Or would you rather know you have a good place to spend the night after driving x amount of miles a day? How about the route: is "head west" enough for directions or do you prefer to have it all plotted out? You need to think about these details before you start the car, and it's also something you might want to discuss with your travel partner so your spontaneity—or lack thereof—doesn't end the partnership.
The Internet is your friend. Remember the AAA TripTik Travel Planners? They still exist, but in today's world of travel blogging, forums and online reviews, it might be worth your while to do a little surfing on your own. Use social media to your advantage: putting questions out there to your Facebook friends and Twitter followers on best routes to follow and the attractions along the way can help you crowdsource a very fun trip! The Web can also help you calculate cost.
Prepare your equipment. Namely, your car. Before you hit the road, take it into your mechanic for a once-over to make sure all the fluids are where they need to be, that your battery is in good condition and your spare tire is functional. Let the mechanic know you're embarking on an x amount of miles road trip in case he has any advice or needs to double check anything extra on the car. Also, it's a good idea to pack a small kit of safety supplies including a basic first-aid kit, an extra cell phone battery, a flashlight, water, non-perishable food items and a list of important numbers.
Speaking of which… You'll want to record a major playlist on your MP3 player. Satellite radio is great, but old standbys and true road trip classics will make your trip that much more memorable. Don't forget audio books and podcasts—they'll keep you company on those lonely stretches of road that are bound to come up.
You'll also want food. A small cooler stocked with drinks and some snacks is all you need—there will be plenty of food wherever you go (except on those aforementioned lonely stretches of road.) No sense in packing a big cooler: it's heavy and messy and will eventually be more than a hassle than a help.
Sometimes, retro is very, very good. Taking a paper map (or one of those great laminated ones you can write on with a marker) may seem backwards when you have a GPS, a phone and an iPad, but those systems aren't always foolproof (plus they can run out of batteries.) It's also good to have on hand if you need to stop and ask directions.
Take lots of pictures—but don't forget to journal! It's so easy to snap away, but reading back about your adventures is just as priceless. Notes about the weather, stops, expenses and mileage will help plan your next trip, and a few lines about your day will help put all those pics in perspective. Use a notebook or use your computer, here are a few online journaling apps you can check out.
Take it easy and have fun! No long explanation needed here: just remember to expect the unexpected and know it's all part of the grand tradition of the Road Trip!
Safe travels!
Headed out? Tuck a SkyMed TAKES YOU HOME medical evacuation services membership card in your wallet—it's affordable peace of mind that's priceless should you need it!