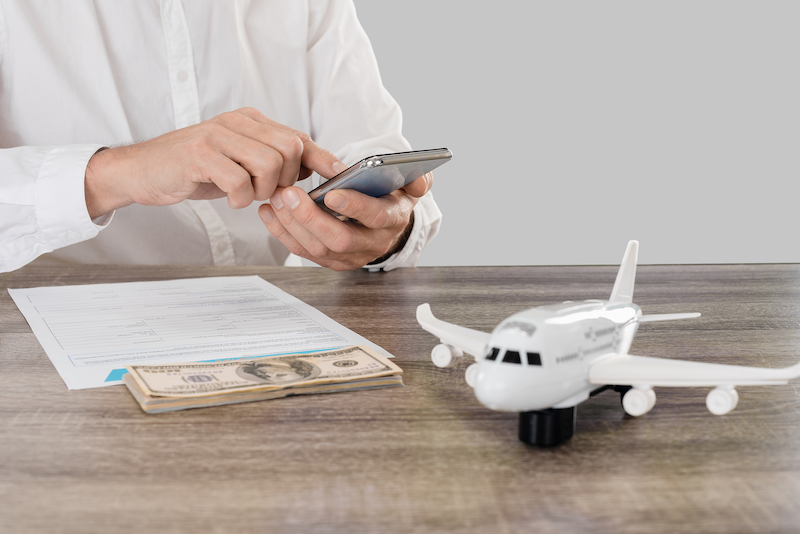 These are the days of soaring airfares—and even when they're "low-cost," the fees the airlines charge practically for breathing add up very quickly, not to mention airport expenditures, credit card fees, hotel surcharges… you name it, they charge it. Here's a list to help you avoid travel fees so you can spend that hard-earned money on something a lot more fun.
Credit card surcharges
Expect to pay anywhere from 1 to 3 percent of the purchase price on purchases you make outside of the United States. You might want to prepay hotel or car rental costs before you leave home and shop around for a credit card that doesn't charge extra for currency conversions and overseas transactions.
Speaking of banks…
Here we want to avoid paying bank fees and those aforementioned foreign transaction charges and get a reasonable exchange rate. ATM fees can kick in hard (about $5 per transaction, if not more) and slap you with a credit card transaction fee. What to do? First, pick a bank that's in the Global ATM Network, which allows free ATM withdrawals inside said network. Check with your local bank, though; you may be surprised. Consider opening an account at Charles Schwab: they have zero international transaction fees and reimburse all your ATM fees at the end of each month. USAA has a similar policy, though they charge 1 percent foreign transaction fee on withdrawals.
To avoid credit card transaction fees (that pesky 3%), do a Google search for cards with no overseas transaction fees (some Chase and some Discover cards, Capital One, United Mileage and others). Some go the extra mile and earn points for free flights and hotels. Finally, to get the best exchange, use an ATM (see above), don't change money at the airport, don't use the ATMs in quick marts or gas stations and, when making a purchase and given a choice, always pick the option to be charged in the local currency (your credit card company's conversion rate is always better than the store's).
Scope out your hotel's hidden fees
Parking, Internet access and room service are the top culprits. Do your research: hotels with free parking do exist, and many include free Wi-Fi, not just in the lobby. As for room service, it will cost more than going to the hotel restaurant (unless you're in an all-inclusive) or crossing the street to the local diner. When you do order room service, double-check the bill for fees. Avoid over-tipping if they already include a "service charge," which is usually code for a 15 to 18% gratuity. Don't forget about the sneaky pleasures of the minibar, and pack your own snacks and common medications to avoid a $7 Milky Way.
Depending on the hotel you book, make sure you're not going to get hit with an unexpected "resort fee,"—especially if you're just staying overnight and have no intention of using the pool or the gym. If you're going on a vacation, you might want to consider staying at an all-inclusive property, and you won't have to take out your wallet no matter how much you eat or drink! Call SkyMed Travel for suggestions! 800-568-8994
Avoid checking in your bags
This is an oldie but goody—that doesn't apply on certain international flights and, happily, not on Southwest Airlines. Yet. Elite members of frequent travel clubs can also get away with the first bag free. If you usually check a bag, consider getting an airline credit card—typically, cardholders get their first bag free if they purchase the flight with the card.
Selective about your seat?
So-called "premium" seats now command a few on most airlines: coveted windows, aisles and the first few rows behind first class, for example. "Low cost" airlines charge period, the "better" the seat, the higher the price.
Group 2 or Group 5?
If you want early boarding and are not a platinum, gold or otherwise elite member of a credit card or frequent flyer group, you're going to have to pay (small children help, too). Express boarding or "early bird check-in" can cost $25 per flight or more—some people like the practically guaranteed overhead bin space, but if you don't really need it, save yourself the cash.
In-flight entertainment
Many airlines now offer free inflight entertainment, but the signal is limited to what they want to show you. Should you prefer, want or need WiFi, consider paying for it before you board through gogo air, which has contracts with major carriers—you could save yourself some bucks. Need WiFi connections at the airport? Check out the local Starbucks: many times, you'll get a WiFi code for the price of a cup of coffee. You can also subscribe to Boingo, which has several plans, including hourly, pay-as-you-go, monthly and global, plus they can find hotspots for you just about anywhere.
Cruising?
There are extra fee landmines here galore. Bar tabs add their own "service charge" (see the hotel hidden fees), so you don't need to tip on top of that. Onboard ATMs have some very steep fees in addition to the ones your bank will charge. And when you're ready for a shore excursion, consider planning ahead and talking to your travel agent about what you want to do. Good deals outside of the cruise ship offerings are out there, and a little research can help you save a few dollars.
Protect thyself
Insurance and emergency medical evacuation memberships equal peace of mind if something goes awry, whether it's lost luggage or a lost connection or something more severe like a critical illness or injury while you're far away from home. While not technically a travel fee to avoid, it can certainly save you hundreds—if not thousands—of dollars should you need it.
Please follow and like us: