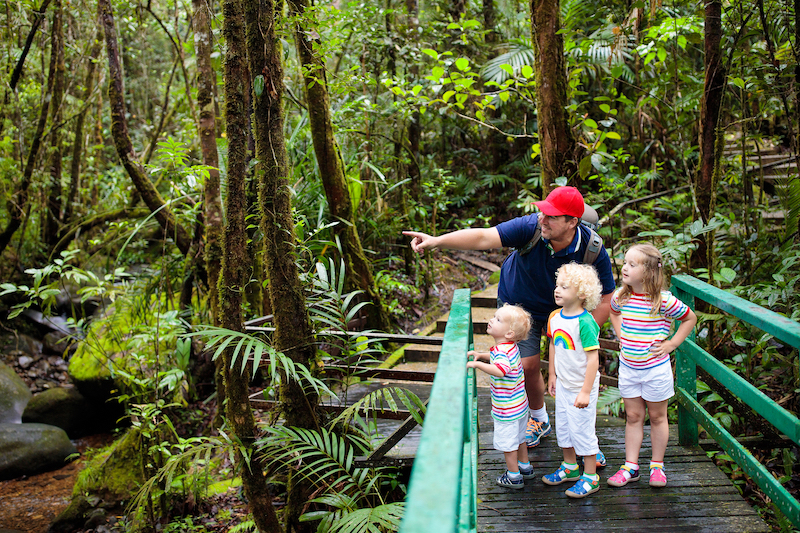 One of the top travel trends for 2023, green—or sustainable—travel is a popular catchphrase that can encompass everything from sleeping under the stars with only natural mosquito repellant between you and the elements to traveling with all the creature comforts you've become accustomed to. Not sure how to join in? Here are some practical green travel tips that are easier to follow than you think, less expensive than you expected, and much better for our big blue planet.
Go "Carbon Neutral"
You've probably heard this before, and rest assured it sounds more complicated than it is. Here are the basics: every time we travel (or do any number of things), we create greenhouse gas emissions. If you're flying, there are several ways you can reduce your carbon footprint, according to the famed David Suzuki Foundation: minimize the number of flights by flying economy; taking daytime flights; taking direct, non-stop flights; choosing the right airline; or purchasing carbon offsets to account for the emissions from your flight. So what are "carbon offsets"? Basically they're credits for "emissions reductions achieved by projects such as wind farms, solar installations or energy efficiency retrofits."
Choose Environmentally Friendly Accommodations
There are different ways to find sustainable accommodations, but many times just Googling "eco friendly hotel" or "sustainable hotel" plus your destination can help get you started. If you already have a hotel in mind, check their website—if they have eco-friendly practices, they will no doubt be front and center in their description. Many have environmentally friendly certifications or memberships in green industry associations such as Green Seal or Green Leaf. This means they participate in reducing energy consumption through fluorescent lighting, instituting recycling programs, conserving water, purchasing local organic foods, and more.
There are also a few things you can do to help while you're there. Ask if the hotel has an environmental program and what you can do to participate. Let housekeeping know you don't need your towels and sheets changed daily (many hotels have little cards to this effect with instructions). When you leave for the day, turn off the TV, lights and the a/c, close the drapes, and keep your showers short. If you use the hotel soaps and toiletries, take the leftovers home to finish using them and recycle the packaging.
Travel With a Reusable Water Bottle
According to research, 9 out of 10 plastic water bottles end up as garbage: that's 30 million bottles a day. You can minimize this by bringing your own bottle to fill up with tap water. Queasy about the local supply? Pack a purifier or take water-purifying tablets along with you. If that's still a bit much for you, limit the waste you leave behind by buying a multi-gallon jug of purified water and decanting from there into your own bottle for daily use.
Take Nothing But Photographs, Leave Nothing But Footprints
It's an old adage, but certainly not a tired one. When at your destination, walk whenever possible, bike or use public transportation. If you're renting, pick the smallest car for your needs or rent a hybrid if they're available. Sharing rides, such as hotel vans, is also a good idea. Book tours with an environmentally responsible tour operator: smaller group sizes are better, and you'll be helping the local economy if the guides are local and if the outfitter gives back to the community.
Stay on marked trails and use receptacles for trash (or take it with you.) If you snorkel, don't stir up the sand or touch the coral. Buy local and eat local—imports don't do a thing to help the community, and you don't want anything flown in overseas. And never buy items made from endangered species—not only does it encourage the "black market," but you wouldn't be able to get them through customs anyway.
Before You Go…
There are a few things you can do at home to help, too. Unplug any unnecessary appliances (TVs, DVD players, toaster ovens, microwaves, lamps, etc.) If you have a power strip with a switch all the better: it kills "standby power," which, by the way, can account for about $100 of your energy bill per year. Depending on the season, turn your heating thermostat down or the a/c temperature up. And don't forget to stop your newspaper.
You may also want to email the hotel concierge to see if you can do anything to help before you go. Organizers like Pack for a Purpose partner with local clinics and schools and have a list of supplies you can pack—just five pounds' worth—and bring on your trip. These supplies can make a world of difference for school children or patients.
Please follow and like us: