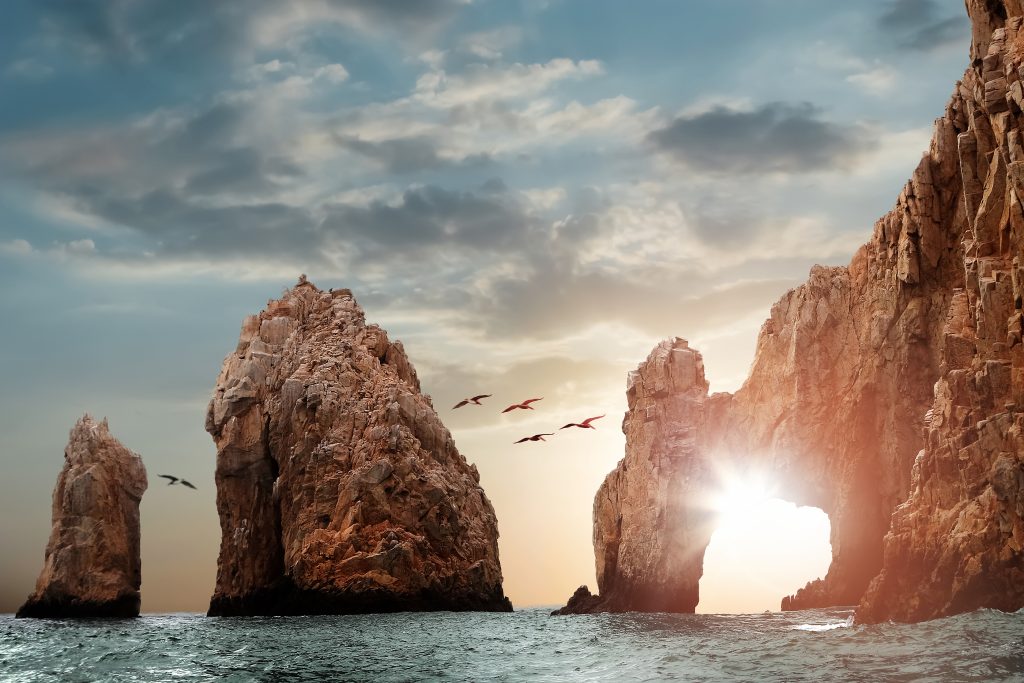 Baja California is a land of extremes, where the striking desert terrain runs alongside the crashing Pacific Ocean on one side, and the warm, deep-blue waters of the Sea of Cortez on the other. The two bodies of water actually merge at Baja's southernmost point in the area known as Los Cabos, home of the famous San José del Cabo and Cabo San Lucas.
Accommodations follow the same trend of extremes, ranging from the rustic (your own tent on a quiet stretch of beach) to the very upscale (villas with a view). The "to-do" list also runs the gamut, from the quite sedate (sipping cocktails by your private pool) to the most extreme (diving with sharks). Truth is, the rugged beauty of the tip of Baja has been a magnet for adventure travelers and nature lovers for years, and they've found plenty both on land and sea to keep them coming back for more.
The Mexican Outback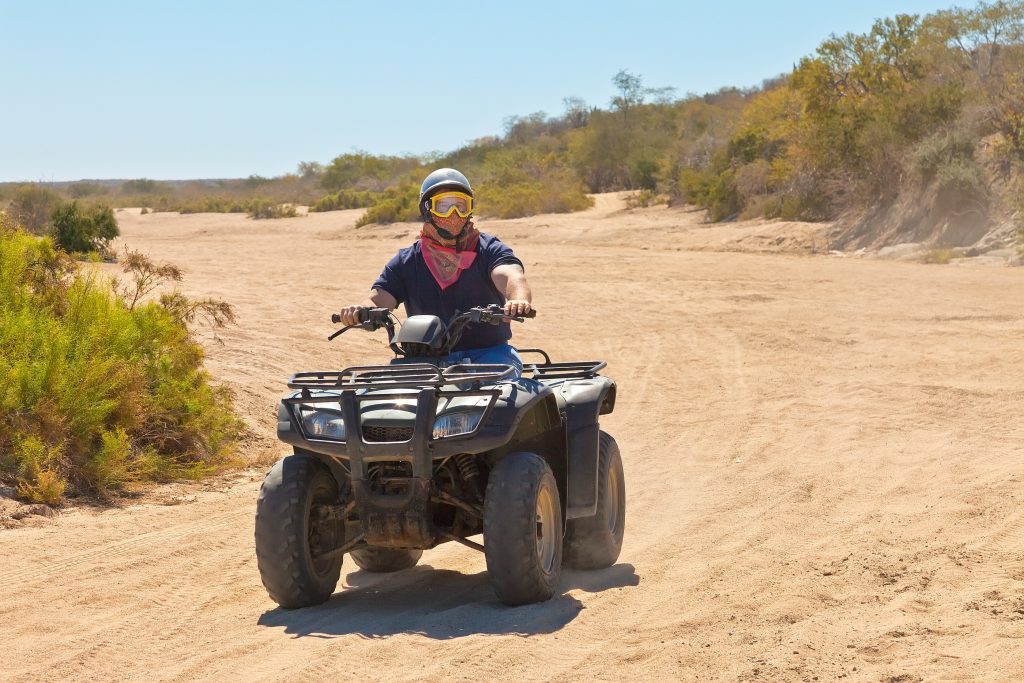 Tucked away behind the strip of world-class hotels on the Corridor that connects San José del Cabo and Cabo San Lucas, the private Cabo Real Ecological Preserve offers eco-friendly ATV tours. You'll tool around the desert sierra range accompanied by experienced bilingual guides, heading through sand arroyos and pristine canyons with stops along the way at waterfalls and hidden oases. Mountain bikes are also available for a more up close and personal experience through the clearly marked trails.
The nearby Sierra de la Laguna Mountains, less explored but even more stunning, provides higher-octane adventure. The dry forests of this range (which reaches heights above 6,000 feet) are a unique hotspot for biodiversity on the peninsula: over 200 species of plants, half the reptiles and amphibians in the entire Cape region and 96 percent of the region's mammals call it their casa. Declared a Biosphere Reserve in 1994, it's sparsely inhabited and great for hiking or biking along the trails that traverse the range. Outfitters combine Jeep, Unimog or Hummer tours—even burro treks—with hiking to get deep into the range. The area has also been tapped for the latest in extreme adventure: zip-lining through canyons and across riverbeds, alone or in tandem, in case you need someone to hold onto!
Skim the Waves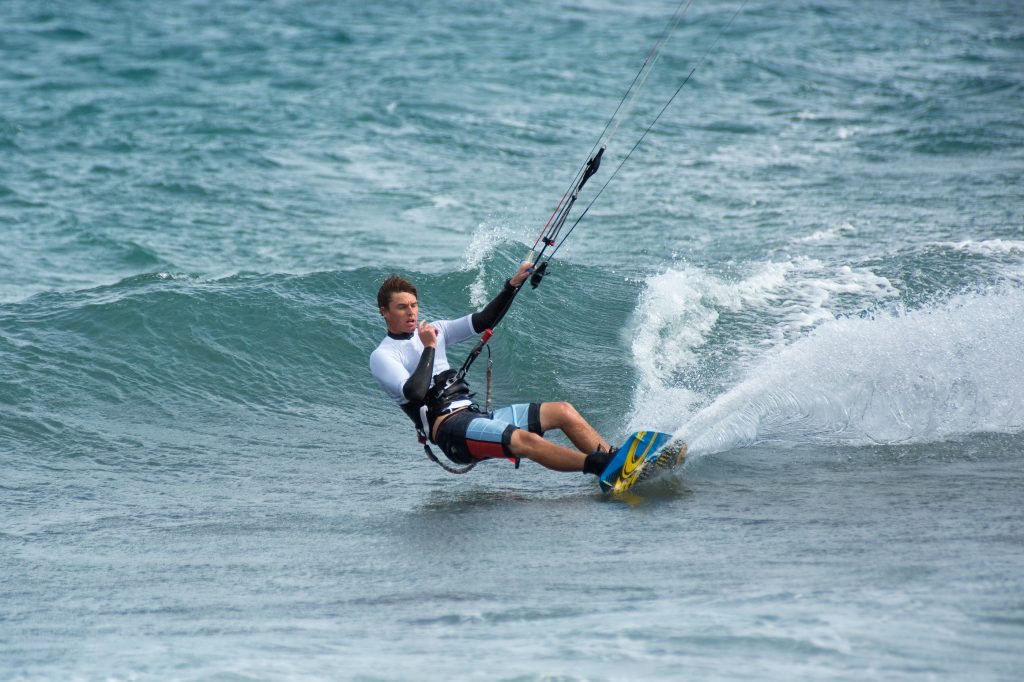 The hub of Cabo San Lucas is El Medano Beach, where you can head out onto the water via ski boat, Hobie cat, jet skis, or the ubiquitous bananas. If you feel particularly daring, try your hand at parasailing: we guarantee you'll have the best view ever of the Land's End arches! It's a pretty busy beach, so if you're looking for something a little quieter, we recommend snorkeling or kayaking at Chileno Bay or Santa María Cove in the Corridor: both are sheltered and teeming with tropical fish darting in and out of their coral condos.
Windsufers and kite-surfers (a fusion of wakeboarding and windsurfing) head for the Baja from mid-November through mid-March, when the El Norte wind blows over hundreds of miles down the length of the Sea of Cortez to fill their sails. Los Barriles on Bahía de Palmas on the East Cape is one of the more accessible windsurfing areas in southern Baja—it's also the site of yearly windsurf championships every January.
Traditional surfers have been coming to the Baja for generations, knowing breaks get even better where an ocean meets a sea. Names like Monuments, Zippers, Shipwrecks and El Tule stand out around Cabo San Lucas, while closer to Todos Santos (about 50 miles north) the boards head out to La Pastora, Pescadero and the (very) popular Playa Cerritos.
Do It Deeper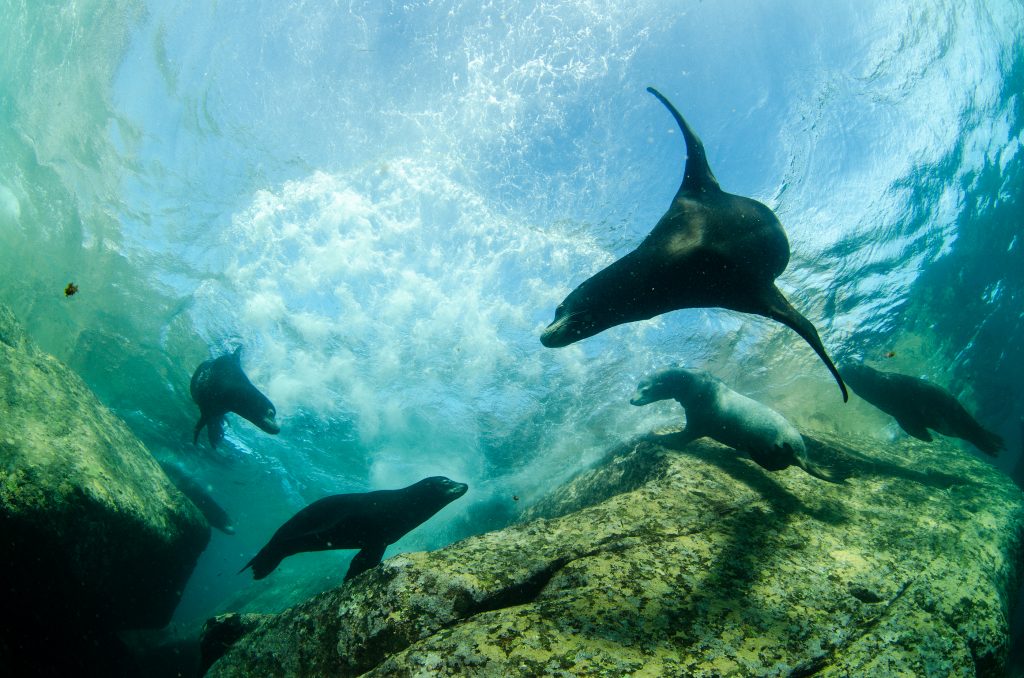 Jacques Cousteau once called the Sea of Cortez the "world's aquarium"—and with good reason. Sea lions, eels, angelfish, mantas, sharks, turtles, barracuda… These are but a handful of the thousands of underwater creatures that will accompany you on your dive. The excitement starts just a 10-minute boat ride from the Cabo San Lucas marina at the North Wall. This rock-covered slope is excellent for beginners and resort divers, as is the area around Pelican Rock and near the famous Sand Falls. More advanced divers and pros can submerge to depths of over 130 feet in spots like Neptune's Finger, which is thick with coral, sea fans, and crevices that hide morays and octopi. 
One of the most unique dives you'll ever make is at La Punta, right at Land's End, where you will be able to swim both the Pacific Ocean and the Sea of Cortez at the same time. Great for advanced divers (currents can be strong), you'll be underwater with sea lions from the local colony, turtles, game fish lured in by the schools of sardines, mantas, and even whale sharks. There's also a shipwreck southeast of the main rock.
Just one hour from the international airport lies the only living coral reef in the Pacific side of Central America: Cabo Pulmo National Marine Park. A remote site perfect for a daytrip, there are six major reef fingers that fan out of a half-moon bay ringed by mountains. Its rustic beachfront offers a glimpse of old Mexico, and its calm waters are ideal for kayaking, snorkeling and windsurfing (great surf breaks are not too far!) and there are hiking and mountain biking trails in the surrounding hills. Just off the cape lies the wreck of El Vencedor, a tuna boat that sank in the 80s and has become an excellent artificial reef. Mantas school through the area from November through February, and pilot whales drop by in April. Eight miles offshore, the Gordo Banks are famed for their seasonal congregations of hammerhead and whale sharks, as well as sailfish, dolphin, tuna, devil rays and more.
There are dozens of outfitters and dive shops (look for PADI certifications) in both Cabo San Lucas and San José del Cabo that can help you arrange some heart-pounding action. Check with your Personal SkyMed Travel Advisor for recommendations (and a free SkyMed Essentials membership when you book your vacation), and prepare to go Cabo wild!
Please follow and like us: