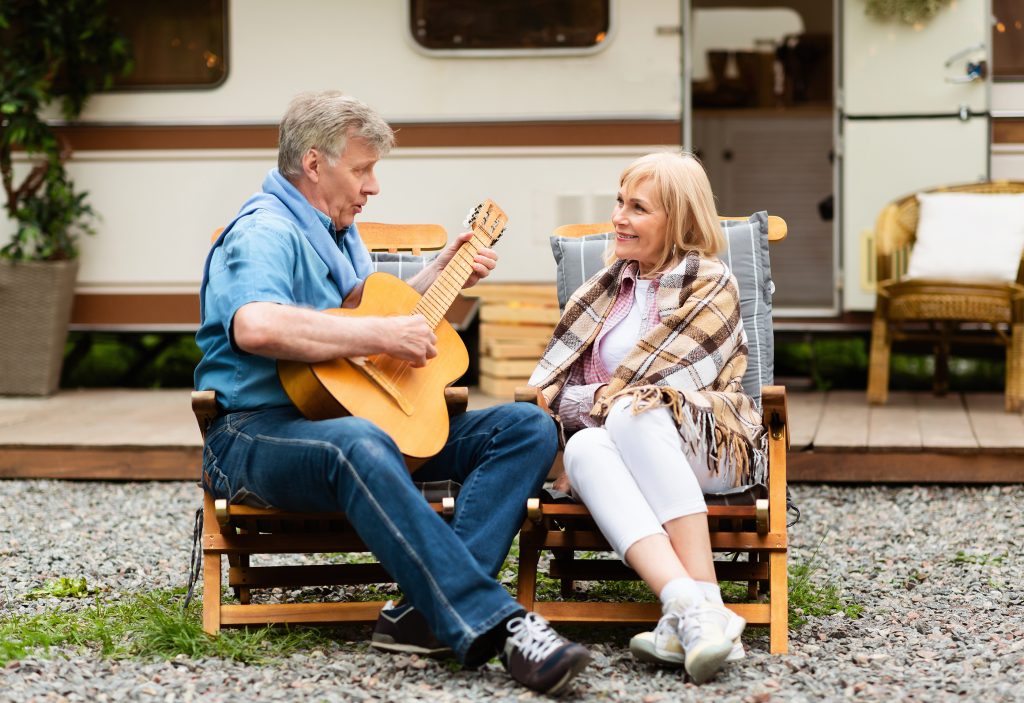 Whether you're getting away for a weekend, a week, or a few months, here are a few ideas for some romantic RV getaways you'll not soon forget. Please be sure to check online for any closures or restrictions—and reservations are always a good idea!
Catalina Island, California
Santa Catalina Island, just 22 miles southwest of Los Angeles, is a ruggedly beautiful getaway with two towns to its name. Glass bottom boats tour the reefs and shipwrecks of the area, and scuba diving and snorkeling are popular in the clear water. Lover's Cove, to the east of town, and Descanso Beach, to the west of the Casino, are popular places to dive. Rated "One of the Best Campgrounds in the West" by Sunset Magazine, Little Harbor Campground is perfect for campers who enjoy playing on the beach or in the water. It's seven miles east of Two Harbors and 16 miles from Avalon, with a sandy, beachfront campground and lots of opportunities for recreation. It's also the only one on the remote "backside" of Catalina.
Miami, Florida
Miami is South Florida's playground, where the Cuban influence permeates the gourmet foodie scene and lends its hot rhythms to the trendy nightlife. Miami Beach is home to the glamorous South Beach, famous for its art deco architecture, white-sand beaches, and hot clubs. The Larry and Penny Thompson Campground is a first-class camping area near the world-famous Zoo Miami, built on 270 acres of natural South Florida woodland, bridle trails, and hiking paths. Apart from top-notch facilities, it also has a large freshwater lake with its own beach and water slide (open seasonally) (lifeguards on duty), a jogging and bike trail, and more. Pets are welcome only in the RV sites. No pets are allowed in the tent camping areas.
Napa Valley, California
The beautiful Napa Valley's reputation precedes it—with over 400 wineries, it's one of the world's top regions for a taste of the grape. However, that's not all it offers: top-rated restaurants and gourmet chefs have worked hard on the farm-to-table concept and visitors reap the benefits. The Napa Valley Expo RV Park is located within walking distance of town and the perfect home base to tour the Napa Valley and Sonoma Valley regions.
Newport, Oregon
The Great Pacific Northwest has a fantastic foodie scene and Newport, Oregon is no exception. Restaurants run the gamut, from upscale and expensive to inventive and easier on the wallet, but they're all fun to visit. Newport's Bayfront district adds the boardwalk to the visit, with a half-mile of beautiful scenery to enjoy and plenty of wildlife to photograph. The Pacific Shores RV Resort is a luxury campground near the beach, with two heated swimming pools, three saunas, two Jacuzzis, and a fireplace in the clubhouse.
Savannah, Georgia 
This beautiful coastal city is known for its perfectly manicured parks, ornate antebellum architecture and horse-drawn carriage rides down cobblestone streets. Think magnolia blossoms and oak trees dripping in Spanish Moss ringing squares and parks. The Red Gate Campground is the closest RV park to the historic area of Savannah. Indulge in bird watching along its nature trails, tour the grounds on horseback, or while away the morning fishing in the well-stocked ponds.
Before you head out, be sure and hook up a SkyMed Membership—in case of a critical illness or injury on the road, we'll make sure you, your spouse, and your rig get allll the way home!
Please follow and like us: