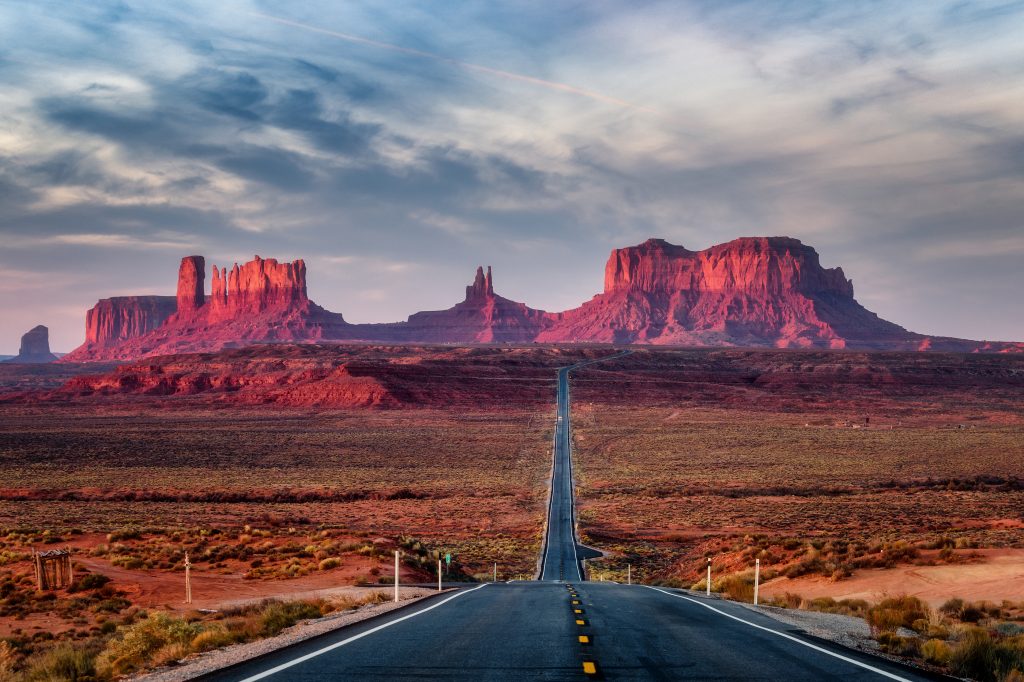 Roughly rectangular and sharing one of the famed "Four Corners" with Utah, Colorado and New Mexico, Arizona is the heart of the Great Southwest and home to one of America's biggest treasures, the Grand Canyon. Its varied geography lends itself to some pretty extreme contrasts: in fact, you can tan by the pool in the morning and be skiing down a snowy slope that same afternoon. And while its rugged cowboy culture and Native American heritage remain as vibrant as ever, Arizona is also a prime destination for golf, shopping, fine art, gourmet dining and sinfully delightful spas.
Here's a bird's eye view of just some of Arizona's many attractions—we're sure you'll agree it's amazing indeed!
Northern Arizona
Northern Arizona towns such as Flagstaff (at a cool 7,000 feet and home to the Arizona Snowbowl at 11,500 feet) and Jerome (known jointly as "America's Most Vertical City" and the "Largest Ghost Town in America") have their own attractions, but there's no doubt the Grand Canyon is the granddaddy of 'em all. Designated a National Monument, a National Park and a World Heritage Site, the Canyon welcomes an average of five million visitors a year. Though it isn't the biggest, deepest or widest in the world, its perfect combination of little vegetation and dry desert landscape reveals dazzling views of intricate geological formations and well-preserved rock layers. Its stats are pretty impressive, too: the Canyon is 277 miles long, up to 18 miles wide and at some points is actually over a mile deep.
Most of those visitors head to the breathtaking South Rim and its Grand Canyon Village. Open year round, the South Rim offers great hiking down the Rim Trail, with historic highlights such as the Kolb Studio, the Lookout Studio and the Hopi House. The Canyon floor itself is dotted with archaeological sites. Mule-powered overnight trips are a popular way to get up close and personal with the area, though others prefer the comfort of a Jeep, a Hummer or a helicopter tour. Camping, fishing and white water rafting on the Colorado River are also available.
The more rugged North Rim (some 200 miles away) beckons hardy trekkers who want to avoid crowds. One of the Canyon's newest attractions, the spine-tingling Skywalk, is located on the West Rim. A glass-bottomed cantilever structure that juts out some 70 feet over the edge, this architectural wonder gives visitors the sensation of "walking on air" some 4,000 feet above the Colorado River.
Before waving goodbye to Northern Arizona, we must tip our hat to Sedona, also known as "Red Rock Country". South of Flagstaff down the scenic Oak Creek Canyon, Sedona makes a dramatic statement all its own. Nature conspired to create a series of red-rock monoliths that became a haven for healers, artists and spiritual guides, who were drawn to the area's powerful energy. So much beauty, however, refused to be limited to a shaman's ritual, and today the town is also known for its fabulous resorts, spas and gourmet dining.
Central Arizona
We reach Central Arizona by following Interstate 17 down into the beautiful Sonoran desert. Known collectively as the Valley of the Sun, Phoenix, Scottsdale, Mesa and a group of other fast-growing cities make up the cosmopolitan heart of the state—and its 200 golf courses make it the golf capital of the United States. With over 300 days of sunshine, mild winters and air-conditioned golf carts in the summer, it's a year round pleasure to break out the clubs.
Golfers, however, do not live by greens alone. While Scottsdale may be the epicenter of their world with renowned courses such as Troon North, Boulders, Grayhawk, and the TPC (home of the largest-attended tournament in the world, the fan-favorite Waste Management Phoenix Open), it's also the site of five-star resorts that cater to every whim. A spa culture has sprung up around the Valley as well, with menus that often combine ancient Native American therapies with 21st century treatments.
No playground would be complete without the requisite restaurants, shopping and nightlife, and the Valley offers up all three in spades. You'll find everything from top gourmet eateries to chic couture for modeling at members-only clubs, plus whimsical diners, colorful kitsch and country-western bars where boots and jeans (with rhinestones, of course) rule the dance floor.
The Valley's surplus of sunny weather also encourages other outdoor pursuits: hiking trails crisscross peaks with fanciful names like Camelback and Mummy Mountain; pods of streamlined bike riders—and their motorized counterparts—move effortlessly through traffic, and big-league sporting events fill stadiums to capacity.
Southern Arizona
Towns like Tombstone, site of the famous gunfight at the OK Corral, and Bisbee, home to the historic Copper Queen Mine, keep the Old West alive and well in Southern Arizona. The area is also known as much for its majestic peaks and extraordinary saguaro forests as it is for what's underneath: the Colossal Cave Mountain Park and the pristine Kartchner Caverns State Park, one of the great natural wonders of the western United States.
Southern Arizona's main city is Tucson—the state's second largest, though it has a very enjoyable small town feel. Its history dates back 4,000 years to the agrarian Hohokam tribes that tilled the land, and today it offers its many visitors a colorful, multicultural tapestry strongly influenced by the Native Americans, the Spaniards and the Mexicans who settled there when it was still owned by that southern Republic. Don't miss a visit to the adobe-walled Presidio San Agustin del Tucson and the Mission San Xavier del Bac, two of the area's most iconic structures.
The city has a thriving arts scene and a varied nightlife that revolves around fine dining, stunning sunsets and ample outdoor patios, the better to enjoy the star-studded evening sky. First-rate resorts and world-class spas present their guests with a luxurious desert escape; beautiful homes in the mountain foothills line picturesque roads that take you to rich riparian areas well within the city limits. Tucson also has its own international airport, with eight airlines currently providing non-stop service to 15 destinations with connections worldwide.
By turns rugged and refined, completely relaxing or totally exciting, Arizona is filled with endless possibilities. Wake up the explorer within and embark on your own adventure in the Grand Canyon State—and prepare to be amazed.
Please follow and like us: