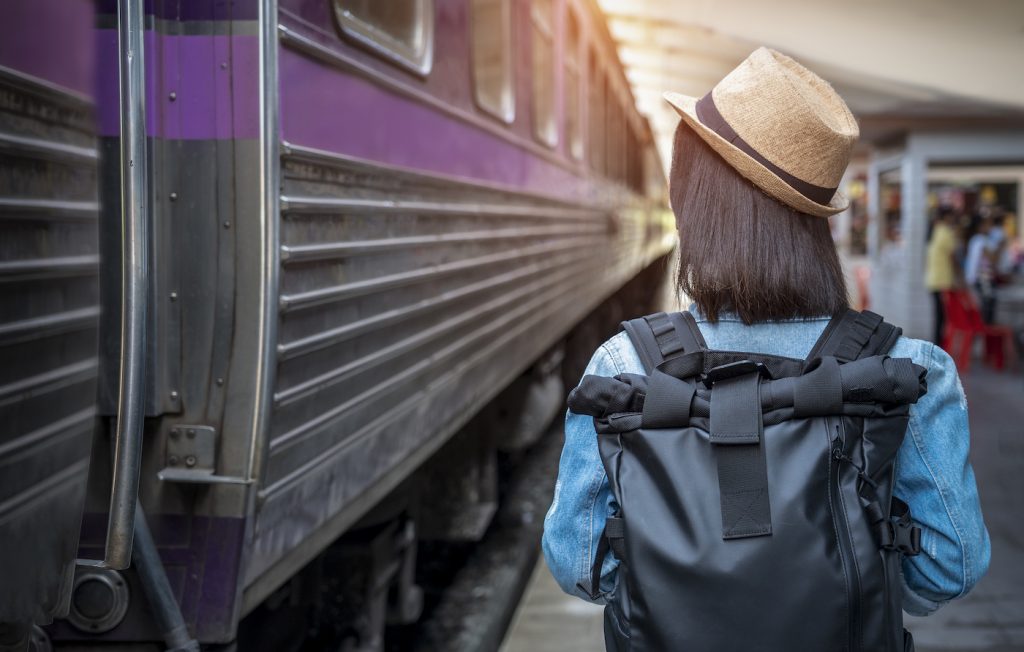 The past few years have seen a boom in solo travel, with travel companies dedicated to women travelers growing by 230%. Whether you've saved up your post-Covid travel impetus for 2022 or have already been traipsing around the country—or the globe' here are a few tips to help you on your way.
Let people know where you're going.
Leave an itinerary with a trusted friend back home and do check in on a regular basis. Before you leave, consider signing up for the free Smart Traveler Enrollment Program (STEP), which could help the State Department assist you in case of emergency. Having a working cellphone in the country you're visiting is also a good idea; make sure you know what the local equivalent is of "911."
Arrive during the day.
If it's a completely new city, time your arrival during the day so you can get your bearings before dark. And, if you're feeling watched or followed, attach yourself to a family. Talk with them, sit near them—you're harder to isolate if your part of a group.
Book a tour.
Solo women travelers love their independence, but even the most determined soloist enjoys a little company. Check with high-quality tour operators for top group activities and experiences that can become the highlight of your trip—per our opening line, there are more now than ever before dedicated solely to women travelers! Think small group tours like G Adventures and their Nat Geo Journeys or explore bluegrass, bourbon, and horses in Kentucky with Women Traveling Together.
Dress appropriately.
As Americans, we're pretty much used to wearing what we want, where we want. When you travel abroad, do a little research into the culture. You might find dressing a little more discretely (which doesn't have to mean boring!) goes a long way in certain places, not to mention it helps to deflect unwanted attention. Take your cue from the local women but stick with Western clothing, though incorporating a local piece or two can be fun!
Hotel safety.
There's a trend towards women-only hotel rooms and floors, and for many, it's very welcome. Apart from some wonderful amenities (yoga mats, curling irons, upgraded bath products—yes, please!), there's also the fact that they are usually keycard secured areas. If your not sure about your accommodations, bringing along a simple rubber doorstop that you can slip under your door when you're bathing or sleeping, ask for a room near the elevator to avoid long, lonely hallways and avoid first-floor rooms.
And, perhaps most importantly: Travel smart.
This means more than just keeping a can of pepper spray in your purse (a safety whistle is a good idea, though). Keep your wits about you, don't walk down lonely alleys or streets (especially not at night), wear a good cross-body bag (and don't hang it on the back of your chair at restaurants), watch your drink, when you chat with a stranger, don't let on you're alone… Basically, use your common sense and don't do abroad what you wouldn't do at home. Walk assertively and confidently—and always trust your intuition!
Have you traveled alone? Share your tips and tricks with fellow solo women travelers in the comments!
Traveling solo? Take along a SkyMed membership—in case of critical illness or injury while away, SkyMed Takes You Home! 
Please follow and like us: