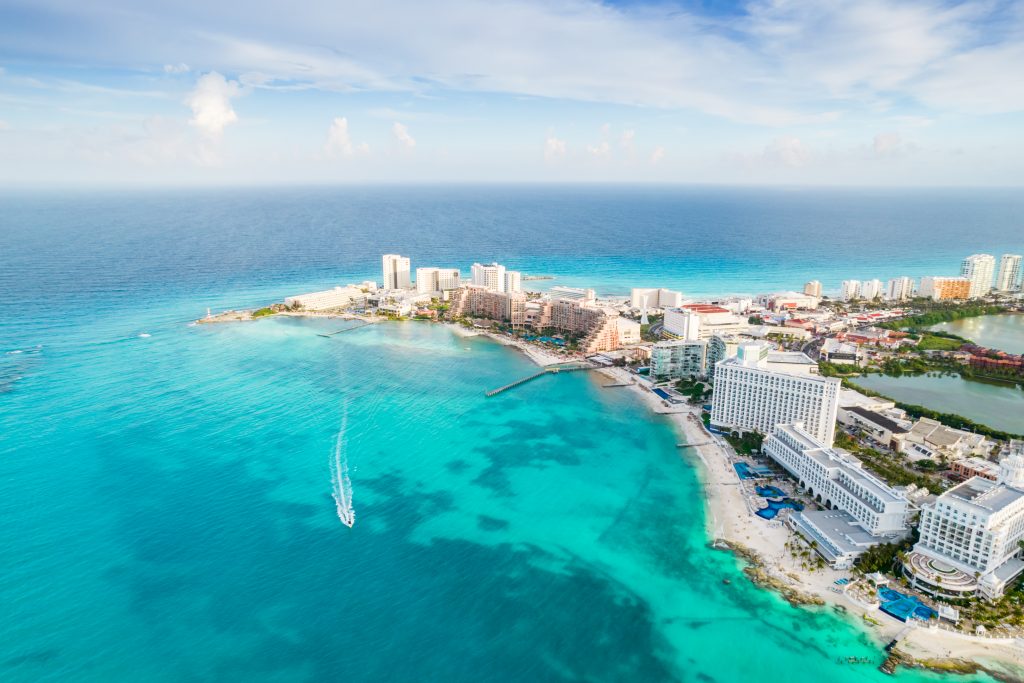 If you're not familiar with Cancun, well, we really think it's time you went. At the very least you must have seen the pictures: miles of amazing white sand and astonishingly blue water, punctuated by hotels and bedazzled by a nightlife that never stops (should you be into that sort of thing, of course.) Between the magnificent beaches, the great restaurants, the discos and the fabulous shopping, there's no place for boredom in Cancun. Say you have 72 hours in Cancun… Though ideally, we'd recommend 168! What would you do? Here's a quick look at some of the highlights from a recent trip… No doubt you'll be able to add to the list once you embark on your own adventure!
Day 1: Dive in!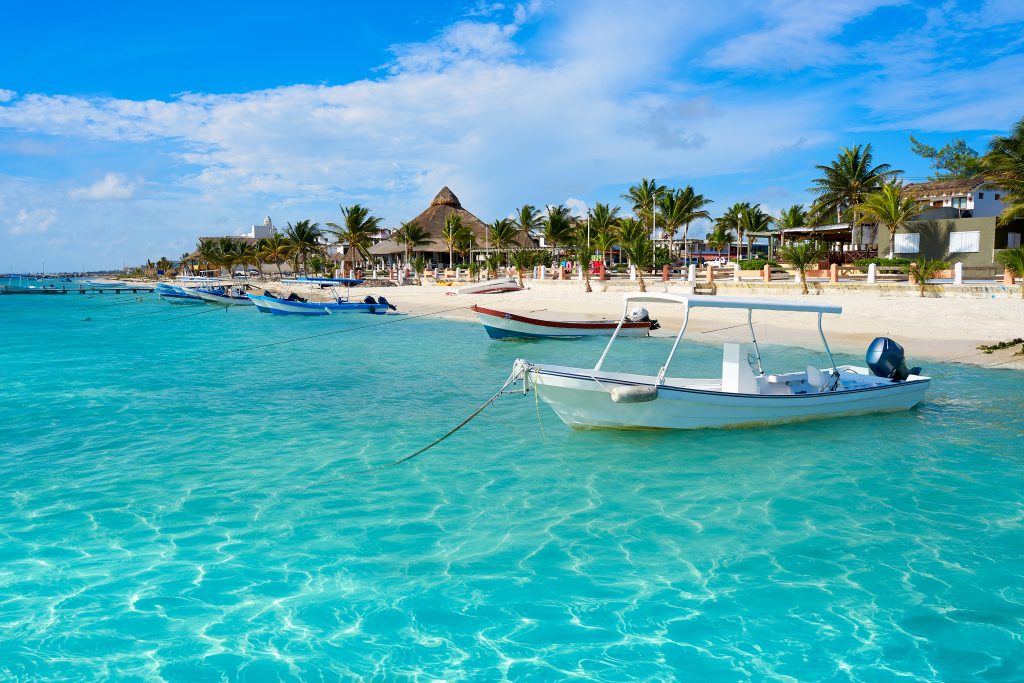 An evening flight is highly recommended, so you can wake up nice and refreshed to enjoy the day ahead. We prefer to hang out on the beach with a refreshing paloma in hand (that would be tequila, grapefruit soda, lime and lots of ice), but it would be a sin not to take advantage of the thousand and one activities the area has to offer. Since Cancun is directly opposite the world's second-largest coral reef (the Great Mesoamerican Reef), snorkeling would definitely be in order.
If the thought of sharks makes you nervous, don't worry—just ask your guide. Check out an underwater adventure in Puerto Morelos, the gateway to the Riviera Maya. The reefs in the national park are amazing and you don't have to scuba—just snorkeling is fine—in order to see an impressive array of marine life including manta rays and turtles. The crystal clear water makes you feel like you're in an aquarium filled with exotic fish and coral: everything is spic and span and brimming with happy critters.
Prefer something livelier? There are dozens of aquatic centers along the coast where you can rent a wave runner or a catamaran, hop on a boat with a glass bottom, ride a giant banana and bounce across the waves, go deep sea fishing or get SCUBA certified so you can commune with the sea life a little more closely.
Hungry?
Fortunately, there is no lack of restaurants for every taste in Puerto Morelos—in fact, the same can be said of the entire Mexican Caribbean. Obviously, the main dish in nearly every establishment has something to do with the sea: the fishing in these waters is unsurpassed. Try the ceviche at El Nicho. Seriously, it doesn't get better than that. The menu is pretty international for a small place, a point of pride for Chef Pablo. In Cancun, proper Mexican food can be served with or without a side of party (as in, Carlos N' Charlies or Señor Frogs, the local celebrities), but if your palate tends towards something from across the ocean blue you'll find restaurants that will take you from China (Hong Kong) to Argentina (Cambalache), with stops in Japan (Wazaabi), Italy (Casa Rolandi – the octopus carpaccio is insane) and more. In short, it's the world map distilled in the kitchen and garnished with an ocean view.
Dance the night away
Punta Cancun—literally in the beating heart of Cancun—is home to the superclubs: Coco Bongo, Dady'O and Mandala to name a few. You can dance till sunrise in these most spectacular of nightclubs (and we really mean it.) The dance floor here doesn't open until midnight, so arriving around 11 p.m. and knowing the right people (or buying a table with full bottle service) will get you a VIP spot with a perfect view of the dance floor. And remember: what happens in Cancun, stays in Cancun…
Day 2 Shop till you drop
Even if you brought a full suitcase, you'll find it impossible not to shop in Cancun. Fortunately, everything you could possibly desire is right on the main drag, Avenida Kukulkán. Try La Isla Shopping Village a collection of shops filled with favorite international brands, plus its ultra-luxury Fashion Harbour shops with the likes of Louis Vuitton and friends. Less than a mile away (take a quick cab or jump on the very, very inexpensive and safe bus) is Kukulcan Plaza, sleek and modern with over 250 shops and restaurants, as well as Luxury Avenue, filled with chic boutiques. Add to the list Plaza Caracol, Plaza las Américas and the local marketplace, Mercado 28 (my favorite place because the silver there is still cheaper than at the malls) and you'll soon find you'll have to buy yourself a second suitcase.
The night is young…
Debuting new clothes is pretty much mandatory and there's plenty to do besides hit the big clubs. Try a night of karaoke at Los Cuatro Elementos, where good music, good food and good conversation are much appreciated. There are plenty of places that cater to live music lovers, including the lobby bars of many of the top hotels.
Day 3 Step back in time
Comfortable shoes, check. Sunscreen, check. Mosquito repellent, check. A successful visit to the Mayan world requires all of that plus a few bottles of cold water. Oh, and your camera or you will regret it forever. The closest ruins to Cancun are those at Tulúm, a splendid waterfront temple, or Cobá, among the most impressive in the Yucatan Peninsula. If you want to go farther afield we highly recommend an air-conditioned bus tour to Chichén Itzá. Along with the ruins at Uxmal, they are the most famous in all of the Mayan World. If you are in Cancun during the spring equinox (Google for exact dates) you'll be around to see the phenomenon of a serpentine shadow projecting down the side of the pyramid to connect with the massive snake head at the bottom. Prepare to be rendered speechless.
And… Relax…
It's your last evening, so we recommend a relaxing farewell at the Quinta Avenida in Playa del Carmen, about a 45-minute drive from Cancun proper but well worth the drive. You can "charter" a cab or check with your concierge for a car service. This pedestrian promenade is a long stretch full of objects of desire. Obligatory stops include Ámbar Mexicano for some jaw-dropping amber pieces, Casa Tequila for a couple of bottles of the best of the agave fields, and Ah Cacao for some premium chocolate and/or coffee (take both.) There are a lot of places to chill and enjoy a drink—if you're up for an adventure, try Rufino Mezcalería Mexicana for some different incarnations of the smoky mezcal.
72 hours in Cancun—a picture-perfect long weekend made for two. Ready to go?
Take your peace of mind with you South of the Border—an emergency medical services membership can literally be a lifesaver! Check out this and other travel insurance options at www.skymed.com.
Please follow and like us: