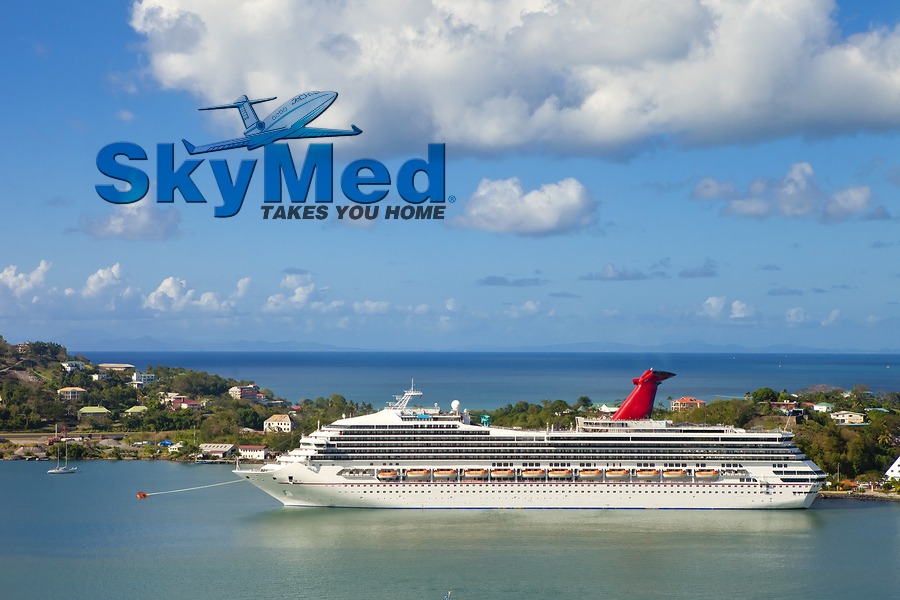 We all have our favorite cruise lines, but maybe it's time you explored something different! Or… perhaps you've never been aboard a cruise line and you'll find something on the list that will catch your eye!
If you're a SkyMed Travel member, check in frequently because more likely than not we have exceptional sales and specials just for you. We'll start with the luxury lines:
The Silversea Luxury Cruises
These are at the very top of the list of luxury cruise lines. They're renowned for extraordinary worldwide voyages aboard intimate, luxury cruise ships that bring you all that you would expect and more. Silversea is also an all-inclusive cruise, meaning everything from onboard gratuities to fine wines and spirits, gourmet dining, guided excursions and much more.
Cunard
For over a century and a half, the iconic ships of Cunard have been defining sophisticated ocean travel. They have always been The Most Famous Ocean Liners in the World®—many times with some of the most famous passengers in the world! In particular, Cunard is very well known for their transatlantic and world cruises.
Princess Cruise Lines
Probably one of the best-known names in cruising, Princess heads the top mid-price cruise lines. Heard of "The Love Boat," a slightly popular series that was on TV in the 70s? If you can remember, all of those shenanigans happened on board the Pacific Princess, the star of the show. It introduced millions of viewers to the concept of a sea-going vacation and was an instant hit.
The ships, though, have come a long way since the 70s. Sadly, Julie McCoy is no longer the "Cruise Director," but we're sure you'll find plenty of "guides" to help you have some fun!
SeaDream Yacht Club
SeaDream Yacht Club dominates the top boutique cruise category. Their slogan "It's yachting, not cruising, enjoy the difference" tells their story. With only 56 couples being pampered by an award-winning crew of 95, the level of attention and service to each of the guests makes yachting aboard on either one of their mega-yachts feel as if you own the ship. Wouldn't it be great to feel like an owner and have none of the upkeep?
SeaDream Features and Service Luxury Video Showcase
Lindblad Expeditions-National Geographic.
The top Adventure Cruise Line is Lindlbad Expeditions-National Geographic. These two companies forged an alliance in 2004 and since then they have been creating wonderful adventures for today's traveler. In fact, you now have the opportunity to "live" an issue of National Geographic.
Crystal Cruises
Crystal Cruises takes the prize for top Culinary Cruise Line. This cruise line is known for its intriguing, hybrid-style cruise experience. With two ships, the smallest of which carries 922 passengers, this upscale line has carved out a niche that offers the amenities and activities associated with larger vessels, as well as top-notch dining and service that are part of a luxury experience. This line is nearly all-inclusive, by the way.
Avalon Waterways
One of the hottest ways to cruise the world is the river cruise: meet Avalon. Your entire experience from ship to shore is included. And we mean everything, from excursions to coffee to wines and even free WiFi!
Paul Gauguin Cruises
Paul Gauguin Cruises is the top cruise line for honeymoons and romance. Their award-winning luxury cruise flagship, the Paul Gauguin, was built specifically to sail the waters of Tahiti, French Polynesia and the South Pacific. Their small luxury cruises feature spacious oceanview accommodations including balconies in select stateroom categories, gourmet dining inspired by one of the top chefs in Paris, a lavish spa with signature treatments, expansive deck space and pool, a fitness center, a boutique, and a lounge with live entertainment. The Gauguin also offers a watersports marina for kayaking, windsurfing, paddleboarding, and PADI SCUBA diving programs.
Royal Caribbean Cruise Lines
Royal Caribbean Cruise Lines is the top cruise line for the family. With literally something for every member of the family, Royal Caribbean is built to elicit "wows" everywhere you turn. And don't let the name fool you: they travel far beyond the Caribbean to more than 280 destinations worldwide.
Carnival Cruise Lines
Called "The World's Most Popular Cruise Line®", Carnival Cruise Lines offer not only outstanding value for the money, but most importantly, plenty of fun for everyone from the grandparents to the grandchildren. If you have never been on a cruise before or just thought it wasn't for you, this might be the one to change your mind!
In case you're not sure how your SkyMed membership fits in with a cruise experience, we helped a member who suffered a heart attack on board a ship off the coast of Cozumel, Mexico. By the time they got him to the Medical Center on the island they wanted $25,000 up front. After a family credit-card scramble they were able to come up with $20,000—that was before the clinic started talking about another $30,000 for a stent. Finally his son-in-law realized he was a SkyMed member and called us.
Once Member Services took over and the member was stabilized, we flew him and his wife out on a medevac jet back to Vancouver BC Canada along with a doctor, a nurse, two pilots and a medical assistant. He had a full bypass at his home hospital with his own doctors and thankfully is doing quite well.
Happy Cruising!
Please follow and like us: