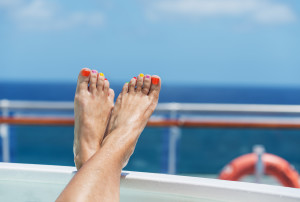 Between the onboard entertainment options, the food and the sheer size of modern ships, there's no doubt cruising has come a long way since the first pleasure cruises took to the water in the mid-1800s. If you're looking to book passage on one of these floating palaces but aren't quite sure which cruise line would best fit your needs, we asked our very own John Latimer, a travel industry veteran and VP of Travel Services at SkyMed International, to help us compile a list of the top ten cruise lines according to category to help you make an informed choice. Of course, this is the tip of the iceberg: cruising as an industry continues to grow at an unprecedented pace, and bigger, better and newer ships and adventures are continually being added to the offering.
Category: Luxury Cruise Line
Silversea Cruises all-inclusive sailings are top of the list for Luxury Cruise Lines. Renowned for their extraordinary worldwide voyages aboard intimate, luxury cruise ships, this is a vacation that will bring you all that you expect and more. Did we mention it was all-inclusive? What that means for you is everything from onboard gratuities to fine wines and spirits, gourmet dining, guided excursions and more is… all included!
Category: Upmarket Cruise Line
Cunard takes the lead in the Upmarket Cruise Line category, where they've been defining sophisticated ocean travel for over a century and a half. The iconic ships of Cunard have long been known as The Most Famous Ocean Liners in the World® with a passenger list to match. They're also famous for their transatlantic and world cruises—they're a must if you want to be a part of the rich heritage of ocean travel.
Category: Mid-Price Cruise Lines
This category is headed by Princess Cruise Lines, quite possibly the best-known name in cruising. How many of you have heard of "The Love Boat," that vaguely popular series that was on TV in the 70s? If you recall, all of the crew's shenanigans happened on board the Pacific Princess, the true star of the show, which basically introduced millions of viewers to the concept of a sea-faring vacation. It was an instant hit!
The Princess ships have come a long way since Gopher and Julie's day, with the newest ships such as the Regal Princess with a huge atrium filled with exciting restaurants and the OMG-inducing SeaWalk, a dramatic glass-bottom walkway tagged by USA Today as one of the "Top Gee-Whiz Features at Sea."
Category: Boutique Cruise
Boutique cruising is a true delight for those who prefer a more intimate experience. This category is dominated by SeaDream Yacht Club. Their slogan "It's yachting, not cruising, enjoy the difference" tells their story. With only 56 couples being pampered by an award-winning crew of 95, the level of attention and service to each of the guests makes yachting aboard on either one of their mega-yachts feel as if you own the ship. And c'mon: wouldn't it be great to feel like an owner with none of the upkeep?
Category: Adventure Cruise Line
Though offering a completely different experience than the ships above, comfort and service as still paramount for the Lindblad Expeditions-National Geographic ships. These two companies forged an alliance in 2004 and since then they have been creating wonderful adventures for today's traveler. In fact, you now have the opportunity to "live" an issue of National Geographic. Think the Galapagos Islands for an up close and personal look at Darwin's Theory of Evolution in action—and that's just for starters.
Category: Culinary Cruise Line
Crystal Cruises easily takes the cake—so to speak—in the Culinary Cruise Line category. This cruise line is known for its intriguing, hybrid-style cruise experience. With two ships, the smallest of which carries 922 passengers, this upscale line has carved out a niche that offers the amenities and activities associated with larger vessels, as well as top-notch dining and service that are part of a luxury experience. Though they take the lead in the culinary department, there's plenty of adventure to be found in itineraries that include Africa, Alaska, Antarctica, Asia, Australia, Europe, Hawaii, the Mexican Riviera, the Middle East and much, much more.
Category: River Cruise Line
One of the hottest ways to cruise the world is the river cruise and with Avalon Waterways you'll get the best all-inclusive experience, from ship to shore. And we mean everything, from excursions to coffee to wines and even free WiFi! Aboard Avalon you'll be able to cruise the Old World aboard state-of-the-art, award-winning fleet with enormous staterooms, innovative technologies, inspired designs and excellent service. In 2015 Avalon added two more European river cruise Suite Ships to the fleet, where you can book their amazing Panorama Suites with their huge Open-Air Balconies® that create indoor/outdoor seating for maximum cruising pleasure.
Category: Honeymoon and Romance Cruise Line
Paul Gauguin Cruises is on many a newlywed's bucket list. They offer small luxury cruises that ply the waters of Tahiti, French Polynesia and the South Pacific, as well the Caribbean, Latin America and Europe. Their flagship, the renowned Paul Gauguin was designed specifically to sail French Polynesia's lagoons. Their second ship, the award-winning Tere Moana, specializes in warm weather destinations in Europe, the Caribbean and Latin America, exploring those area's more intimate ports. This line is known for its exceptional service and one of the highest crew-to-guest ratios at sea. Add oceanview accommodations, gourmet Paris-inspired dining, lavish spas, a floating watersports marina and more, and you have the perfect recipe for an extraordinary getaway.
Category: Family Cruise Line
The top cruise line for family voyages is Royal Caribbean International. With literally something for every member of the family, Royal Caribbean is built to elicit "wows" everywhere you turn. And don't let the name fool you: they travel far beyond the Caribbean to 288 ports in 77 countries on 6 continents (2015 stats). This award-winning global cruise brand is known for its industry "firsts" never before seen at sea, including awe-inspiring Broadway-style entertainment and incredible programming.
Category: Multi-Generational Cruise Line
Called "The World's Most Popular Cruise Line®", Carnival Cruise Lines offer not only outstanding value for the money, but most importantly, plenty of fun for everyone from the grandparents to the grandchildren. If you have never been on a cruise before or just thought it wasn't for you, their "Fun For All. All For Fun." tagline means there will be something you'll love no matter what. Carnival boasts 24 ships that literally sail all over the world. These floating resorts cater to young and old, offering gourmet restaurants and hot-off-the-grill burghers, premiere comedy shows and kid-friendly options like Seuss at Sea, and plenty of activities—and lounge chairs—for any level of movement you're looking for. 
Ready to cruise? With your membership in the SkyMed Travel Club (free for SkyMed Members!), we'll be able to help you plan your cruise and offer you all kinds of wonderful add-ons exclusive to members. Not a member? No problem: just $99 per year gets you into this travel club with a difference, meaning it's part of a trusted company with proven integrity and success. Let's go!
Please follow and like us: