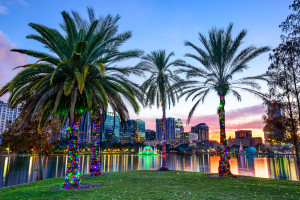 The first thing that pops into mind when talking about an Orlando vacation might have more to do with mouse ears than with Mozart, but truth is there's quite the arts and culture scene thriving in the shadow of Cinderella's Castle. Here's a hint of what you can look forward to when you plan a cultural Orlando vacation!
While the fairies that twirl on the tarmac during the parades at Disney World are quite graceful, it's the ballerinas of the Orlando Ballet that will steal your breath away with their bravura performances. Led by talented Artistic Director Robert Hill, it's Central Florida's only professional resident ballet company, producing year-round Main Stage productions featuring meticulous staging of timeless masterpieces and innovative contemporary world premieres, its annual The Nutcracker with live orchestra, performance lecture demonstrations, and outreach programs. Their new home stage is the Dr. Phillips Center for the Performing Arts in the Walt Disney Theater, an enormous venue seating 2,700+ spectators for every show.
Meanwhile, the Opera Orlando is experiencing a Renaissance, with new direction and new brio, produces entertaining, thought provoking, moving theatrical works of the highest artistic quality. Their inaugural production this will be "The Impresario" and "Les Mamelles De Tiresias"— In this unique, premiere pairing, Mozart's classic comedy "The Impresario" is updated to modern day Orlando, Florida where a struggling opera company desperate to do anything to survive must enlist the financial help of a flamboyant opera patron, Mr. Deep-Pockets. Check out their website for tickets and details!
The Orlando Philharmonic Orchestra, the Central Florida's resident professional orchestra, brings Classic, Focus and Opera performances to the stage as well, but has also incorporated Matinee Series concerts that are family friendly. They currently perform at the Bob Carr Performing Arts Center and the Margeson Theater, but also hold a wonderful series of outdoor concerts (especially family friendly) at Loch Haven Park and other venues. They recently announced their 2016/2017 season, which includes a tribute to Judy Garland—"The Garland Magic"—, a "Focus on Mozart" and the works of Ravel and Wagner in "Pictures at an Exhibition."
Theatergoers will enjoy the Orlando Repertory Theatre, a professional theater for family audiences within the 45-acre Lock Haven Park, uniting young and old for inventive performances that riff on children's classic and contemporary literature. At the Orlando Shakespeare Theater, lovers of The Bard can enjoy memorable presentations of his work liberally sprinkled with modern authors. Children are very welcome: the theater puts on colorful performances for the wee crowd as well (think the The Frog and the Princess come to life.) Come for the show and stick around for the exhibitions: at the Park you'll find the Mennello Museum of American Art and the Orlando Science Center, among others, with fun hands-on exhibits and an enormous 8-story movie screen.
Spring in Orlando brings more than a carpet of flowers at Cypress Gardens. Appearing around late March, the Florida Film Festival is a cutting-edge independent and international film event that shakes things up by pairing flicks with fine dining and great wine. Held at the unique Enzian Theater, the festival is now in its 25th year and is an Oscar-qualifying festival that lasts 10 days showing 170 films and events.
Numerous year-round art exhibits add another layer to the cultural scene. Louis Comfort Tiffany's exquisite pieces (the most comprehensive collection in the world, in fact) are on display at The Charles Hosmer Morse Museum of American Art in Winter Park. At the Orlando Museum of Art exhibitions run the gamut, from installations of work by National Geographic female photographers to collections of African art and more. The OMA also hosts the award-winning 1st Thursdays "art party," held from 6 – 9 p.m. on the first Thursday of each month, showcasing works by local artists and offering live music, cash bars serving wine, beer and soft drinks, and café treats from area restaurants.
So while there's plenty of love going around for The Mouse, you can bet there's much more to an Orlando vacation than Mickey!
Please follow and like us: