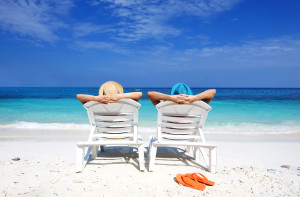 Between the rising price of gas, overcrowded airports, the shrinking size of plane seats and the growing number of fees, it might be tempting to just turn the a/c on high and overdose on Netflix this summer. The siren song of travel, though, can really be too tempting to ignore, so we've put together a few tips for stress-free summer travel to help you get through it all and focus on the fun—plus they might help you save a few bucks!
Be flexible. If you're late booking tickets for your summer travel, flexibility is your next best ally. Many booking sites give you options to travel plus or minus one to three days, so you may be able to save. According to Cheapair.com, the least expensive days for domestic flights are Tuesdays and Wednesdays, with Fridays and Sundays being the most expensive.
Work with a travel agent. Yes, there is a certain cachet to booking your trip on your iPad in your bunny slippers, but the only way to be sure you really are getting the best fare is to call your travel agent (which you can also do in your bunny slippers.) They have access to "back of the room" sites the average Joe doesn't, so you could get very lucky. Besides, many times they can offer great add-ons (upgrades, credits) that you'd never get from a big-box online site. They can help with weekend trips and are invaluable for longer vacations, so consider them when planning.
Read How To Avoid Travel Fees. You'll be glad you did J
Take a change of clothes in your carry-on (and your toothbrush.) If you've heard it once, you've heard it a million times, and this time of year the increase of travelers and luggage is followed by a rise in lost luggage, so we're saying it again. In case your bag is temporarily misplaced (as opposed to completely lost), you'll want to be able to shed your "airplane clothes" and get into something clean.
Visit the TSA site. We all have to deal with them, so why not make it a wee bit less painful? Go to their travel tips site to get the scoop on what's now permitted on your person or in your carry-on (gel inserts for shoes are now OK, you can keep your glasses on and peanut butter is still a no.) It will definitely make your life easier—not to mention that of the people in line behind you.
Pack lighter. Carry-ons make a lot more sense nowadays, though airlines have caught on and some are actually charging for their overhead space. Nevertheless, it pays in many ways to avoid over-packing, especially with those super hefty overweight fees.
Arrive early. If you're a finalist (meaning you have your friend's car skid to a stop at drop-off so you can sprint to your gate) you're in for a rude awakening during summer travel. The crowds can be atrocious, especially at security: there are plenty more kids traveling during this period of time and they can slow things down considerably. Overbooked flights are also a possibility during this prime travel time and here's something to consider: those who check in early have the biggest chance of staying onboard. Besides, those $400 travel vouchers they used to offer to people to take the next flight are about as rare as jackalopes nowadays.
Take your car to get a check-up. If you're driving to your destination, do everyone a favor and visit your mechanic before you go. Make sure he or she checks all the fluids plus the tires. You might need air and a rotation (both of which will save you gas.) You'll also want to make double sure your air-conditioner is in tip-top shape, as are your wipers (you never know when you'll get caught in a downpour.) Make sure you have an Emergency Roadside Kit, with a flashlight, jumper cables, bottled water and more (check out this site for more ideas.)
Pack a cooler. You may be able to offset the higher price of gas by saving on snacks. Stopping to a peek at "The Tahing" or "The World's Largest Ball of Twine" is always fun, but you don't have to spend a fortune at the overpriced fast-food counters. Besides, you can pack healthy and there will be a lot less upset stomach issues on the road.
Take us with you. Depending on where you go, a SkyMed TAKES YOU HOME or a GLOBAL Emergency Travel Services membership makes as much sense as having a car club card in your glove box. There are many facets to these memberships that can help you whether you're taking a road trip or a plane trip, including travel assistance services with lost luggage, lost travel documents and more, plus the very important medical evacuation or repatriation aspect. Unfortunately, medical emergencies don't take a vacation when you do, so it pays to go with a little peace of mind.
Do you have any tips for stress-free summer travel? Please feel free to share them in the comments and, as always, safe travels! 
Please follow and like us: