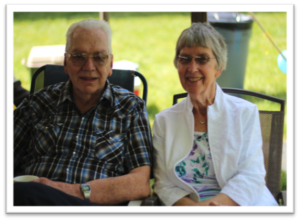 Alan & Arlene McFarland
Whiting, Iowa
This past February while wintering in Harlingen Texas, Alan fell and couldn't get up. I tried to help him but I couldn't because he's very tall, so I called 911. The EMTs came out around midnight and helped get him off the floor, checked his vitals, and asked him if he wanted to go to the hospital. He declined, thinking he was going to be alright. The EMTs left, but within ten minutes Alan fell again. The EMTs came back and this time they took him to Valley Baptist Hospital in Harlingen, Texas where he was admitted with a diagnosis of a heart attack. The cardiologist ordered a heart catheterization that indicated blockage on one side of his heart, but because of his condition the doctor did not recommend surgery at that time.
We desperately wanted to go home to our own doctors and family but the cardiologist couldn't release him; it had to be the admitting doctor who was unavailable. That's when I called SkyMed and they took over from there. Two days later Alan was transported by air ambulance to Whiting, Iowa and taken to a skilled rehab facility. Four and a half weeks later with the help of therapists, visits from family and friends and familiar surroundings, Alan walked out using his walker and went home.
How did you find out about SkyMed and why did you choose SkyMed?  We were active Holiday Rambler members for over 25 years and coordinated a number of rallies and had contact with SkyMed reps frequently. While my parents were attending one of the area rallies (also long-time HRRVC members) they won a partial year's membership. A few years later they used their membership when my mother fell from their motorhome on the way home from Texas and, unfortunately, passed away the next day. SkyMed's team cooperated so smoothly in that difficult situation that there was no question that we needed their services, too. We had heard a presentation by Doug and Shirley Palmer but didn't think we needed it then because we were young and healthy. After our experience with my parents we decided we needed it, too.
What would you tell your friends about your experience with SkyMed?  We have been "spreaders" of SkyMed's good deeds for almost 20 years telling people how wonderful and dependable they are. Even though we're no longer RVers, their services are still superb and we heartily recommend SkyMed to everyone!