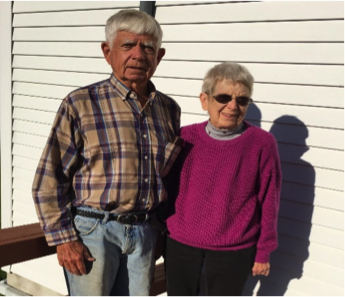 Charles & Jill Heath from Cleveland, Ohio
My wife, Jill, and I were wintering in South Florida and on our route home stopped to stay a few nights at Kissimmee Prairie Preserve State Park near Lake Okeechobee. We had been watching the weather and thought we would hook up the truck and trailer so we didn't have to do it in the rain to vacate our site. The bad weather appeared to be going north of us and about that time Jill's phone had an audible weather alert saying, "Tornado in the area – take cover now!" Jill said, "I think we're going to flip!" and that's the last thing I remember until we came to.
Jill said, "We were at the furthest end of the campground and would have never made it out because the trailer was shaking so hard and it sounded like hail hitting it. Chuck had been sitting on the couch and when we came to, I was lying partially on top of him on the back of the slide with our heads against the ceiling." Chuck said, "Our back was outside of the slide which was lying on the ground. We ended up against the inside wall with our heads against the cabinet or ceiling part of it. When I came to, I couldn't breathe and thought, my god I'm dead, and started panicking to get air. Our feet were straight up in the air and we were stuck and couldn't move. I finally got my feet free and pushed a chair off us.
We started moving around again and heard some members of the park shouting "Is anybody in there?" and we shouted, "Yes, we're in here!" They came to the back of the unit and by that time we were standing up in the pouring rain, soaked. Our kitchen step stool had landed outside and one of them brought it over so Jill could step over the side of the slide while I managed to get the cat out. As I crawled out I saw some our stuff on the site but had no real knowledge of the destruction that had occurred.  Our truck that was hooked up was now on its side with back end up in the air. I asked Jill how she was doing and she said it was hurting her to breathe. Meanwhile, the park called the rescue people and we called my son and told him what happened.
Jill was evaluated in the ER at Okeechobee and later transported to the Trauma Center at Lawnwood Medical Center in Fort Pierce. She had five fractured ribs and a bruised lung. Chuck had a laceration on one elbow that someone bandaged up and he went along to a hospital in Okeechobee. Our friends met us at the hospital in Okeechobee and later they took me to Walmart so I could buy shoes, shirt and shorts and then took me back to the park. We picked up what we could and put it in their van, collected the cat from the park office, and I went and stayed with our friends that night in Lake Placid while Jill was 100 miles away in the hospital in Fort Pierce.
Thursday evening Jill told me I should call SkyMed and so I did. Jim Edwards asked me what I needed and I said, "I don't know right now, but I want my son to come down." Jim gave me a claim number right then and said, "You tell me what you need and don't worry about it. We'll take care of everything."
SkyMed quickly organized and paid for our son's flight from Ohio to Florida to help us. Later, after Jill was finally discharged from the hospital, SkyMed organized and paid for all three of us to fly home to Cleveland.
How did you find out about SkyMed and why did you choose SkyMed?
We owned a Coachmen RV and heard about SkyMed at one of Coachmen's rallies. We learned that several Coachmen RV club members have used SkyMed's services and said they were excellent. After one man there told about how great SkyMed is, we thought since we're getting older and are still traveling that we needed to sign up.
What would you tell your friends about your experience with SkyMed?
Jill posted a few photos on our park's closed Facebook page of what could happen if a tornado comes through your campground. We received so many offers of help from people across the state. She kept posting updates and telling them all that SkyMed is a service they should really consider having. Our insurance agent said, "This is the first case I've had where an RV was lifted in a tornado with the people inside." My friend said "We complain when we pay the premium, but when we need it, it's worth every penny!" Today Jill's rib pain is still there, but she's okay and at home, thanks to SkyMed!