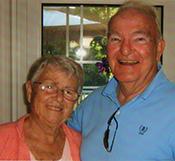 Joseph & Caroline Sheehan
Joseph and Caroline Sheehan, from Georgetown, Massachusetts, were wintering at Thousand Trails Campground in Orlando, Florida, when Mr. Sheehan fell and fractured his hip while exiting his motor home. A passerby saw what had happened and called 911 and Joe was taken by ground ambulance to Celebration Hospital in Kissimmee and was later transported to a rehab facility 50 miles away.
As it turned out, Caroline wound up in the hospital, too, due to a separate incident and SkyMed paid to have their daughter, Pam, flown down to assist them. Caroline said, "We don't know what we would have done without her and she traveled 50 miles back and forth taking care of both of us and stayed two weeks to help Joe and me."
SkyMed also paid to have their daughter-in-law, Lynn, flown from Boston to Florida to drive their RV back home to Georgetown, Massachusetts.
Caroline said, "My main concern was in getting Joe home. SkyMed flew Joe and I home from the Orlando Airport where they had two wheelchairs waiting for us as requested. When we got on the plane, we were so pleased to find out we had first class seats which was wonderful because Joe could not have gotten into a regular passenger seat. Our son, Timothy, was waiting for us at the airport in Massachusetts and drove us home from there."
How did you find out about SkyMed and why did you choose SkyMed? "We originally heard about SkyMed 15 years ago at a SkyMed presentation in a campground in Moore Haven, Florida. Joe and I both felt the plan would give us and our family peace of mind while traveling in case something should happen."
What would you tell your friends about your experience with SkyMed? "I would tell my friends that if they live the lifestyle we live, they would be crazy to not have SkyMed! SkyMed more than met our expectations and some of our friends had a different plan which did not cover everything that SkyMed covered. And in talking with my camping friends, they are quite surprised about everything that SkyMed covered. We were very satisfied and tell everybody about how wonderful SkyMed is!"
The Sheehans have been SkyMed members since February 1999.
Please follow and like us: