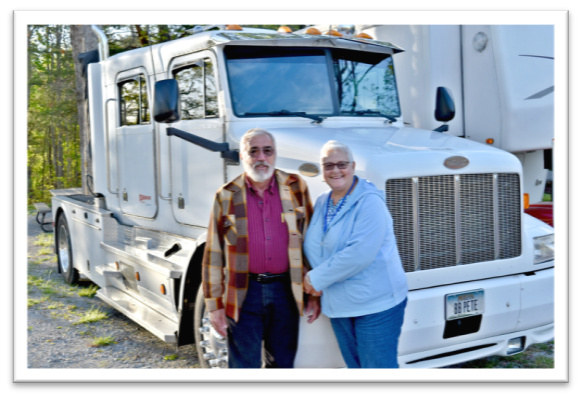 David & Mary Jo Deming from Crossville, Tennessee
We live in Tennessee and had been wintering in Mission, Texas. We winter in a 5th wheel and tow it with a Peterbilt truck. During our time there my wife, Mary Jo, had to have unexpected bypass surgery and was not allowed to get up into the truck or trailer. We signed up for SkyMed several years ago and decided we needed to call SkyMed. Mary Jo went from the hospital to a hospital rehab center for 10-12 days but we needed to get her home to Tennessee for rehab there.
During her last few days of being in rehab I drove our truck & trailer home while SkyMed flew Mary Jo home accompanied by an escort. SkyMed later reimbursed me for my expenses to drive our truck and trailer home.
How did you find out about SkyMed and why did you choose SkyMed?   Mary Jo heard about SkyMed several years ago when Stan Schwenke gave a presentation. The Schwenkes also winter in Texas and visit various campgrounds giving SkyMed presentations. I had heard about SkyMed but didn't buy at that time. Later, when the Schwenkes gave a presentation at our campground meeting, we were very impressed with what they had to say. After getting a little older we began asking ourselves what we would do if something did happen, especially since Mary Jo can't drive the rig. We thought SkyMed sounded like a great plan to have and we signed up, knowing SkyMed would take the worry out of traveling.
What would you tell your friends about your experience with SkyMed?  After using SkyMed's services several people have asked us about it and we tell them there was not one hitch and everything went so smoothly. We always promote SkyMed to people that belong to any other program and tell them they really need to look at the fine print and find out if what they have even compares to SkyMed. They can say they've got the same coverage but they need to be sure. We always carry SkyMed in our wallet which gives us great peace of mind. What's in your wallet?