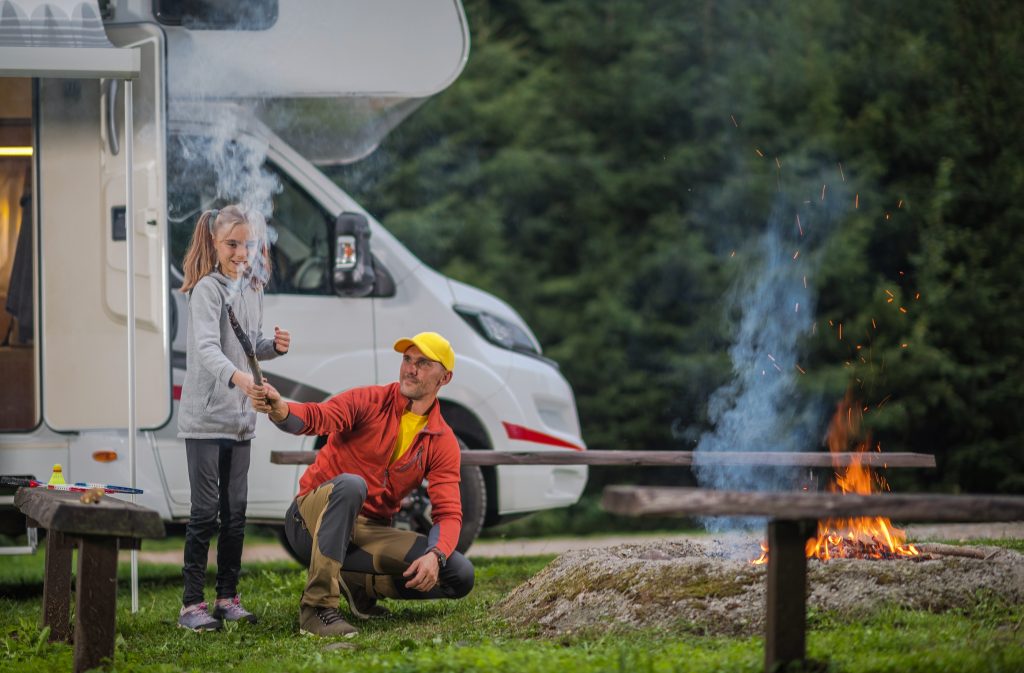 RV Tips for Beginners
The "new normal" has been a boon for the RV industry—rig sales have shot up 50% over the previous year and sales aren't expected to slow down. And with so many people working remotely and kids learning online, even the cooler temperatures haven't made a dent.
Pick a vehicle that's right for you
New RV owners and renters will be taking the road in record numbers. What's not to love? It's a great way to social-distance vacation—or workation—with the family and stick to your budget, a fantastic getaway built for two, and even solo travelers (have dog, will drive) can get in on the fun.
If you're new to traveling by RV, know that what essentially feels like a large SUV does come with a bit of a learning curve. Don't worry, though: it's much easier than you think, and with these RV tips for beginners you can progress quickly to "seasoned RV traveler."
Don't limit the size of the RV simply by the number of people it sleeps—you're going to need some moving around room! While you'll definitely have the great outdoors as your living room, if the weather doesn't cooperate, you're going to need some space to hang out while the rain clears.
And though it may be tempting to go all out for the big rig, until you get your "RV legs" avoid taking on more vehicle than you can handle. Smaller rigs are easier to maneuver and can get into more campgrounds (some National Parks won't even admit the larger RVs). Think gas mileage, too: depending on the size, you should bet between 8-15 miles per gallon.
Take the time to learn how the RV ticks
The last thing you want to do is try to figure out how the hook-ups work in the dark or find out about those blind spots when you're sharing the highways with semi-trailers. Plus, think about the parking! Not to mention that while you don't need a special license to drive an RV, keep in mind the dimensions of the vehicle: it's wider, taller and much heavier than anything else you've probably driven. Keep in mind, this also means stopping distances are much longer.
Remember to expect the unexpected.
Whether you're renting or owning, you'll need special RV insurance, which is separate from your regular car insurance. And since you'll be on the road away from home, memberships in medical evacuation plans such as SkyMed Takes You Home are an excellent addition to your traditional health insurance plan.
Your mobile home also comes with a laundry list of things to do and check before you get on the road, plus a list of things to keep in mind while you're on the road and one more to help you batten down the hatches when you get home. Here are a few suggestions:
1. Read the RV Manual, do a dry run on hooking up and disconnecting the rig, this way you know everything is working before leaving on your RV trip.
2. When a RV is arriving or leaving a RV site near you, DO NOT visit them until they have completed their task. They might forget a step if they are distracted.
3. Always carry a couple gallons of water with you, you never know what the water quality is at your next RV destination.
4. Make two lists, one for personal items and Items needed for the RV (cooking utensils, food, cleaning supplies and etc.)
5. Before leaving on trip, always check air pressure in all tires, including the spare.
Put together an itinerary before you leave
Before you say anything, putting together a detailed itinerary before you leave won't detract from your adventure! What it will do is ensure you'll find the right parks you need along the way to stop for the night, the navigational tools you need to get there and even keep you within your budget.
There are plenty of RV and other travel guides at the library and online that can help you plan out your route, and don't forget about the tourism boards of the states you'll be passing through. There are many RV parks and campgrounds that have great facilities across the United States, Canada and even Mexico. Let your keyboard do the walking!
Remember those checklists? They'll help you plan to make sure you have enough food, medications and personal items for a great trip from start to finish. Make one just for fun stuff like board games, books, tablets, and, very importantly, make sure you're set up to have internet connection wherever you roam, especially if you'll be working and the kids need to hook up for remote learning.
RVing with kids
RVs are extremely kid-friendly. The constantly changing scenery, the endless outdoor activities and, of course, the s'mores, make these family vacations a big hit with the younger set. Parents will love they can keep their own schedule, there's no need to set up in a hotel room, and snacks and naps can be on-demand. Make sure to pack an activity bag with age-appropriate entertainment—you may want to space giving things out so there's something different every day. The dollar store, by the way, is a great place to pick up new toys to fill up on before you leave (sand toys are always popular). The older kids might want to keep a digital travel journal or a scrapbook—there are plenty of apps that let you do it all in cyberspace for immediate shares with the folks back home.
Make sure you set aside time during the day for full stops and outdoor activities. Even the biggest RV can get confining when you're under 4-foot tall and full of energy. When you do settle into a campground, make sure you walk around with the kids, so they know the lay of the land and how to find their way back to your camper using landmarks. If you plan to bring along the four-legged family member, check with the campground first to ensure they allow pets.
Relax, make friends, have fun
RVing gives you a fantastic opportunity to bond with your family or loved one while getting to know your country up close and personal. Every campground offers the opportunity to meet new friends (being outdoors is safest!) and, if you're a newbie, don't be shy about asking advice. Experienced road-trippers are always ready to lend a hand, and you never know what cool park, activity or even safety tip you'll find out over a campfire and a cup of coffee.
Have fun and travel safely!
Please follow and like us: