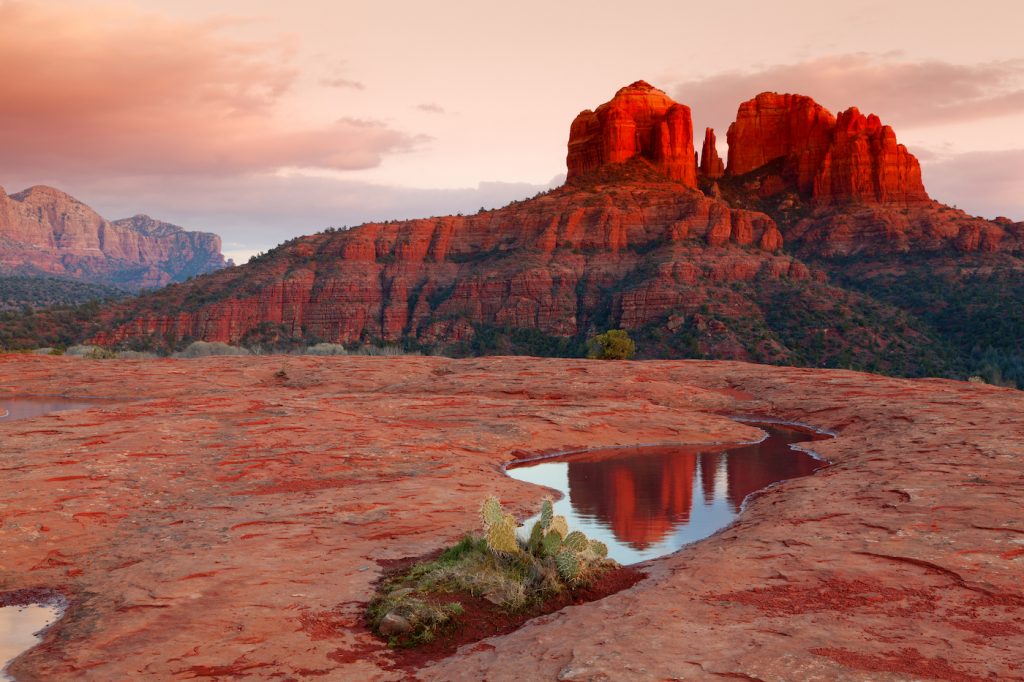 Only two hours north of Phoenix and the Valley of the Sun, Sedona is known around the world for its breathtaking red rock formations—in fact, it's one of the most photographed spots on the planet. A must during anyone's visit to the Great Southwest, Sedona a fantastic place for a day trip that you can put together on your own or through a local outfitter.
Like doing things your way? Here are a few tips on top things to do in Sedona. (P.S. Do NOT forget your camera!)
Have breakfast at The Coffee Pot—then work it off on a hike to the base of Coffeepot Rock.
Famous for its menu of 101 omelets, The Coffee Pot Restaurant is as much a landmark of Sedona as, well, the red rocks themselves! Breakfast is served all day and it's usually bustling, but if there's a wait, the food is well worth it. Fuel up with a Green Chile and Cheese number, or opt for an egg white or Egg Beater concoction, served with some of the best coffee in town.
Ready to go? Grab your water bottle (a must when hiking in the desert), spray on your sunscreen and drive down Coffeepot Drive about ½ mile, turning left on Sanborn. Continue to the second street and turn right on Little Elf. Little Elf ends at Buena Vista so make a short right on Buena Vista and then a quick left into the parking area. This is the same parking area as the Teacup Trail and the Sugarloaf Trail. From the trailhead parking lot, follow the Teacup Trail until you intersect the unmarked Coffeepot Trail. You'll find yourself walking on ledges under the "coffeepot" until they get too narrow and steep to go any further, at which point you'll get to "Shark Rock," which actually looks like the open mouth of a giant shark. When you've gone as far as you're comfortable, look up and… you'll be under the coffeepot spout!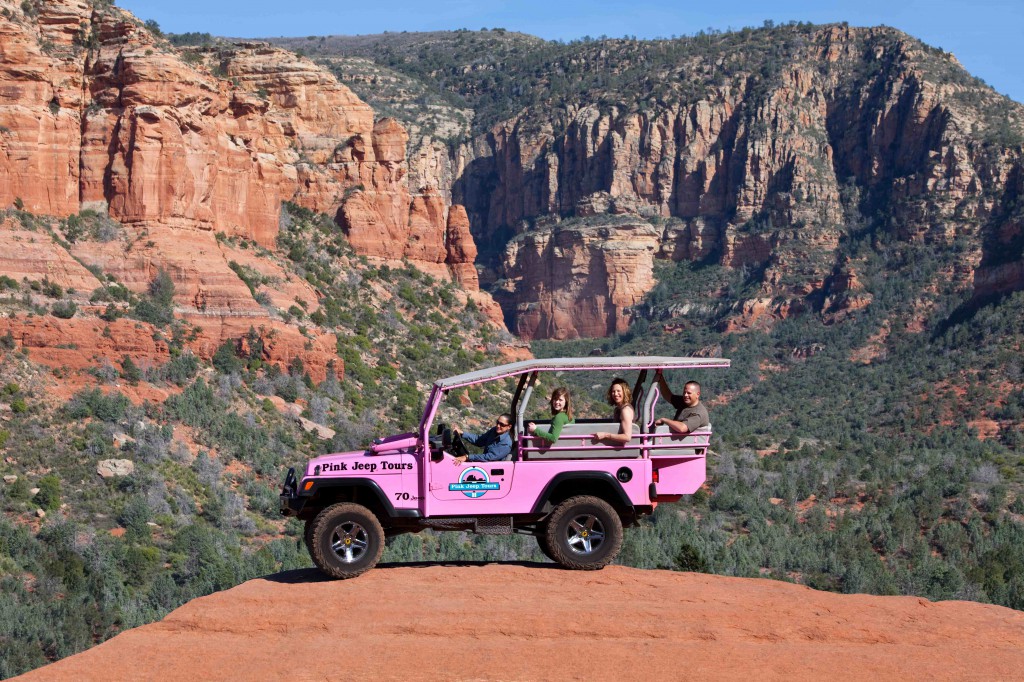 Spend a couple of hours in Uptown Sedona then book a Pink Jeep Tour.
There are plenty of things to do in Uptown Sedona—it's that colorful strip of 89A that's lined with so many shops, restaurants and hotels you can spend the entire day trip strolling up and down and going in and out. Souvenir shopping here ranges from some serious Southwestern fine art to the all-cotton (all-natural, of course) "red earth" t-shirts—and everything in between! Don't be surprised to see a Native American dance troupe showing off their best steps in a shady plaza or a cowboy in full regalia crossing his boots as he leans against an open doorway.
As you saunter down the sidewalks you can't miss the open-sided bright pink Jeeps that zoom up and down the street, filled with people waving and smiling. Stop in at the Pink Jeep Tours office and soon you'll find yourself waving and smiling, too, as the certified tour guide zips away from the shops and onto trails right on the rocks. For over 50 years, these specially outfitted four-wheel mountain goats have been taking visitors on unforgettable off-road adventures on the Broken Arrow trail.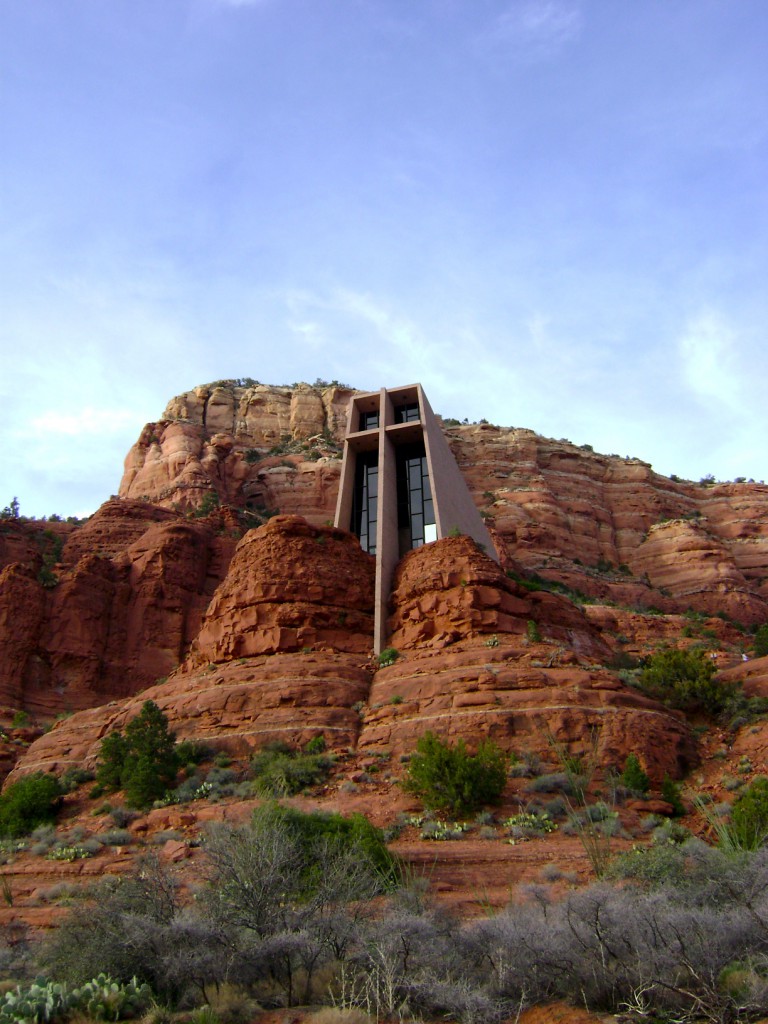 Drive to Chapel Road… And take a few minutes to commune with a Higher Power.
The Chapel of the Holy Cross is one of Sedona's treasures, voted one of the "Seven Man-Made Wonders of Arizona." You'll notice there are plenty of places of worship in this very spiritual town, but this one in particular is extra special. It welcomes visitors from around the world and is open to every faith, allowing people to sit and meditate in the hushed ambiance surrounded by breathtaking views. In the sculptor Marguerite Brunswig Staude's words, "Though Catholic in faith, as a work of art the Chapel has a universal appeal. Its doors will ever be open to one and all, regardless of creed, that God may come to life in the souls of all men and be a living reality."
The Chapel is only one of the many places in Sedona where you'll be able to feel the incredible energy generated by its famed vortices. A "vortex" is technically a "place or situation regarded as drawing into its center all that surrounds it." In Sedona, the entire area is a spiritual power spot, and a vortex is a place where it can be felt more strongly. The closest vortex to downtown is the Airport Mesa, and it's open to the public. You can also choose to hike Boynton Canyon, still a site for annual Native American ceremonies.
Give your credit cards a workout at Tlaquepaque.
If you're in the mood for a little more highbrow shopping, head over to Tlaquepaque, Sedona's premier arts and crafts village. Originally an artists' community, it's the place to go to see gifted artisans at work and purchase one-of-a-kind pieces. The courtyards, fountains, gardens, tile-work, and cobblestones are reminiscent of Old Mexico, and there are upscale restaurants that cater to international palates. There's even a chapel tucked away in there for brides looking for a unique wedding venue.
Head north on 89A and wind up Oak Creek Canyon.
Named one of the state's most scenic drives, this trek is best done by car or motorcycle (unless you have really, really strong calves and want to ride your bike.) As you head up, make the obligatory stop at Garland's Indian Jewelry (there's a giant steel buck out front—you can't miss it) to check out some of the finest Native American jewelry and pottery pieces around. They sell many modern designs but have an amazing classic collection that will have you breaking out the wallet in no time flat.
Stop at the top of the switchbacks for a magnificent photo opportunity and to browse the offerings of the Native American arts coop that sets up shop off the parking lot. The group certifies the authenticity of their jewelry and crafts, so you know you're getting the real thing.
If you're in the mood to keep on roaming, follow 89A north and you'll soon reach Flagstaff, one of the major stops on America's famous Route 66 and home to Northern Arizona University and the (very fun) Arizona Snowbowl. But that's a topic for another story… So stay tuned!
Headed out for the weekend? Consider taking a SkyMed TAKES YOU HOME membership along for the ride—it picks up where traditional travel insurance leaves off. It's inexpensive peace of mind that's priceless when you need it!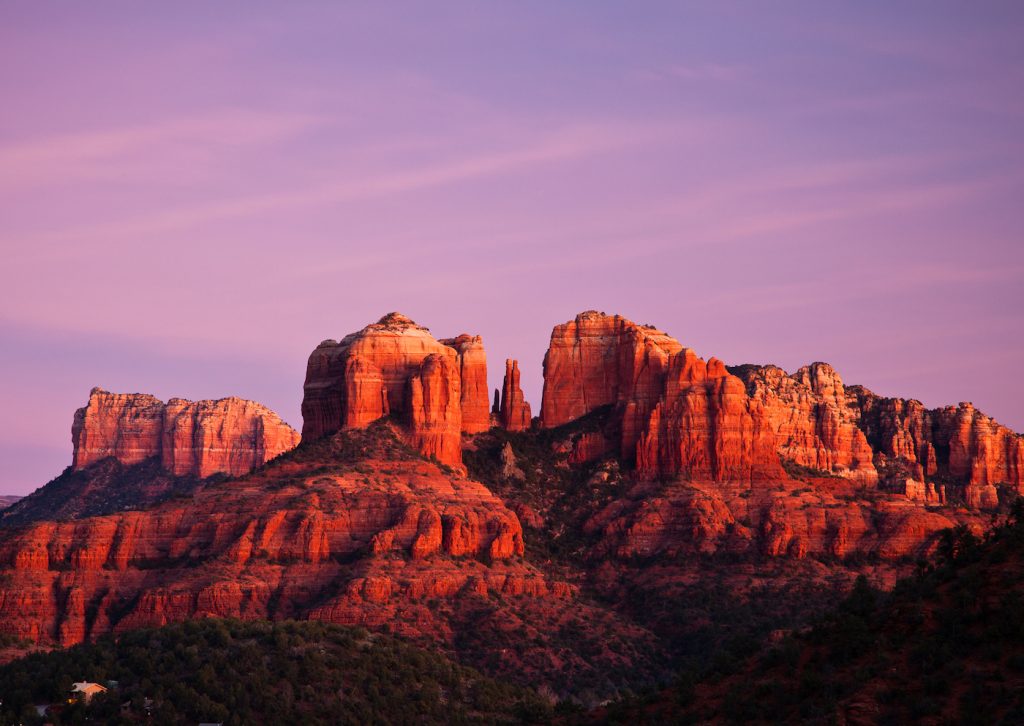 Getting There
If you're traveling by car or RV, you'll want to take State Route (SR) 179, designated a National Scenic Byway as part of the U.S. Department of Transportation and the Federal Highway Transportation Administration. Arizona's First All-American Road, the Red Rock Scenic Byway is just the beginning of your startling beautiful journey through one of America's most spectacular sights. There's plenty of parking along the Byway (RVs welcome!) and lots of hiking and biking trails to explore on your way up to Sedona.
Driving directions from Phoenix:
Total distance: 116 miles
Drive time: 1 hour 58 minutes
Take I-17 North towards Flagstaff (98.8 miles)
Take exit 298 for State Highway 179 North towards Sedona (0.2 miles)
At the ramp make a LEFT (North) onto SR-179/FR-618 Rd
Turn RIGHT (East) onto SR- 89A (N HWY-89A) (0.2 miles)
Another option:
Take I-17 North / Flagstaff
At exit 287, turn LEFT onto AZ-260 west toward 89A
Turn RIGHT on AZ-89A and continue into Sedona, Arizona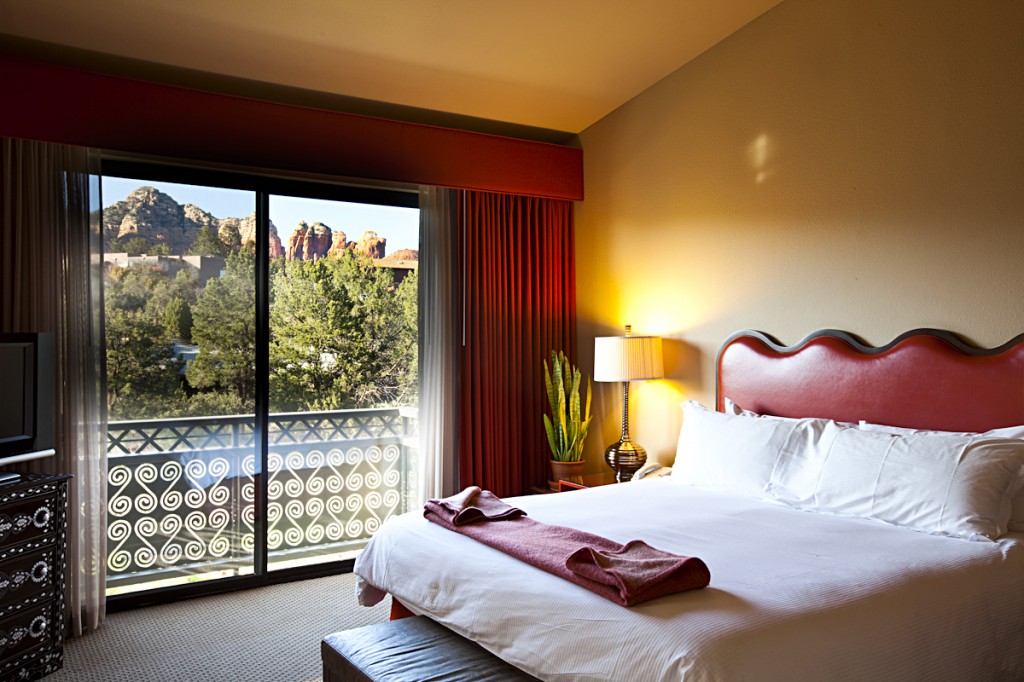 If you want to stay:
The best place to scope out a great hotel is the Sedona Chamber of Commerce's very interactive website, where you'll find a list of cabins, bed and breakfast getaways, hotels, motels and luxury resorts.
There are also several RV parks in and near the area, including:
135 Bear Wallow Land, Sedona AZ 86336
888-641-4261 or 928-282-7255
1156 State Route 179, Sedona AZ
928-282-7701
Thousand Trails Verde Valley RV Resort & Campground
6400 Thousand Trails Road
Cottonwood, AZ 86326
928-567-9562 – Ranger
800-546-0675
SkyMed's medical evacuation services memberships are a very good fit for road-trippers and RV travelers. Should you become critically injured or ill, we'll take care of you AND your rig!