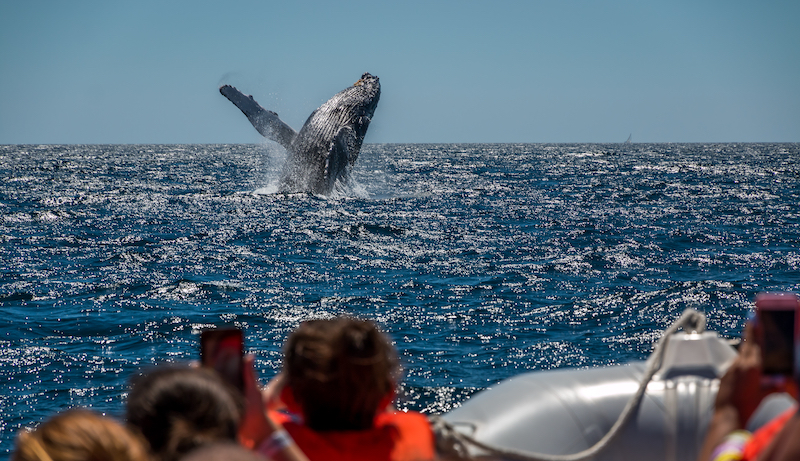 For most people, Mexico is about beaches, sunsets and margaritas. For others, Mexico is about archeology, history and culture. Mexico is certainly all of those things, but it is also one of the world's five richest countries regarding biological diversity. Its land is a remarkable mosaic of ecosystems ranging from northern arid deserts and an interior filled with pine forests and snow-capped mountains to tropical jungles dominating the south. (Not to mention more than 6,000 miles of coastline!)
Nature lovers and outdoor sports enthusiasts can now discover a new realm of possibilities. In terms of ecological and adventure tourism, Mexico has taken notable steps. Overall, there are 67 national parks in Mexico under the National System of Natural Protected Areas (SINAP), set aside by the government to protect these lands and their biodiversity. Some standouts for adventure are the Monarch Butterfly Sanctuary in Michoacan, interacting with the wildlife of the Baja, the Copper Canyon in Chihuahua, white-water rafting in Veracruz, and mountain climbing near Mexico City.
Every year (November through March, with the best month being February), millions of black and orange monarch butterflies fly more than two thousand miles from southern Canada and the northern U.S. to a remote area in the mountains of the central Mexican state of Michoacan. Here they spend the winter months pulsating in the trees and creating one of nature's most unforgettable spectacles. Organized tours are available from the capital city of Morelia.
The Sea of Cortez (also known as the Gulf of California) has been called an upside rainforest because of its vast and varied profusion of life beneath the surface. Up to a third of the world's cetacean species (whales, dolphins, porpoises) are found in these waters. There are nearly 100 untouched desert islands in the crystal blue waters off the east coast of the Baja Peninsula, many of which are federally protected. From late December through early March, this is one of the premier whale-watching destinations in the world. Not to mention home to huge colonies of sea lions and the elusive and endangered blue-footed booby birds. (Cruise West offers great trips on the Sea of Cortez in the fall and winter.)
Also, remember that seven of the world's eight sea turtle species have come to nest on Mexican beaches for the last 150 million years. The best nesting beaches are found up and down the Pacific coast and Mexico has taken a tremendous stand to keep these giants from extinction. Most hotels in the nesting areas now offer "turtle programs" where the baby turtles are raised and released and travelers are educated about their plight.
The Mexicans joke that the Copper Canyon in the state of Chihuahua is what the Grand Canyon wants to be when it grows up. One of the country's most extraordinary natural wonders, this is actually a series of interconnecting canyons—some far deeper than its famous counterpart in Arizona. Mexico's tallest waterfall (984 feet) can also be found here. It's best to visit in late summer or early fall after the rainy season when the entire area is lush and green. (You'll be disappointed if you go in winter.) Most of the canyons are only accessible by train and this one is said to be one of the "world's most scenic railroads." A luxury ride through 400 miles of breathtaking scenery is spectacular. .)
The state of Veracruz has four main rafting rivers – Filo-Bobos, Antigua, Pescados, and Actopan. Rivers are rated from class one to class six (depending on difficulty); all categories can be found here. There are plenty of rapids for beginners and this is a tremendous way to mix sightseeing with adventure. There are numerous ecotourism companies that specialize in kayaking and river rafting tours in Veracruz.
Finally, yes, there are snow-covered peaks and high mountains in Mexico! Two towering ranges run through eastern and western Mexico. The central plateau between the two is the third highest-populated region in the world, behind Bolivia and Tibet. A series of volcanoes stand along this plateau, five standing taller than any in the continental United States. The best known are the highest, Pico de Orizaba (18,850) in Veracruz, and Popocatepetl or "Popo" (17,887) and Ixtaccihuatl or "Sleeping Lady" (17,343), both southeast of Mexico City. Hikers can climb to the summit of Ixta and Orizaba, but Popo has been off-limits as it's been fairly active.
Please follow and like us: