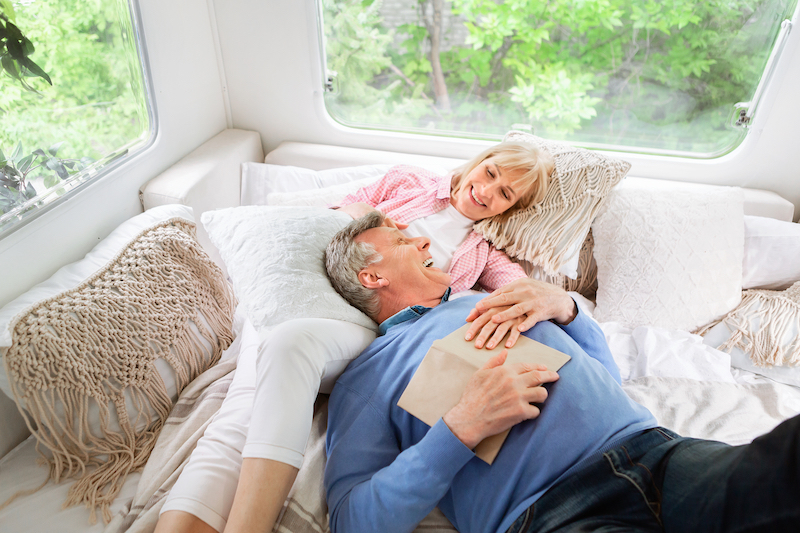 With baby boomers still controlling about 70 percent of all the disposable income in the United States, and it's estimated they spend $157 billion annually on travel. And while the tables have turned a bit as far as RV ownership is concerned with many new owners being younger, the truth is as boomers find themselves retiring or close to it, they choose RVs as second or first homes. The RV lifestyle is unmistakably appealing, but whether you're trading your static pad for one on wheels or just dipping in a toe for a week or two, here are a few RV travel tips that will definitely come in handy.
Buy or rent?
The general rule of thumb is: if you're only going a few times a year, rent. If you're going more than that, buy. But even if you're planning on buying an RV for the long term, those in the know recommend renting first to get a better idea of what you want out of your rig. Picking out a different vehicle for your first few road trips will give you an excellent way to compare amenities, styles, driving capabilities and more. Buying an RV is a major purchase, so you want to make sure you do your research before committing.
Stay safe.
Taking an RV for a spin for a few weeks or for the long term is fun and exciting, but as with anything else, it's always good to think about safety first. From ensuring your rig is loaded correctly (a major cause of accidents) and researching safe, well-lit RV parks to having fire extinguishers on board, leaving an itinerary with friends and family and ensuring you know your generator's ins and outs, there are many RV-specific points to take into consideration.
Get handy.
Many RVs are synonymous with "mobile homes," meaning that, like most homes, there will be maintenance attached to it. If you're renting, check to make sure the contract includes repairs. If you're the owner, be prepared to handle the unique concerns that come with an RV, from dumping the gray/black water tanks, replacing filters, maintaining a generator, monitoring propane levels and more. Luckily, there are plenty of online resources to help you, not to mention the dealer will be more than happy to help.
Plan ahead.
Popular RV parks fill up, so it pays to plan ahead. The fun thing is there are tons of them all across the US, so chances are you'll find one that has just what you're looking for—including such amenities as fitness centers, hot tubs and swimming pools. Some are great for families, while others keep it at 55+, something to keep in mind if you want to take your grandkids with you on a summer getaway. Then there are fuel costs to consider, as well as other fees that you'll want to keep in mind for your budget. The good thing? Food costs—other than provisions—will be negligible, and you'll enjoy your very own delicious home cooking wherever you go.
Make sure everyone can drive.
Even if it's just the two of you, chances are there will be one main driver. However, it's key that both of you are equipped to handle the rig… Just in case. Again, the Internet is your friend: Google RV driving classes in your area, watch YouTube videos (no substitute for hands-on, though) and do some reading. Besides, sometimes taking the wheel for a few hours is just a nice thing to do.
Don't leave home without it.
And by "it," we mean insurance and highly recommended emergency medical evacuation membership. While you probably already have insurance on your vehicle, it might be a good idea to check with your agent to ensure the rig is covered. The same goes for your health insurance: will it cover you if you become critically ill or injured hundreds of miles from home? If you can't drive the rig back, will someone be able to take it? What about your spouse and your pets? Though it's probably the last thing on anyone's mind when they're planning a getaway, planning for the unexpected has paid off for many. While we're on the topic of health, it's always a good idea to run the trip by your doctor, particularly if you have ongoing health issues.
Please follow and like us: