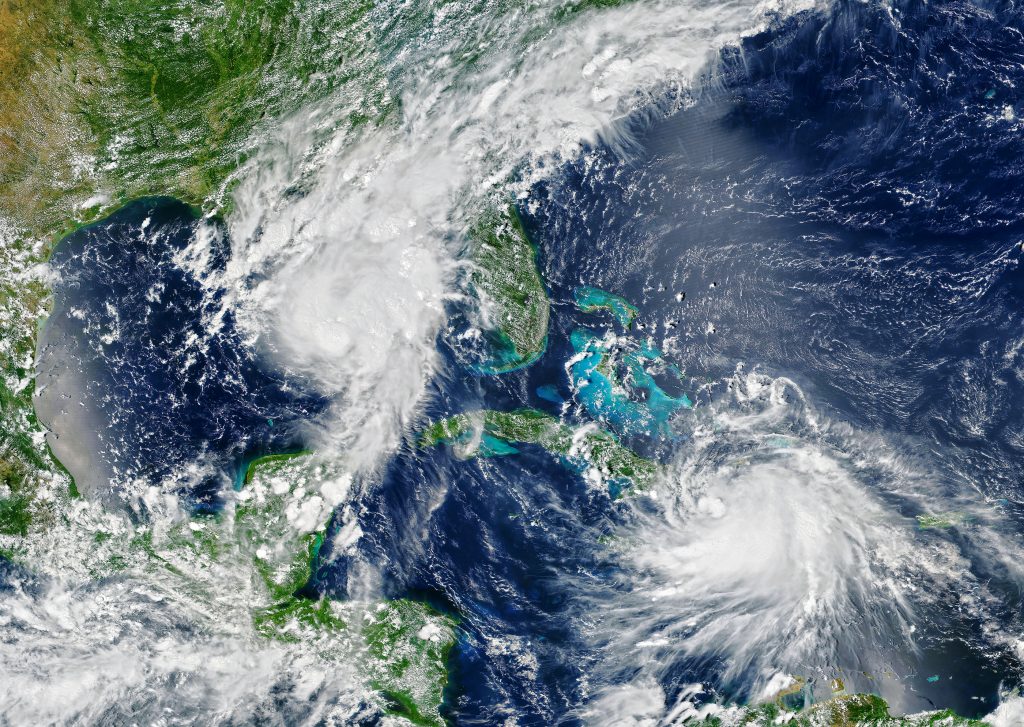 It only takes one storm to change your life and community. Tropical cyclones are among nature's most powerful and destructive phenomena. If you live in an area prone to tropical cyclones, you need to be prepared. Even areas well away from the coastline can be threatened by dangerous flooding, destructive winds and tornadoes from these storms. The National Hurricane Center issues watches, warnings, forecasts, and analyses of hazardous tropical weather.
Hurricane Hazards
The primary hazards from hurricanes are storm surge flooding, inland flooding from heavy rains, destructive winds, tornadoes, and high surf and rip currents. While hurricanes pose the greatest threat to life and property, tropical storms and depressions can also be devastating. Flooding from heavy rains can cause extensive damage and loss of life. For example, Tropical Storm Allison produced more than 40 inches of rain in the Houston area in 2001, causing about $5 billion in damage and taking the lives of 41 people.
Storm surge has the potential to cause the largest loss of life in hurricanes. Since 1963, storm surge has caused nearly half of the deaths in the United States in tropical cyclones. Water, not wind, has accounted for nearly 90 percent of all tropical cyclone deaths in the U.S. during that time.
Storm surge is dangerous because a mere six inches of fast-moving floodwater can knock over an adult. It takes only two feet of rushing water to carry away most vehicles—including large pickup trucks and SUVs.
The strong winds of a hurricane can cause widespread destruction. Hurricane Hugo was a fast-moving, category 4 storm that made landfall near Charleston, South Carolina. Hugo brought destructive hurricane-force winds hundreds of miles inland, downing numerous trees and power lines over a swath from the Atlantic coast to the southern Appalachians. Millions were left without power and the resulting damage totaled in the billions of dollars.
Tornadoes are also common with landfalling tropical systems. In recorded history, almost every tropical storm and hurricane that has come onshore in the U.S. has produced a tornado. These tornadoes most often occur in thunderstorms embedded in the storm's rainbands, well away from the center of the hurricane.
Strong winds of a tropical cyclone can also cause dangerous waves that pose a significant hazard to mariners and coastal residents and visitors. When the waves break along the coast, they can produce deadly rip currents—even at large distances from the storm. In 2008, despite the fact that Hurricane Bertha was more than a 1,000 miles offshore, the storm resulted in rip currents that killed three people along the New Jersey coast and required 1,500 lifeguard rescues in Ocean City, Maryland, over a one week period.
The Time to Prepare is NOW!
What should you do to prepare for a hurricane?
Get a plan. The most important step is to identify your hurricane risk. Do you live in an evacuation zone? If so, you need to plan on where you and your family would ride out the storm if you are told to evacuate. Most people only need to evacuate a few miles from the coast to avoid the dangers of storm surge. Find a friend or relative that lives outside the storm surge evacuation zone and have a plan to ride out the storm with them. You should also establish a family communications plan in case you are not together when you need to evacuate.
Once a person understands their risk for hurricane impacts, an appropriate disaster safety plan should be developed to help ensure an individual's and a family's safety. A disaster safety plan is a comprehensive plan that identifies all of the steps a family needs to take before, during, and after a disaster to ensure maximum personal safety and property protection. For a step-by-step guide on creating a family disaster plan please see Florida's "Hurricane Preparedness" guide. Citizens should also visit their State Emergency Management Agency websites for family disaster plan templates that may be more suited to a local area.
Coastal residents should go to their local emergency managers for evacuation zone information. This information is typically available on-line. Check out the National Storm Risk Maps here.
Vital resources to help you prepare include:
What We're Doing
The mission of the National Weather Service (NWS) is to provide weather, water, and climate data, forecasts and warnings for the protection of life and property and enhancement of the national economy. Its vision is of a Weather-Ready Nation, one that is prepared for and responds to weather-dependent events.
The mission of the National Hurricane Center (NHC) is to save lives, mitigate property loss, and improve economic efficiency by issuing watches, warnings, forecasts, and analyses of hazardous tropical weather and by increasing understanding of these hazards. The NHC vision is to be America's calm, clear, and trusted voice in the eye of the storm and, with its partners, enable communities to be safe from tropical weather threats.
Please follow and like us: