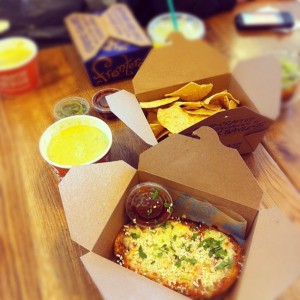 With airline meals mostly limited to trans-Atlantic or trans-Pacific flights (otherwise, snacks—if you're lucky), airports are increasingly picking up the slack and offering true gourmet restaurants alongside the traditional fast food joints. Top picks for best airport restaurants depend, of course, on the taste buds of the beholder, but here's a short list of our favorite spots to hit before boarding.
Miami-Dade International Airport
Tucked among the galleries, art installations and murals is La Carreta, a Miami classic that highlights the best of traditional home-style Cuban that belies its very sleek décor: think vaca frita, media noche sandwiches and picadillo (click here for translations.) Located on the second level of Terminal D, it also has several outposts in various other terminals serving hot, sweet café cubano and flaky pastelillos de queso y guayaba. (Hint: it's a favorite with pilots and flight attendants, so you know it's good!)
John F. Kennedy International Airport
New York's reputation as one of the world's finest dining destinations has filtered all the way down to Terminal 5, the domain of JetBlue airlines and the place to be for divine dining. From the sizzling Spanish tapas at Piquillo by Alexandra Raij (Canelones) and the Italian dishes of star chef Mark Ladner's Aero Nuova (Warm Radicchio Bruschetta) to the French bistro beauties at Brasserie La Vie (Salad Niçoise) and the Japanese delicacies of Michael Shulson's Deep Blue (Crispy Flounder), they've got you covered.
San Francisco Airport
Dedicated to serving tasty healthy local organic food, The Plant is perfectly placed in SFO's Terminal 2, the most environmentally and sustainably designed terminal in the United States. This is the place to patronize if you're planning on flying healthy, whether you're vegan, vegetarian or a meat eater. Freshly made juices and smoothies accompany salads, sandwiches and wholesome grain dishes liked a Quinoa Bowl with sautéed seasonal vegetables. Check it out for breakfast, lunch or dinner.
Atlanta Hartsfield-Jackson International Airport
If you're in Terminal E, head to One Flew South, which bills itself as the "First Upscale Dining Experience at the World's Busiest Airport." Believe the hype: between the "Southernational" menu, the mixologist's dream cocktail menu and the extensive wine list, One Flew South is perfect for take-aways or sit-downs. Choose the tangy Pork Belly Sliders with Golden Raisin Slaw for a refined down-home taste, or pick your favorite makimono roll from their fresh sushi menu.
Chicago O'Hare
Rick Bayless' reputation precedes him, and his amazing Tortas Frontera sets a new standard for fast airport food. Serving tortas (griddle-baked sandwiches stuffed with slow-roasted cochinita pibil, spicy chipotle chicken and other south-of-the-border classics), molletes (open-faced sandwiches), silky guacamole, tortilla chips, salsa, classic tortilla soup, salads, breakfast sandwiches, yogurt and hand-shaken margaritas, it's the very best kind of Mexico-in-a-minute to take on the plane with you. Find them at Terminals 1, 3 and 5.
Where are you headed? From coast to coast, north to south, take your SkyMed membership with you for added peace of mind!
photo credit: alykat via photopin cc
Please follow and like us: