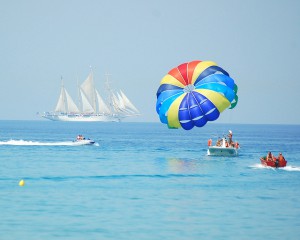 Now that 60 is the new 40, boomers are ready to rekindle romance, head out on exotic adventures and do it all in style. And in an effort to keep up with these savvy travelers, boomer cruises have taken off to brave new heights.
While many cruise lines have focused on families and singles, others have kept an eye on the over 76 million baby boomers that currently lead the cruise marketing segment and are offering new ships, new itineraries and new experiences. On board activities, for example, have taken a turn for the better. Love to dance? Holland America recently debuted "Dancing With the Stars: At Sea," a spin-off from the hugely popular TV show. Cruisers can choose from six theme cruises with dance pros and celebrities (and who doesn't love a good celebrity?) on voyages to Alaska, Canada/New England and the Caribbean. Foodies will love Oceania Cruises' Bon Appétit Culinary Center, touted as the "only cooking school at sea to offer hands-on instruction." It's produced in conjunction with Bon Appétit magazine, a favorite of gourmands worldwide.
Known for its quality river cruises, Viking is set to inaugurate Viking Ocean Cruises in May 2015 with the Viking Star. Taking a cue from the successful all-inclusive format—beloved of the boomer generation—Viking's new expansive fares encompass all on-board meals and beverages, a stateroom with private verandah (all with king-sized beds), shore excursions in each port of call, all onboard meals, much more. Add to this a "small ship" classification (it will only carry 928 passengers) that allows direct access into most ports (meaning easy and efficient embarkation and debarkation), and it's a win-win choice of cruising for boomers.
Interestingly enough, while time in port has increased, the itineraries themselves are becoming shorter. According to Stephanie Rosenbloom in her insightful article for the New York Times, In Travel, We're All Boomers Now. "(c)ruise lines are also adjusting their schedules. Crystal Cruises, known for its cruises of 10 days or longer, has increased the number of shorter itineraries it is offering in 2013, making almost half of its cruises 10 days or less. Last year, only three of Crystal's European cruises were shorter than 10 days. In 2013, 22 of its cruises in Europe are 10 days or less."
And though small-ship cruising is tops for boomers looking for a more intimate experience (think Un-Cruise Adventures' Luxury Adventure itineraries to Alaska aboard their 22 to 86 passenger yachts or SilverSea's Culinary Arts Voyages and Wine Series Voyages boasting the only Relais & Châteaux cooking school at sea), big-ship cruising by names such as Holland America Lines offers on-board activities from Pilates to tai chi to total body conditioning and exciting off-shore excursions. Adding to the fun: these large ships can carry an age-diverse mix of kids, teens, young adults, boomers and seniors—making them the perfect venue those looking to enjoy multi-generational travel.
Are you a boomer with a love of cruising? Post a comment and share your favorite experiences with us!
Ready to cruise? Take along your SkyMed membership—it's packable peace of mind for long or short cruises you'll be happy to have if you need it!