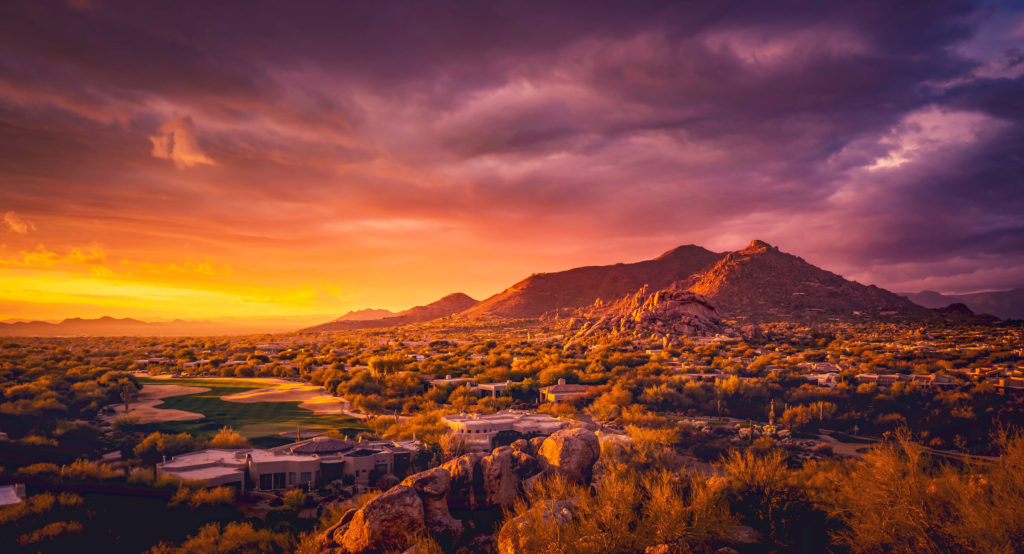 Scottsdale, Arizona is a year-round destination—yes, even in the depths of summer when the mercury stays put in the triple digits! You'll be surprised at how much there is to do in this gorgeous city in the gorgeous Sonoran Desert: from golfing to massages to gallery-hopping to dining underground, there's something for everyone no matter what the season. Already live here? Then make these tips your own for an unforgettable stay-cation where others have to come pay to stay!
Golf
Whether you're into high tech golf or like your greens served up in a more traditional manner, Scottsdale has the course for you. Experienced golfers can opt for one of several challenging pro courses like the TPC Scottsdale Stadium Course, which has been hosting the annual Waste Management Phoenix Open in February since 1987. It's just over 7,200 yards from the tips, so be ready for a workout. If you're looking to turn it down a notch or two, try the stellar Westin Kierland Resort & Spa course (good for all levels, actually). They also offer the very cool GolfBoard, GolfBike or TurfRider to help you get around the course, not to mention their Scottish Golf Experience, where players can don rented kilts and enjoy Johnnie Walker beverages on their rounds. Golfers get called in at sunset by Bagpiper Michael McClanathan—it's the perfect time of day to savor more scotch at the Dreamweaver Canyon Fire Pit.
Spa
Rest, relaxation and wellness are watchwords in Scottsdale, where pampering has become a fine art. There is no lack of upscale resorts large and small, and most if not all have some amazing spas and/or wellness centers attached to them, not to mention the plethora of storefront chain salons that can work those kinks out at a moment's notice. Many treatments at some of the top spas take a cue from Scottsdale's Southwestern heritage, such as the 80-minute Turquoise Wrap (with turquoise clay) from the Boulders Resort & Spa; the Desert Nectar Honey Wrap with pure Arizona honey from The JW Marriott Scottsdale Camelback Inn Resort & Spa; or the two-hour Havasupai Falls Rejuvenation at the Fairmont Scottsdale Princess' Well & Being Willow Stream Spa, which begins with a purifying scrub wth desert salts infused with indigenous essential oils.
Hike
There are over 400 miles of well-maintained trails in Scottsdale—small wonder it was once named by National Geographic as one of the nation's top 15 hiking destinations! You'll find everything from super easy, perfectly smooth beginner nature walk-type trails, complete with signage, to more moderate trails and all the way to some truly rugged hikes. For example, Scottsdale's McDowell Sonoran Preserve's 195 miles of interconnected non-motorized, multi-use trails (hike/bike/horse) can be accessed from multiple trailhead locations, some easier than others. Many of these trailheads have working (eco-friendly) bathrooms, water fountains, multiple trash/recycling receptacles, and plenty of other niceties, including hundreds of Steward volunteers who can fill you in on Preserve details and information.
Browse
This city is chock full of museums and galleries—over 100 of the latter—and has no dearth of art festivals for visitors and locals to enjoy, especially when it's cooler. However, no matter what the weather, the Scottsdale ArtWalk is open for business on Thursday nights from 7 to 9 p.m. on Main Street in Old Town Scottsdale. Restaurants, museums, and free trolley and/or horse-drawn carriage rides are available during those hours to take folks to and from the many parking areas throughout the Scottsdale Arts District and the downtown area. During in July, the "Summer Spectacular" Gold Palette Artwalk includes exhibits from local and international artists as well as island beats, Hawaiian shaved ice, infused ice water, and other cool treats—plus misted sidewalks, a must in the Arizona summer heat.
Eat + Drink
Scottsdale shines even more brightly where food is concerned, whether it's a burger and fries or the most gourmet meal you've ever had the pleasure of savoring, all served with your favorite drink made to order. When it's hot, for example, you can head underground to The Goldmine Underground Tap & Barrel in Old Town Scottsdale for barrel-aged beers and craft lagers or The Salt Cellar Restaurant in South Scottsdale for some incredible seafood flown in fresh or a tasty Black Angus steak. But when the weather is nice, the sky's the limit! Scottsdale has pretty much perfect weather from November through April, and local restaurants and bars make the most of it day and night, setting up ample terraces (with heaters if needed) for everyone to enjoy themselves outdoors (many of them still offer outside seating during the warmer months—with added misters, of course!) One of the newest hotspots in town is The Vig McDowell Mountain, tucked away in the corner of a parking lot—but with an absolutely gorgeous view of the McDowell Mountains. They also have a firepit, which is an absolute necessity during the "wintertime."
Please follow and like us: