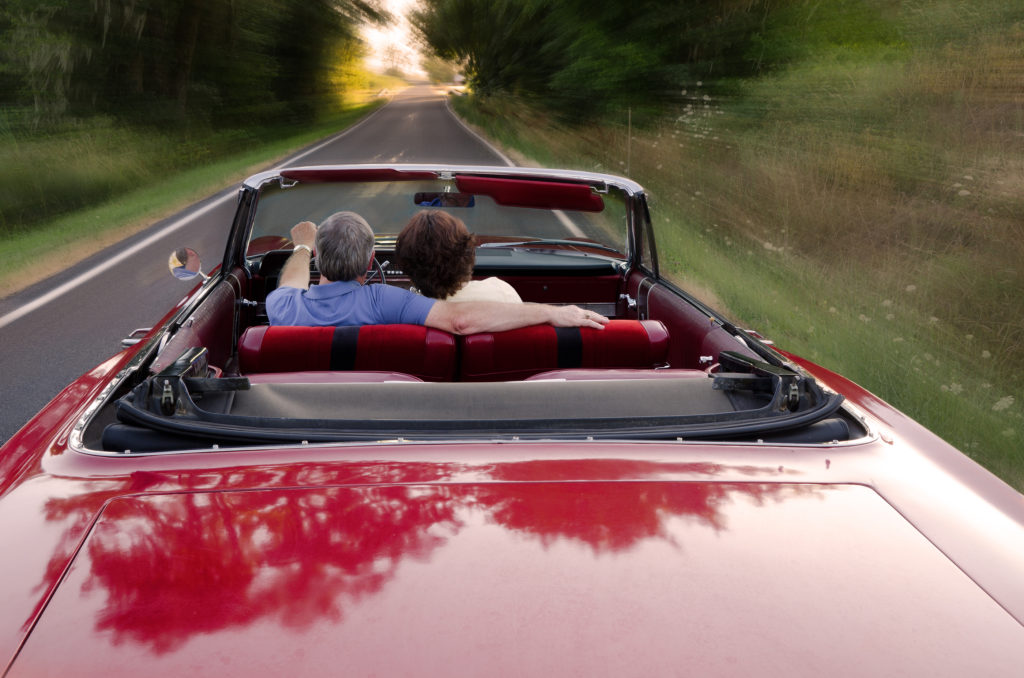 Our beautiful country has been blessed with some amazing highways and byways, making road trips an essential part of American life. We've put together a list of our top five favorites from around the country that are guaranteed to knock your socks off. And P.S.? Don't forget your SkyMed membership: it could certainly come in handy when you're far from home!
Route 66
This is the stuff songs are made of: also known as the Will Rogers Highway, the Main Street of America or the Mother Road, this route was one of the original highways in the U.S. Highway System. It was built in 1926 and originally ran from Chicago, Illinois across the country to Santa Monica, California, covering 2,448 miles. It's been completely replaced by segments of the Interstate Highway System, but there are still portions in Arizona, New Mexico, Missouri and Illinois that have been designated as a National Scenic Byway with the name "Historic Route 66." A significant stretch of this historic route runs in and near Flagstaff, Arizona, for example, and is lined with the quaint shops, restaurants and bars that make this college town so much fun to visit—and a great place to head to on a road trip.
Skyline Drive and Blue Ridge Parkway, Virginia and North Carolina
An Appalachian treat, this drive begins west of Washington, D.C., tracing the mountain range past historic towns that will make you want to make more pit stops than you had planned. It's slow going (switchbacks and such) but that only gives you plenty of time to take in the gorgeous scenery as you wind through Shenandoah National Park. After that 105-mile beauty, you can continue on for another 470 miles to the Great Smoky Mountains National Park.
Route 1 Pacific Coast Highway 
A regular in movies, this 123-mile route along the central California coast is as breathtaking as it is exhilarating: you'll find yourself hugging the cliffs with steep drop-offs into the Pacific on the other side, but there isn't a coolest stretch of highway anywhere else in the U.S.A. The route starts in Monterey, meanders past the artsy town of Carmel, and follows through to Big Sur. As you head south, the landscape changes to more mellow, tree-studded hills all the way to Morro Bay. Along the way are great restaurants, awesome wildlife stops and, of course, jaw-dropping #instamoments.
Trail of the Mountain Spirits
This desert drive takes you through southwestern New Mexico and the high desert forests of Gila National Forest. Start the drive in Silver City, named after the precious metal that made a few fortunes. From there you'll continue on New Mexico 15 for a few miles into the Palos Altos Range and the town of Pinos Altos, or "tall pines" (at this point you'll be right on the Continental Divide). They found gold in them thar hills, but not enough to keep the town alive for very long. It's worth a stop, though, for the great food at the Buckhorn Saloon, pretty much the only thing open. Then follow the winding road through the ridge to Sapillo Creek—this is where you'll need to stay on that road for another 17 miles so you don't miss the Gila Cliff Dwellings National Monument, a must see! After that experience, retrace your route back to New Mexico 35 and head southeast: you'll skirt Lake Roberts, then you'll need to stop at Vista Village for some more archeological goodies, then head back up the Continental Divide for a drive through the Mimbres River Valley, the town of San Lorenzo and the Phelps Dodge Santa Rita Copper Mine—basically a giant hole in the ground, but very impressive!
Overseas Highway
One of the most beautiful scenic drives in America, this is the southernmost stretch of US 1 that strings together a series of bridges spanning the Florida Keys. It includes the Seven Mile Bridge—literally nearly seven miles of overwater gorgeousness. So much so, that it's had the starring role in several action films (you know, the ones with fast cars and lots of bullets—think James Bond). This straight shot through the islands: Key Largo, Isla Morada, Duck Key, Marathon, Big Pine Key… all the way to Key West at the very tail end. P.S. The sunset drive is truly magnificent so don't forget your camera.
Please follow and like us: