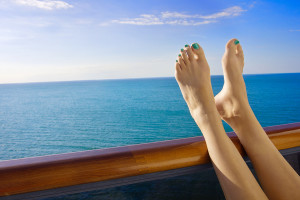 Experienced cruisers will tell you cruising is hands down the very best way to see the world: it's a floating one-stop-shop with accommodations, excellent restaurants, shopping, entertainment and stops at exotic ports with no stress attached.
Considering a cruise? We asked John Latimer, VP of Fareline, SkyMed International's in-house travel agency—and a veteran cruiser in his own right—to help us with a list of the top 10 cruise questions new travelers might have before they decide to embark on the best trip of their lives.
10. Isn't cruising expensive?
Not when you see what you get for your money: hotel accommodations, all meals, arrivals and departures at the ports, room service… Cruises are pretty much all-inclusive except for alcohol and excursions—and even then there are ships that are completely all-inclusive. Of course, the price does go up accordingly.
9. Should I buy my tours onboard or offshore?
My best advice: talk to your travel agent. Booking your excursions through the ship is probably the safest way, but there may be other tours they don't offer that you might want to take. A good travel agent will be able to recommend what's best for you on many levels (safety, budget, level of adventure) at each of the ports where the ship docks. It's always a good idea to book in advance, because the good tours usually fill up quickly.
8. How do I get to the departure port?
If you book the air with the cruise then they will meet and greet you at the airport and whisk you off to the ship. If you book separately, you'll need a taxi. I always advise arriving at the port city airport the night before and booking a hotel. You never know what delays you may bump into, especially of the weather variety, and you don't want to miss the boat (literally!)
7. Will it be crowded onboard one of those big ships?
Although megaships can hold up to 6,000 passengers, the sheer size of the ship will keep you from feeling like you're in steerage. There's always a place to get away should you want to. Of course, most travelers who cruise really enjoy mingling and meeting new people over dinner, entertainment, the pool… There's so much to do!
6. Is there a limit to the luggage I can take?
Generally no, but I don't recommend taking much more than you would for a regular land trip. Remember: storage space is limited in your cabin!
5. Will I get seasick?
Not typically because of the size of the ships and how stable they are. However, if you feel you might, stop in to see your doctor before you leave. You can also obtain seasickness pills onboard the ship.
4. What happens if I get sick?
According to CLIA (Cruise Lines International Association) All cruise ships have a medical professional on board who is licensed and trained in minor surgery and emergency care with a minimum of three years of clinical experience. The infirmary usually has several beds and is set up to treat minor non-emergency illnesses or stabilize passengers facing life-threatening conditions.
3. Will my health insurance cover me?
Travelers should check the coverage of their individual health insurance plan and they should always carry their card with them. Onboard doctors usually don't charge for minor things like seasickness pills, but most items from the pharmacy will be more expensive than on shore. Most travelers may not realize is their health insurance plan typically doesn't travel outside the United States. Should they have a life-threatening or critical emergency the ship will dock at the closest port, wherever that may be, which is why we recommend travelers carry travel insurance with medical expenses and evacuation coverage such as that offered by SkyMed International. SkyMed has a 24-hour emergency and medical assistance hotline that will expedite the process for your care and eventual return back to your home hospital.
2. Should I buy travel insurance?
While cruising doesn't need to be an extraordinary expense, it's still a considerable amount that you could lose should you need to cancel. A comprehensive travel insurance policy will cover trip cancellation due to any number of reasons, including sickness, injury (of yourself or a traveling companion), weather, delayed flights and more. It also typically includes coverage for lost luggage and/or replacement of lost or stolen travel documents. Read the fine print of any policy you purchase to make sure it covers your needs.
And the top cruise question asked by travelers:
1. Do I need a passport for my cruise?
Yes and here's why: almost every country requires one for entry. If your cruise begins and ends in the same U.S. territory (a "closed loop" trip), you can enter or depart the country on the cruise with proof of citizenship, such as an original or copy of his or her birth certificate (issued by the Vital Records Department in the state where he or she was born) and, if 16 or older, a government issued photo ID.  The United States does not require you to have a passport. However, there may be one or more Caribbean islands on your itinerary that do require a passport to enter—ergo, you'll need to take one whether it's a closed-loop trip or not.
Another important consideration: should you take ill aboard the shop and you need to be taken to the nearest port for emergency medical attention, you'll be required to have a passport to leave the country in case of an emergency medical evacuation situation.
Also, many people say to leave the passport in the safe onboard the ship when you go on excursion. My suggestion is to take it with you: should the ship leave without you for whatever reason, that's one document you definitely don't want sailing off into the sunset!
Do you have any cruise questions for our travel expert? Ask below in the comments and, as always, we wish you safe travels!