Planning on a visit to Arizona anytime soon? Consider a visit to Scottsdale: one of the most happening cities in the state. They know how to be cool even when the temps are triple digits and more than make up for it with tons of air-conditioned things to do.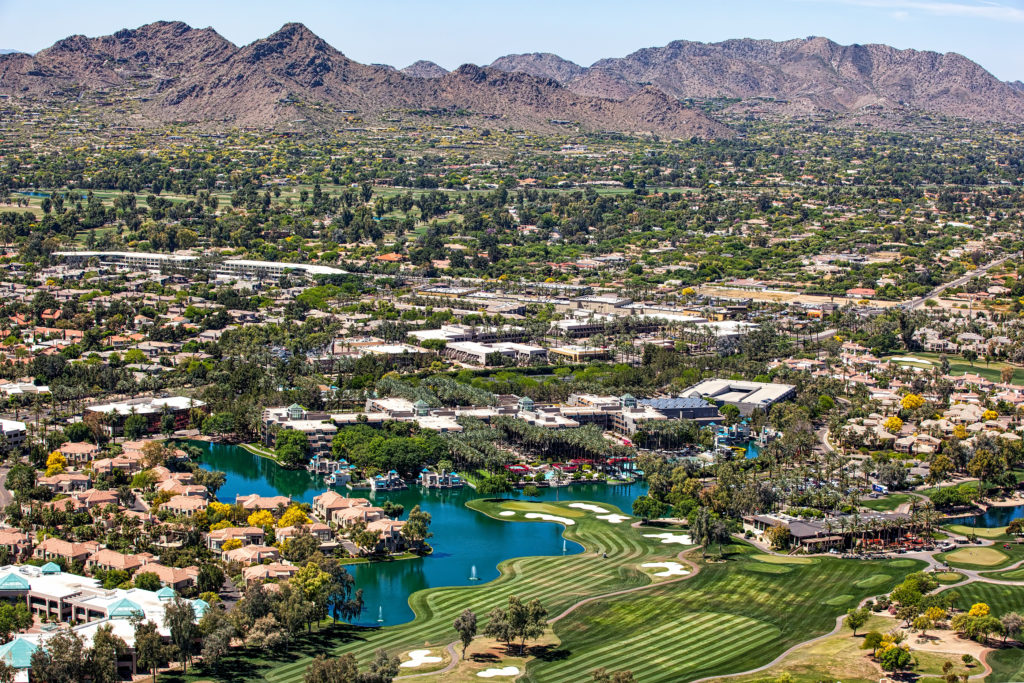 LUXURY LOVES COMPANY
Who says you can have too much of a good thing? Scottsdale is welcoming three new resorts to its roster of luxury accommodations.
Scottsdale is "Puttin' on the Ritz" — a Ritz-Carlton, that is. Ritz-Carlton Paradise Valley is expected to open by the end of 2018. That's right folks, this 200-room, new-build property will have it all — exemplary service, spectacular views of Camelback Mountain, modern and sleek interiors, and a location that's only minutes from downtown Scottsdale. And for all those swimmers, Ritz-Carlton Paradise Valley will boast North America's longest pool, at more than 400 feet. Other property attributes include a 20,000-square-foot world-class spa with indoor and outdoor treatment areas, and a garden with a citrus orchard. Breaking ground next door is The Palmeraie, 160,000 square feet of mixed-use space carved out for 60 luxury and specialty boutiques, plus restaurants from local, national and international celebrity chefs. Plans for a future phase also include high-end residences, a gourmet grocery store and a boutique hotel. Phase one for The Palmeraie is slated for completion in 2019.
Royal Palms Resort and Spa is undergoing a multimillion-dollar renovation to every one of its 119 guestrooms, including its plush Presidential Suite, as well as to select meeting and event spaces. This fresh wave of upgrades comes on the tail of recent enhancements to the resort's pool and lounge area, event lawns and lush landscaping. Rooms will be lightened and brightened with earthy desert hues and eclectic furnishings, plus new artwork and finishings to reflect lavish Mediterranean textures. As part of ongoing enhancements to the resort's recreation areas, the pool deck now features cabanas with orbit beds and a new seasonal culinary and cocktails menu designed by Executive Chef Todd Allison. Guestroom and event space upgrades will be completed in phases. Many guest rooms are scheduled for completion as early as July 2017 and total renovations are expected to finish in fall 2017.
Mountain Shadows opened April 1, 2017 and graces a coveted Paradise Valley locale. The original resort in this location, Marriott Mountain Shadows Resort, was built in 1959 and set a high bar for Southwest luxury. Rebuilt from the ground up by Woodbine Development in partnership with Westroc Hospitality, which manages Hotel Valley Ho and Sanctuary Camelback Mountain Resort, the 183-room, full-service boutique hotel features a lounge, 5,000-square-foot fitness center, 12,500 square feet of indoor meeting space and another 25,000 square feet of outdoor meeting space. In addition, the project includes the redesign of neighboring Mountain Shadows Golf Club. Aptly named The Short Course, this par-3, 18-hole course is designed to be playable for beginners but still challenging enough for an experienced golfer. The resort includes signature restaurant Hearth '61, which comes from the creative mind of renowned Chef Charles Wiley. Hearth '61 showcases simple, ingredient-driven cuisine in a setting paired with stunning desert views.
The first of these gems in the desert, Hyatt Hotels Corporation's Andaz Scottsdale Resort & Spa, opened in December 2016. As with other Andaz properties, this Scottsdale resort immerses guests with experiences indigenous to the location. The resort is partnering with nearby artist compound Cattle Track, the longtime home and studio of some of the Southwest's most notable artists, such as Philip Curtis and Fritz Scholder. Look carefully at the little details of this property; much of the artwork and dishware is created by Cattle Track artists. Drawing inspiration from greats like Alexander Girard, Frank Lloyd Wright and Paolo Soleri, the property's interior features mid-century desert designs that pay homage to the 1950s. Andaz Scottsdale Resort & Spa features 201 bungalow-style guest rooms, the full-service Palo Verde Spa & Apothecary – known for its natural healing philosophy and luxurious treatments using ingredients from a local Sedona botanist – and 46,000-plus square feet of meeting and event space on more than 22 acres of land. Guests can also sample an assortment of small plates and shareable dishes at the resort's signature restaurant Weft & Warp Art Bar + Kitchen. Chef Adam Sheff, who joined Andaz Scottsdale from the Park Hyatt New York City, draws inspiration from local flavors and ingredients to create an innovative dining experience in a relaxed yet sophisticated setting overlook Camelback Mountain.
OUT & ABOUT IN SCOTTSDALE
DIVE INTO SCOTTSDALE
The Sonoran Desert may be known as a haven for coyotes and javelinas, but in September 2016, Scottsdale welcomed more than 30,000 marine animals. The Salt River Pima-Maricopa Indian Community brought the sea to Scottsdale with the opening of OdySea Aquarium. This 16-acre complex is the largest aquarium in the Southwest, spanning 200,000 square feet over two levels. OdySea Aquarium brings guests a high-tech, high-entertainment, oceanic adventure with floor-to-ceiling windows that offer viewing of aquatic life — even in the restrooms — and underwater acrylic tunnels that lead to each level. OdySea Aquarium explores marine life of more than 500 different species, from bayous and coral reefs to deep abysses in exhibits such as "Rivers of the World," "Amazon Rivers," "The Bizarre & the Beautiful" and "Penguins." The aquarium also features SeaTREK, an underwater program that allows visitors to descend deep into the water and meet marine life face-to-face.
OdySea Aquarium is situated in the $200 million OdySea in the Desert complex, a hotbed of family-friendly activity with attractions like Butterfly Wonderland and OdySea Mirror Maze. While temperatures outside OdySea exceed 100 degrees in the summer, it will always be an icy 23 degrees inside the Polar Play attraction, featuring an indoor ice bar, along with a playground for children. Everything inside Polar Play, set to open in 2017, is made of ice — the bar, the drink glasses, walls and chairs. Phoenix ice sculptor Mark Armitage is using his skills to create more than 500 ice sculptures for the 3,500-square-foot space, which will include penguins and polar bears. Other icy plans for Polar Play include a game table made of ice, benches, a slide or an ice tunnel for children. Right around the corner from OdySea in the Desert is iFly sky diving simulator. This adventurous experience includes all necessary equipment, a personalized training session and flight time in the wind tunnel. iFly is family friendly and great for groups looking for more adventure.
ARTISTIC OASIS IN THE DESERT
Artists from all walks of life have been inspired by the breathtaking beauty of Scottsdale and subsequently left their mark around town. See some of the newest offerings available at these artistic attractions.
If you look close enough, you can spot influences of Frank Lloyd Wright all over Scottsdale. But if you want an in-depth lesson on the architectural genius, go on an Insights Tour at Taliesin West, his former personal home, studio and architectural library. This year marks the 150th anniversary of Wright's birth.
What better way to celebrate than by learning about the longstanding history and design of Wright's "desert laboratory," as well as a few of the quirks that contributed to his successful architecture career? On Nov. 4, Taliesin West is hosting the Frank Lloyd Wright 150th Birthday Gala: A Red Tie Event to honor America's most famous architect and the principles he established a hundred years ago, which are still as relevant today as when he first developed them. The foundation is also hosting new tours, including a garden tour that showcases the desert plant life at Taliesin West, and a private tour that explores his art collection, plus other special symposia.
Take a melodic journey through the world at Musical Instrument Museum (MIM), the first global museum of instruments. The museum has left its mark on the Valley of the Sun with 5,000 instruments and artifacts from more than 200 countries on display and more than 15,000 in its collection. Transport to another land with wireless headsets and LCD video displays depicting the sounds and sights of the instruments and the people who use them. See the recreation of a gong workshop, listen to the sounds of the traditional Beijing Opera or experience a contemporary Ukrainian wedding procession. Stop by MIM's Artist Gallery, which houses instruments from famous musicians throughout time, including John Lennon, Paul Simon, Taylor Swift and the Jonas Brothers. After enjoying a worldly concert, try out your own musical abilities in MIM's Experience Gallery, where you can play the guitars, gongs and drums. Through Sept. 4, 2017, visitors of the museum can explore Dragons and Vines: Inlaid Guitar Masterpieces, which features guitars, banjos and one ukulele created with intricate details of abalone shell, mother of pearly, coral, and other materials.
Do you love art that makes you think, cry or smile? Then you'll want to make a stop at Scottsdale Museum of Contemporary Art (SMoCA), which is located in a brilliant building designed by award-winning architect Will Bruder, who studied under the late renowned architect Paolo Soleri. This one-time movie theater displays 9 to 12 exhibitions per year and offers evolving educational programs and special events. The newest exhibit is Ocean of Light: Submergence – A Squidsoup Project, running through Sept. 24, 2017. This immersive and interactive LED light installation uses data visualization to create an augmented reality that challenges spatial and sculptural awareness.
Scottsdale pays homage to its western roots at Western Spirit: Scottsdale's Museum of the West. Since its 2015 opening, this nonprofit storytelling attraction has created quite the name for itself, as it's one of the youngest organizations to ever become a certified Smithsonian Affiliate museum. Current exhibitions include Grand Canyon Grandeur, which runs through Dec. 31, 2017 and features 100 striking and historically significant portrayals of one of the world's most revered natural wonders.
CULINARY SCENE
A NEW AGRO-UTOPIA TAKES ROOT
After closing Scottsdale's Singh Farms market last year, the city's favorite farming family opened its all-new agricultural destination, Singh Meadows, in January 2017. The 70-acre floodplain and former golf course is now an organic farm and the new host to Ken Singh's wildly popular Saturday farmer's markets. This new location is a public continuation of Singh's original (now private) utopia, which still supplies the market at the Meadows as well as many of Scottsdale's best restaurants (including FnB and elements at Sanctuary on Camelback) with its farm-fresh produce, bread, olive oil and honey.
VACATION NEVER TASTED SO GOOD
"Bon Appetit" takes on new meaning in Scottsdale, the foodie capital of the Southwest. After years of flying under the radar, this culinary oasis is finally getting the recognition it deserves with accolades from Esquire, Food & Wine, the James Beard Foundation and AAA, just to name a few. Check out a few of the new culinary innovations that are popping up:
Matt Carter earned his Scottsdale street cred with creative culinary concepts, The Mission, The House Brasserie and Zinc Bistro. In November 2016, Carter's newest restaurant, Fat Ox, opened its doors in central Scottsdale. Fat Ox offers a modern take on Italian cuisine with simple dishes that feature exemplary ingredients, including more than a dozen fresh pastas made in-house daily, slow-roasted meats, wild seafood and more. At the helm is Chef Rochelle Daniel, a Scottsdale Culinary Institute grad who worked her way up the (food) chain at some of Arizona's most notable establishments – Zinc Bistro (with Carter), as well as Cress on Oak Creek and Etch Kitchen & Bar in Sedona.
Serving a menu best described as Asian meets modern American, Zen Culinary is the brainchild of Rachel McAuley, a native of Thailand who comes from a family of restaurateurs. Zen Culinary opened its doors in North Scottsdale in November 2016. Its bold menu includes everything from handcrafted sushi and sashimi, to thick-cut steaks and chops – all prepared with a vibrant blend of East meets West ingredients and cooking techniques.
While not new to the Scottsdale culinary scene, Scottsdale favorite FnB is channeling some of its old charm with the opening of its new FnBar. The bar replaces the restaurant's former local market, Bodega, and recaptures some of the design style of FnB's original location. The renovated space includes a marble-topped bar seating about eight guests and a stunning mosaic floor reminiscent of the original FnB look. In addition, the restaurant is expanding its beverage program to include a cider list and a rotating wine list that focuses on a different region every few weeks. And this summer, they're bringing back a special weekly winemaker luncheon that pairs Chef Badman's delectable creations with some of the Grand Canyon State's best labels, including Dos Cabezas Wineworks (July 8), Caduceus (July 15), Garage-East (Aug. 5), Los Milics (August 26) and Lightning Ridge (Sept. 2).
WANDER THE WINE TRAIL
While farm-to-table is all the rage in the culinary world, Scottsdale is taking the concept one step further – from vine-to-table – by introducing four Arizona wine tasting rooms in downtown. These tasting rooms tell the story of the state's nearly 100 award-winning wineries, many of which boast 90-point wines as recognized by Wine Spectator. Take LDV Wine Gallery, for example. The Wine Gallery brings the taste of the Willcox wine region to the heart of Scottsdale. Sip a glass of Syrah, Grenache or Viognier beneath two shaded patios or enjoy bites and sips in the tasting bar and open kitchen. Or, on the first Tuesday of every month, join LDV's casual Supper Club for a three-course, wine-inspired vineyard-to-table meal with menus focused on local and seasonal goods. About 45 minutes away from LDV Winery in southern Arizona is another winery making a name for itself — Aridus Wine Company. This family-owned vineyard may run the largest custom crush facility in Arizona out of Willcox, but you can sample several varietals in its downtown Scottsdale tasting room. And you don't have to go all the way to Willcox or Jerome to try Salvatore Vineyards. This small, family-owned winery has a downtown Scottsdale tasting where you can try a pinot grigio rose, malvasia bianca or one of their agave wines. The newest addition to this burgeoning wine scene is Carlson Creek Vineyard, another Willcox-based winery, which opened a downtown location in summer 2016. Sip on wine in the 2,300-square-foot tasting room or attend an educational seminar to learn more about Arizona winemaking.
For much more on this unique Southwest destination, visit Experience Scottsdale at www.experiencescottsdale.com. 
Please follow and like us: