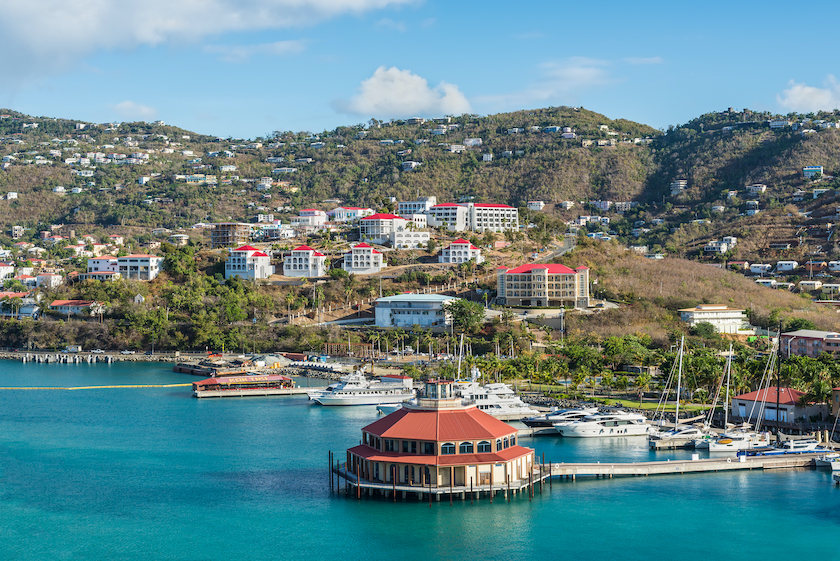 Want to go on an exotic adventure overseas without the long-haul flight and NO passport? We're going to go with the Caribbean (super close for those of you on the East Coast!) and the US Virgin Islands. Collectively known as the USVI, there's no passport needed. If you're looking for exotic travel, this is your triple win!
The US Virgin Islands are comprised of St. Thomas, St. John and St. Croix, each one with its own charm. Their tumultuous history dates back to 100 A.D., but today they are thriving tourism destinations with several wonderful things in common: exquisite beaches; a beautiful culture that involves, art, storytelling, unique culinary experiences and its very own brand of folk music; plus a penchant for festivals and carnivals that has made them the toast of the Caribbean. (Speaking of "toast," the islands are also known for their excellent rum.)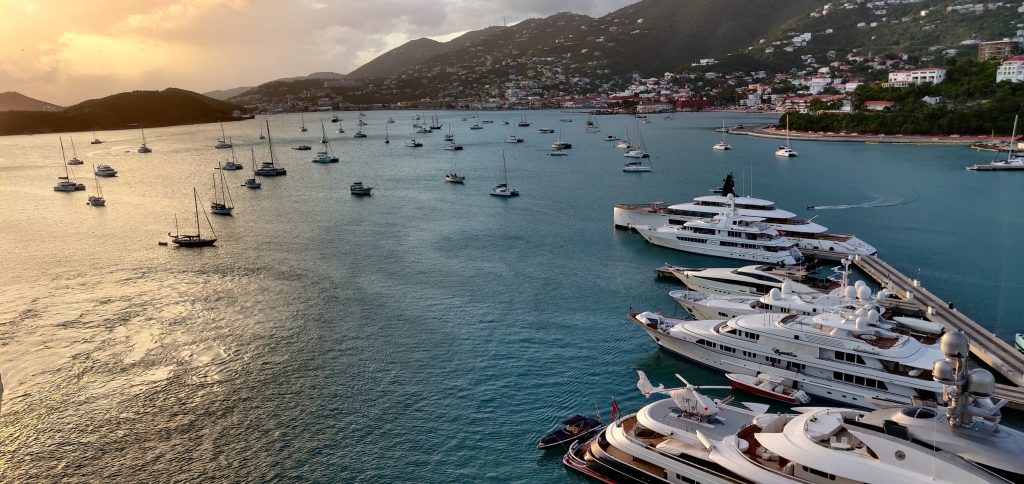 Like to shop? Then you'll love St. Thomas. The darling of cruise companies, the town of Charlotte Amalie (also the capital of the USVI) is a bustling port filled with shops, souvenir stands, restaurants, and more nestled among the historic buildings. Fort Christian is the oldest standing structure in the Virgin Islands, standing sentry over the harbor for more than 300 years.
With just 32 square miles of territory, St. Thomas offers over 40 major beaches to enjoy, a world-class golf course and a very busy nightlife, especially at the top-notch resorts. The island is also one of the world's premier sportfishing destinations, think marlin, sailfish, mahi-mahi, wahoo, tuna, and more. Fishing is good year-round and there are plenty of boats, captains, and marinas to accommodate every level of fisherman. (Photo by Colin Chong on Unsplash)
Carnival in St. Thomas occurs post-Easter and has been taking over the island since 1952. This is the second-largest Carnival celebration in the Caribbean, another month-long event filled with calypso and steel pan shows, beauty queen pageants, parades, craft fairs, and myriad food and drink stands.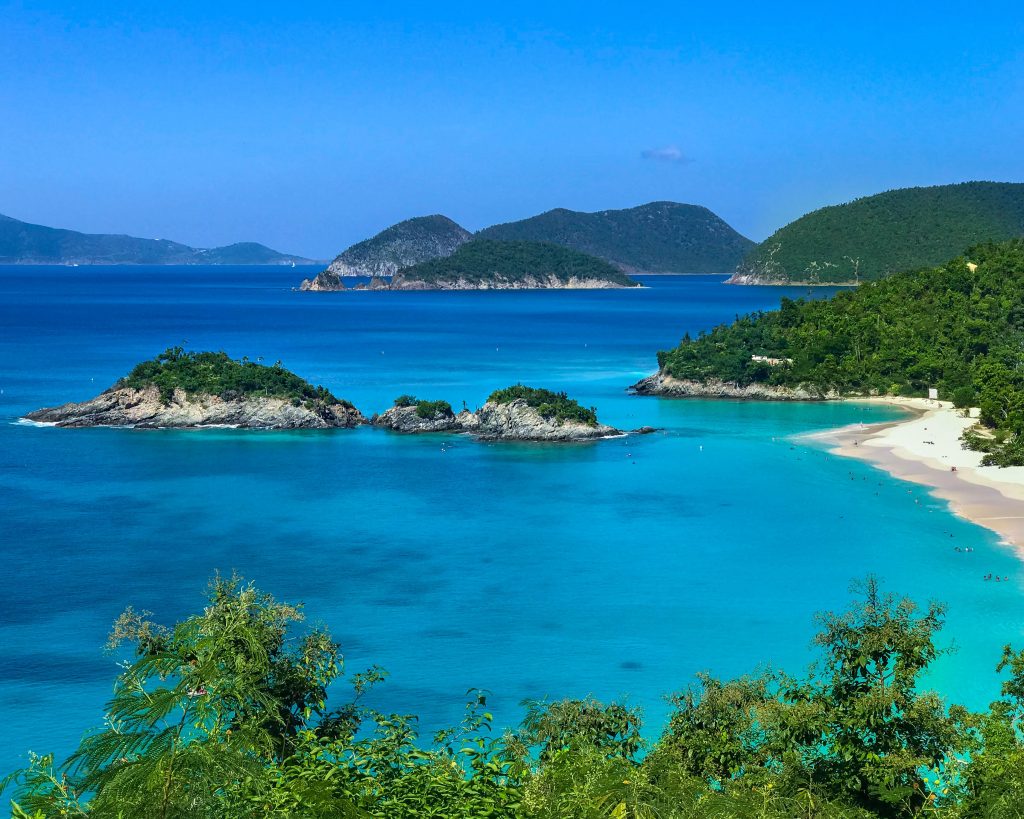 Over 7,000 acres of the 12,500-acre St. John are part of the Virgin Islands National Park, making it a favorite of eco-travelers around the world. Part of the park includes simply stunning beaches, as well as hiking trails through the forest, salt ponds, valleys, hills, and even historical sugar plantation ruins. There's even an archaeological dig at Cinnamon Bay, where visitors are encouraged to join in the excavation. (Photo by Josh Duncan on Unsplash)
Accommodations on this tiny island range from campgrounds to eco-hotels to exquisite luxury villas—and they go quickly when there's a party in town. Carnival here is another month-long event from June through the parade and fireworks on the Fourth of July, so you'll need to make reservations well ahead of time! Music fills the air day and night, and there are pageants, food fairs, boat races, bike races, beach jams, and much, much more, including plenty of mocko jumbies (colorfully dressed "ghosts" on stilts) that are looking for misbehavers.
Nightlife, though, is typically more low-key on St. John: think hanging out with a rum drink, watching the sunset with your toes in the sand. Live bands are a staple of Coral Bay and there are plenty of tiny bars to choose from in Cruz Bay. Definitely a "chill" kind of island…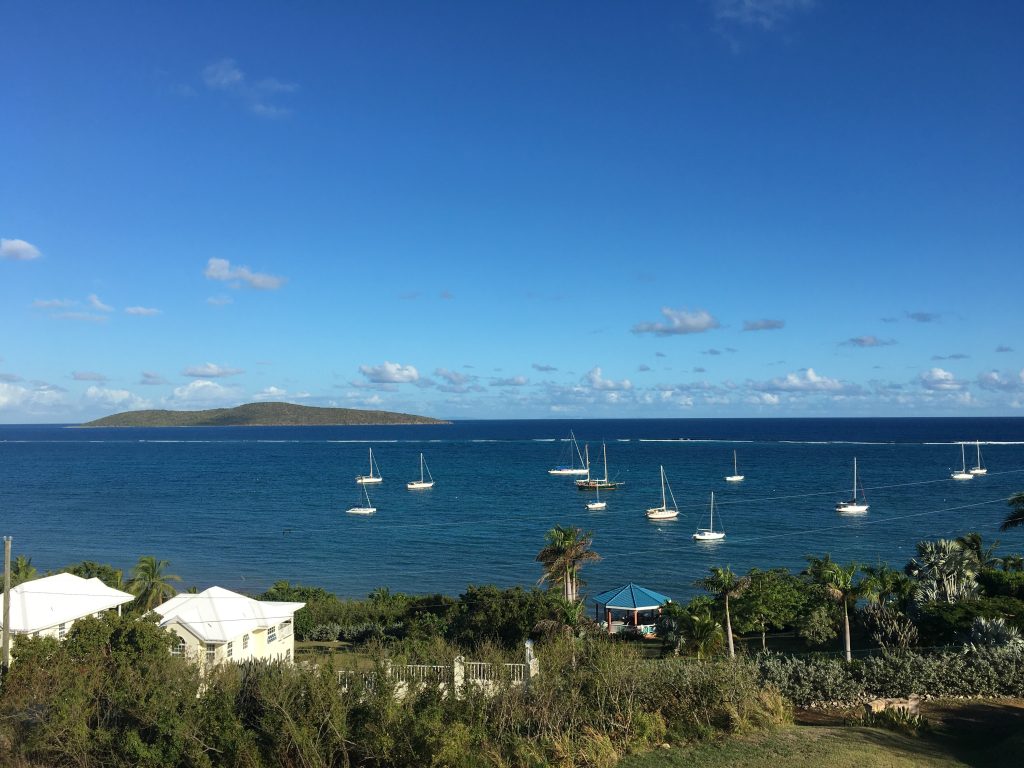 St. Croix has retained the most from the islands' time under Danish rule, particularly the capital of Christiansted. Visitors will love wandering the cobblestone walkways, the historic yellow buildings, old churches, Fort Christiansvaern and a whole host of other beautifully preserved landmarks. Though less visited than the other islands, there's still plenty of shopping and fine dining, casino fun, golf, condos and resorts, all contained in a tiny island only 22.7 miles long and 8 miles wide. (Photo by Persephone Maori on Unsplash)
The second-largest town, Frederiksted, is a charming waterfront, home to another fort—Fort Frederik—all named after King Frederick V of Denmark, who purchased the Danish West Indies in 1754. It's also known as one of the best dive sites in the Virgin Islands and very popular with the SUP (standup paddleboard) crowd. This is the "wilder" end of the island, where you can take tours into the rainforest by ATV or bicycle followed by a tour of the Cruzan Rum distillery. There are several national parks and preserves, which include everything from pre-historic ruins, stunning marine gardens, sea turtle preserves, and more.
St. Croix is also where you'll find the renowned Caribbean Dance Company, a group dedicated to the preservation and teaching of the dance heritage of the Caribbean and West Indian culture. There are cultural events going on year-round, from quadrille dances to art fairs and the famous Crucian Christmas Festival, one of the island's most popular events. This is a month-long celebration that continues through January 6th, known as Epiphany or Three Kings Day.
From luxurious to eco-friendly to laid-back, there's something for everyone in each of the US Virgin Islands. And it's all waiting to be discovered—passport-free!
Tips For Traveling To The USVI
No passport needed, but you DO need ID, especially if you want to rent a car.
Speaking of cars, driving is done on the left side of the street. And yes, you do need to wear your seat belt.
Currency is US dollars. Tipping is the same as on the mainland, 15-20%.
You can take your mobile with you, but you'll want to call your carrier before you leave to make sure you don't get socked with roaming charges.
There is WiFi and Internet access on all three islands. Your best bet will be at your hotel or villa.
The official language is English, but you'll hear French Creole and Spanish, especially in St. Croix and St. Thomas. There's also Creole English, with its own pronunciation, vocabulary and grammar.
Rum is the official drink, used in just about every kind of drink you can imagine. However, you'll find plenty of healthy, fruit-based drinks as well.
The food is an amalgam of the many cultures that have come to these crossroads in the sea. Look for fish soup, "callaloo" soup, stewed oxtail, beef, chicken and even goat served with peas and rice, fried plantains, sweet potatoes, lentils, cassava and more. Curry is another favorite. Because of the influx of visitors from the states, though, you're very likely to find familiar dishes on the menu.
Music is everywhere: expect to hear calypso, soca, reggae, zouk and all kinds of Latin beats. There are musical events throughout the year and live bands are very popular.
The weather is fairly consistent: it's always summer! The temperature varies from 73º to around 90º, with the warmest months lasting from June through September and the cooler season running from December through March, which is peak season for visitors. Prices rise accordingly, so keep it in mind when planning your vacation. (We recommend visiting April through June.)
The USVI Carnivals take place on St. Thomas in April-May, St. Croix in December-January and St. John in June-July.
Take it easy: leave your cares back on the mainland and get on island time. It will save you a lot of stress. And you'll find "good morning," "good afternoon" and "good night" go way farther here than a simple "hi."
Do take your sunscreen. There's nothing worse than getting "lobsterized" your first day on the beach and suffering the consequences for the rest of your trip.
Take your SkyMed TAKES YOU HOME membership card with you. The USVI are firmly within the SkyMed UNIVERSE.
Please follow and like us: