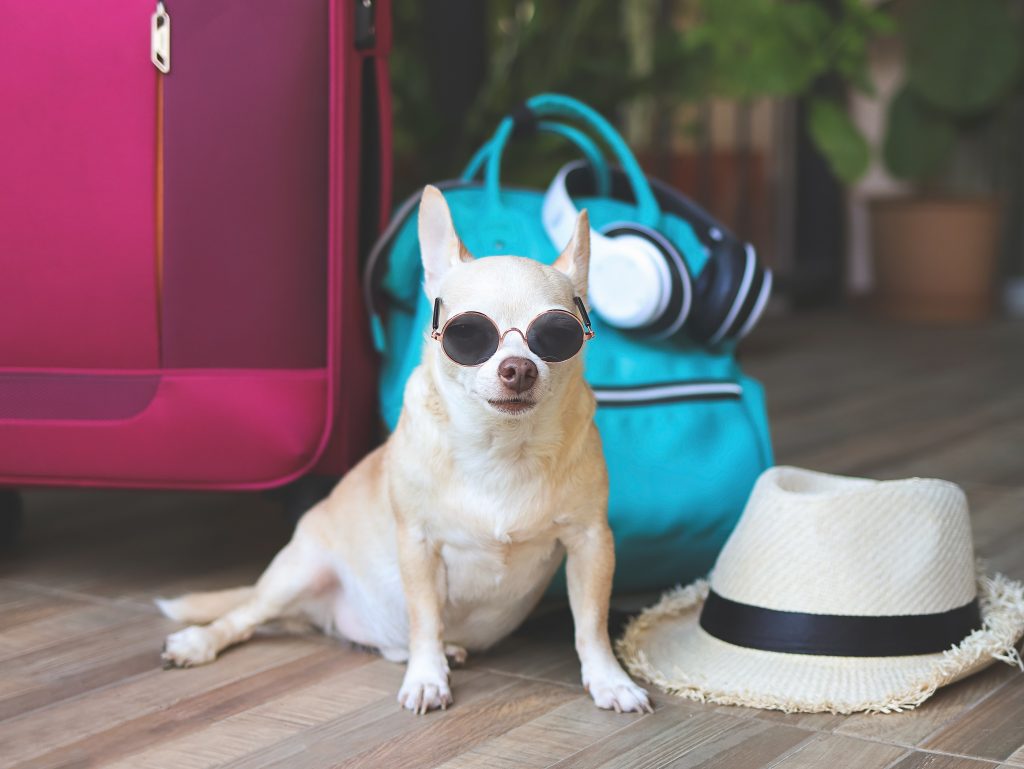 According to the Travel Industry Association of America, about 30 million people travel with pets each year. That's an awful lot of fur literally flying (or driving) around the country—and beyond. Pet-friendly hotels in the know cater to owners and their pets in ways that go way beyond the bowl of water in the lobby: luxury hotels charge luxury rates for luxury amenities, and the owners are happily paying to keep their pampered pets happy.
Here's a look at some of the sweetest accommodations for Fifi here in the United States and abroad. Where have you gone with your pet?
According to their site, the Fairmont Miramar Hotel & Bungalows has long been pet-friendly and has always gone out of its way to create an environment that is warm and hospitable to dogs and cats. Pets are welcome in every guest room and suite, including their 31 bungalow hideaways. Not only that, they get their own swag: all-natural cat or dog treats, a food and water bowl, a luxurious bed to use during the stay, and a collapsible travel bowl plus pet-waste bags.
It's pretty hard to beat Kimpton Palomar's pet policy: "as long as they fit in the elevator, we can't wait to welcome them to the Kimpton Hotel Palomar Phoenix." Water bowls are delivered to the room, courtesy poop bags are available for walks, there's a "no size/weight limit" policy, and there's no limit on the number of pets you can bring. In addition, they have dedicated floors for travelers with pets. They've also partnered with WAG! and guests have complimentary access to WAG! PREMIUM during their stay (including 10% off all services booked, waived booking fees, and 24/7 vet chat). Wag! connects pet parents with professional pet caregivers for pet walking, boarding, or sitting. Just ask the front desk team!
Las Ventanas is one of Baja California's premier resorts in every sense of the word, and it's just as five-star for pets as it is for their owners. The resort offers portable Pet Cabanas for use in their suites, the beach, or the pool to keep Fido nice and cool. They also have a Canine Delights menu with made-to-order treats for your pup. Kitties are welcome, too, and the petware is just as high-end as the resort. Need a petsitter? They have them, as well as Dog Butlers on call for massages, "doga" classes, tailor-made menus, walks, and anything else their furry little heart might desire.
 The Condado Vanderbilt is in the heart of one of San Juan's chicest neighborhoods, and the staff will cater to your pet with the same attention to detail that they will lavish on you. Dog amenities include water and food bowls, dog beds, and their Pup Joy Dog Package, all available upon check-in. There is also a room service menu for your trusted friend, with dishes that include beef, chicken, and vegetarian options. The Concierge can hook you up with a dog walker but know you can take your good boy with you to any of the many pet-friendly restaurants around town (just ask the Concierge for the list!)
Did you know SkyMed TAKES YOU HOME offers an option to pay for the return of your pet on a commercial flight if you become critically ill or injured?
Please follow and like us: