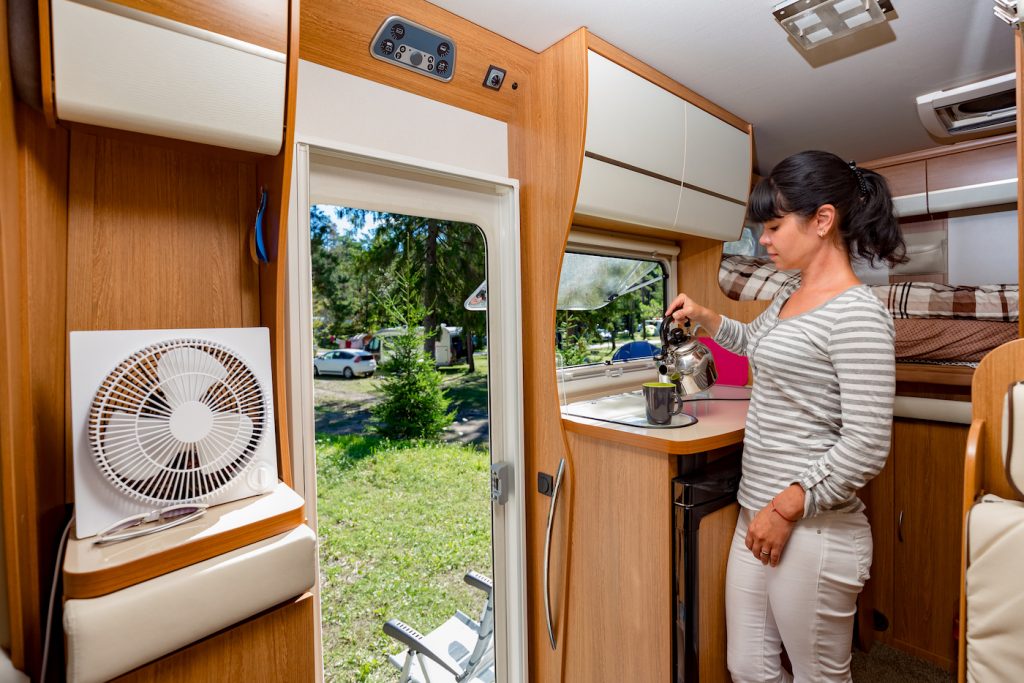 When you ask for RV packing tips, any road warrior can tell you what you take is just as important as what you leave behind. No matter how big your RV is space will always be at a premium, plus you don't want to mess up your gas mileage lugging around too much extra poundage.
Besides the more obvious big three—buy compact everything, compression sacks and vacuum bags are your friend, and save inches with multipurpose items—here are a few RV packing tips you may not think of that can save valuable space (and unnecessary stress!)
A full water tank. Most campgrounds have fresh water hook-ups, so unless you're going out to the middle of nowhere you don't need to take a full water tank. That will save your motor and your gas tank from having to haul an extra few hundred pounds around the freeways. Your tires will thank you, too.
Gourmet gadgets. Do you really need the cappuccino machine, the food processor and the blender? A good set of really sharp knives can work wonders, and you can dress up any coffee made in a simple coffee pot. Those heavy flour and sugar canisters are another leave-behind: put your staples in easy to stack plastic containers. They weigh less and won't break. It also helps to downsize recipes, too: store them in your laptop so you can leave the cookbooks and cards behind.
Most of your closet. Pack for the weather depending on where you're going, but keep it paired down. Choose easy to clean (leave the dry-cleaning at home) and things that mix and match. Always think layers to deal with cool mornings and evenings or very air-conditioned theaters when you decide to pop into town. Check out camping stores for lightweight, high-tech synthetics—you might be surprised at how stylish they are, plus they usually remain wrinkle free. Don't forget most camping sites also have laundry facilities (in case your rig doesn't have machines of its own).
Valuables. This might go without saying, but just in case. Leave all unnecessary credit cards in your home safe, as well as your valuable or expensive-looking jewelry. Check your wallet for cards you may routinely carry, such as Social Security cards (you really shouldn't be carrying that one around anyway), library cards, club cards and the like.
Work. Your laptop may not take up much space in your camper, but you're going to want to keep your mind just as uncluttered. Unless you're a full-time travel blogger and hitting the road is part of your job, enjoy your vacation for what it is: a vacation. While a mobile Internet connection for movies, family communiqués and entertainment is a good idea, don't dip into the work email or "check in" on the company Twitter feed. Truth is, your corner of the corporate world will keep turning and you can pick up where you left off when you get back. Really. (Then again, if you RV full time and need to make a living, please ignore this. But take time to stop and smell the flowers, there's a reason you're living on the road!)
Having said all this… Don't deprive yourself of what makes you happy. For example, if you prefer drinking coffee out of a beautiful mug in the mornings instead of a Styrofoam cup, by all means, bring your mugs. Besides, they're more earth friendly! You may want to take a few books to read along the way and trade them out at the different campsites with other readers. Think of it as a revolving library.
Read to head out? Don't forget to tuck your SkyMed membership in the glove compartment—we'll get you AND your rig back home if a critical injury or illness takes you off the road!
Please follow and like us: